Breville Brebpz600xl Review from a Pizza Expert You Can Trust
In my never-ending quest to find the best countertop pizza maker, I came about a pretty decent oven called the Breville BPZ600XL. I have been cooking pizza on open fire since young years. When I was 21 years old, I bought my first grill oven while on a trip to Italy. As you can guess, my visit to this country helped me to learn more about the different ways of making pizza from the people who know it best. After all, there is no arguing that Italian pizzas are genuinely delicious. 
That said, I have tried out many ways and tools for making pizza. And, today, I am going to tell you everything about a pizza oven I came about recently, the Breville BPZ600XL. To clear any doubts, I think that this is a perfect pizza oven for everyone, whether you are a professional or wannabe cook. 
I will provide an in-depth Breville Brebpz600XL pizza oven review to help you to determine if it is the right appliance for your pizza-baking needs. For two months and counting, I have been using this machine every few days, so I can confidently say about its pros and cons now.
Breville Brebpz600XL Review
: What to Expect from This Product
Brevile BREBPZ600XL Pizza Maker
Countertop pizza maker gives you professional brick-oven results, right in your own kitchen. Dual heating elements on the top and bottom of the oven heat The ceramic pizza stone up to 660F, replicating the cooking environment of a brick oven.
If you do not have a brick oven at home, the Breville BPZ600XL is the machine to buy. It will help you to get those perfect pizzas given that it brings high-heat baking right to your kitchen countertop. With it, you can bake crusty pizzas in just ten minutes and enjoy them with your family or friends. That cleared out, in this review, I will cover what comes in the package with this Breville pizza oven, it's design and specifics, advantages and drawbacks. Let's go!
What's in the Box?
After opening the packaging, I found the instruction manual, warranty, the pizza maker, and a recipe booklet. The instruction manual provides information on how you can use the product to ensure the best results are attained when baking your pizzas. Also, it offers usage details to ensure your safety and proper care for the appliance. 
As mentioned earlier, there is also the product's warranty. See, given that electronics often present challenges after several uses, I was glad to know that I had a one-year warranty from the date of purchasing this item. As such, I am covered for any mechanical issues that might arise within my first year of use. According to the document, Breville will deliver an identical replacement free of charge. Alternative, the manufacturer will offer any other suitable remedy in case there are defects on the item's material or other quality blunders.
Regarding the pizza maker itself, I can confirm that everything was okay from the looks of it. Better what is the most important, it functioned fine as communicated in the advertisement. To use the appliance, follow the usage instructions, and connect your machine to a power source using the attached electric cord. 
If you want to try out the pizza maker but you do not have a pizza recipe, you can check the provided booklet to find a pizza you can make fast. With all ingredients ready, you will only wait for six to eight minutes to get your dish ready to eat. 
Design and Features of
Breville Brebpz600XL Pizza Oven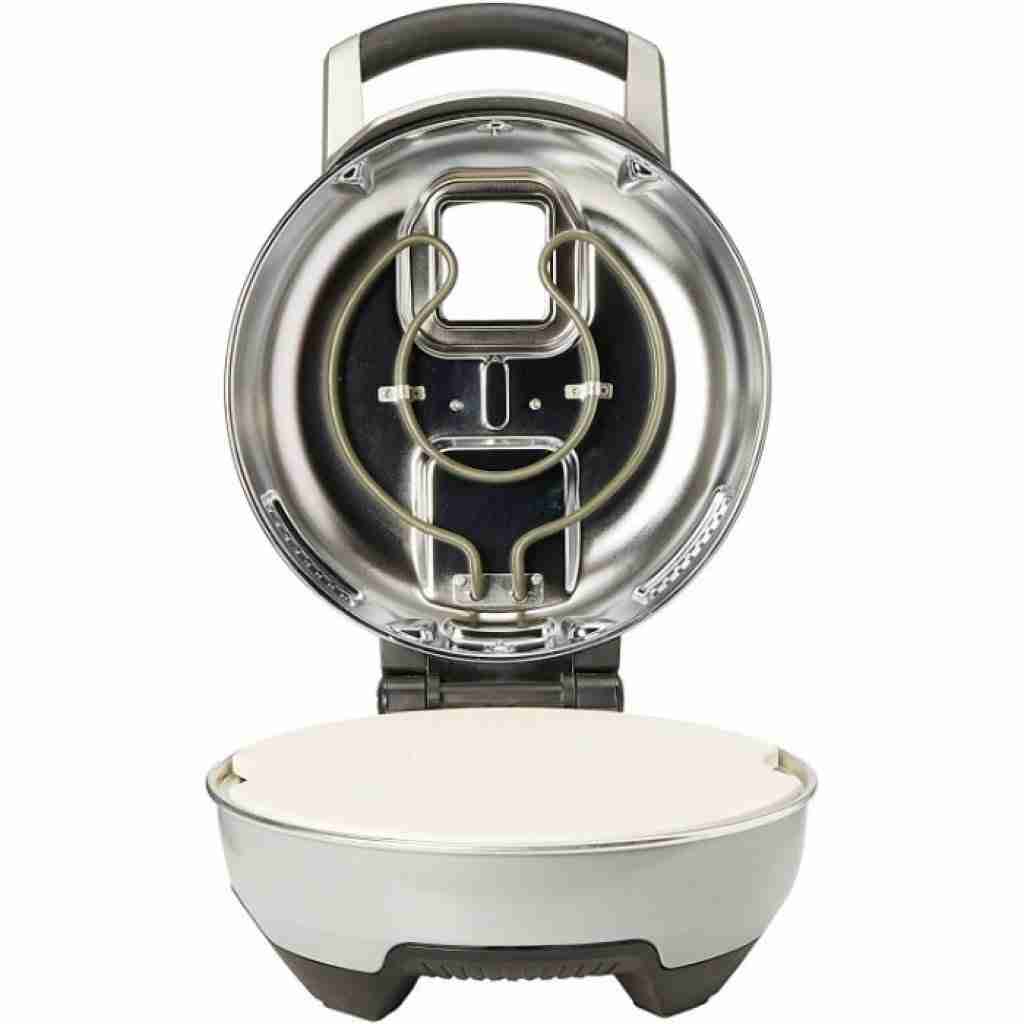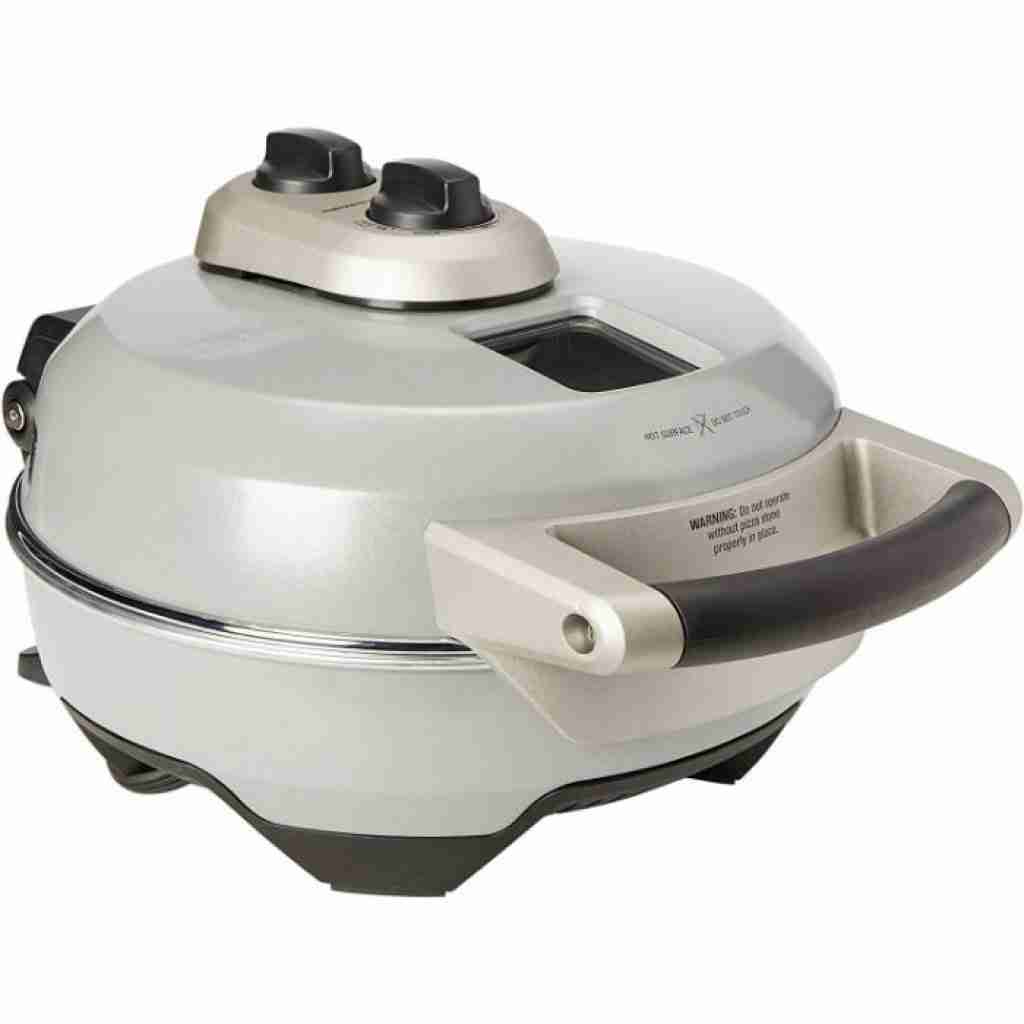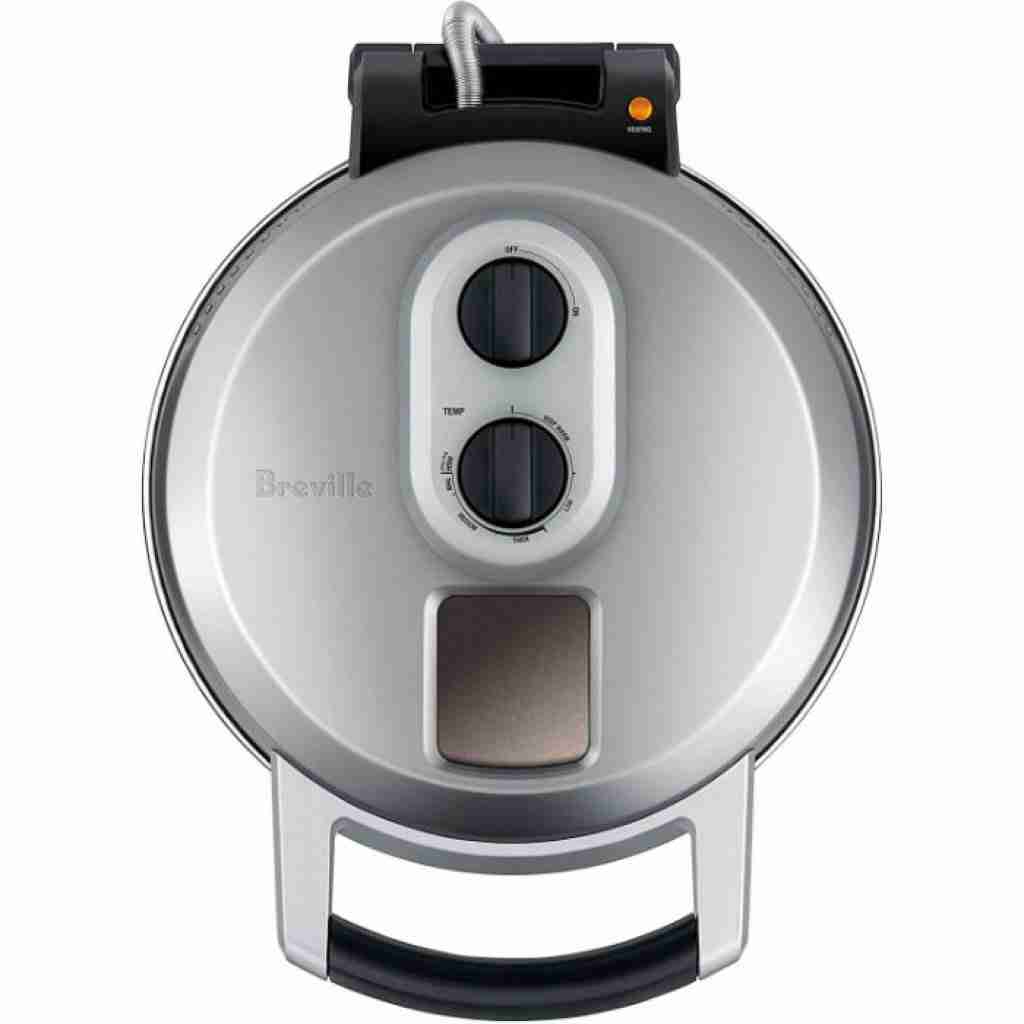 The Breville BPZ600XL oven I bought was cranberry red in color. For those who want another color, the machine is available in silver, too. 
From the first look, the item catches your eye with its excellent design. All round, it is made up of powder-coated metal with an insulated handle at the front. This feature enables you to lift the cover before you can put your pizza in the oven to bake.
There are two knobs at the top. One comes for powering the oven on and off, and the other for adjusting the temperature. Also, there is a light indicator at the top back, where the cover attaches to the base, which shows you when the machine is heating. 
The appliance has a 12-inch pizza stone. The stone is great at conducting and retaining heat, thus ensuring that the pizza is perfectly-cooked and with crisp and golden crusts. Apart from that, this pizza oven comes with a dual heating system at the top and base of it. As such, there is much heat to cook the pizzas well. The ceramic stone can reach 660 degrees Fahrenheit, the same as a backyard brick oven.  
The Breville BPZ600XL also has a temperature knob that allows you to set the heat according to the thickness of your pizza. These settings are Pre-Heat, Thin, Medium, Thick, Low, and Keep Warm. The low-temperature setting is perfect if you want to warm up your pizza, flatbread, and so forth. But even with that said, you need to experiment severally to identify the best thickness for your pizzas. This way, you will manage to make well-cooked pizzas all the time. 
The machine has good footing that makes it quite stable. For this reason, it is entirely safe to use in the kitchen as you will not have any accidental tip-overs while making your pizza. Both kids and adults can handle the appliance without serious risks arising. 
As mentioned earlier, before writing this Breville Brebpz600XL review, I had used this oven for over two months. One of the things that I took note of using this oven was that it does not produce any smoke. I was quite concerned that if something gets into contact with the sides of the machine, there would be some smoke. However, nothing of the sort happened. 
Breville Brebpz600XL Pizza Oven
Specifications
| Name | Dimensions | Weight | ASIN | Color |
| --- | --- | --- | --- | --- |
| Brevile BREBPZ600XL Pizza Maker | 19.5 x 12.6 x 19.2 inches | 14.11 pounds | B00CO1190I | Silver |
According to the product description, this electric oven comes with 19.5 x 12.6 x 19.2 inches' dimensions. You can expect it to weigh around 14.11 pounds. However, the total shipping weight slightly exceeds 15 lbs. This oven is manufactured by Breville company and comes in two color variations, silver, and cranberry. It is fully assembled and only requires plugging in. 
The Breville oven includes a 12-inch baking stone that is designed to conduct and retain heat. That means it can cook a pizza as large as 11 inches. Each pizza cooks in about six to eight minutes. And because the stone retains heat for some time, you can cook pizzas back to back with no need to pre-heat the oven each time. 
The heat is distributed within the oven to achieve a well-cooked pizza with a crisp and golden crust. There are heaters on the top and bottom parts of the oven to cook the pizza well on both sides. These burners can bring the temperature of the stone up to 660°F. So, you can get similar pizzas to the one made in a brick oven.
How to Use This Pizza Oven
To start baking your pizza with this beautiful oven, make sure you have all your ingredients ready. Pre-heat the oven by plugging it into an electric socket and allowing it to warm up for around 30 minutes. Meanwhile, you can be building your pizza.
I would recommend using parchment paper instead of flour or oil. You can outline the pizza stone on a pizza paddle to know what size of dough you should roll out. Once you have a rough idea of how big your pizza should be, everything else from this point is so much easier. 
Place the parchment on your pizza paddle, then the dough on top. Take a fork and make holes on the dough to avoid bubbles that may form during cooking. Top your dough to your liking. I love that you can be generous with toppings when using this oven and the pizza still turns out fantastic. 
There is a light on the device that tells you that the oven is heating. After the oven is ready, the light goes off. After pre-heating, slide your pizza onto the stone with the parchment. Then, set the timer to six minutes. Note that this oven cooks pretty quick. So, don't set longer than ten minutes unless you've tested it out already. 
You should remove the parchment after about two minutes to avoid it burning and also to get that crisp crust that is achieved by a brick oven. To do this, simply open the oven, pull the parchment paper out, and close it to resume the cooking process. The ergonomic handle on the device is quite handy and doesn't get hot even as the oven heats up. With this simple method, your pizza will come out in the perfect shape, and you will have no mess.
This oven comes with a clear window where you can check how your pizza is baked and remove the pizza when it is cooked to your liking. I found this window helpful as you can detect when your pizza starts to burn and turn the heat down. When the pizza is done, you can use a large spatula to slide it on a board, cut, and finally serve. I recommend using a steel spatula as it easily removes pizza, even the one that stuck to the stone.
If you are cooking several pizzas back-to-back, with the steel spatula, you can quickly scrape off any food that may have fallen onto the stone in between uses. By doing this, your oven will not smoke during cooking. However, mind that by this time the oven will most definitely be quite hot. 
Cleaning this oven is as simple as operating it. I don't recommend to use water as the stone will absorb it and become prone to cracking. Avoid soap and chemical cleaners too. Clean it by simply scrapping out any cheese or toppings that fall onto the stone. In this case, you should scrape out dirt when the stone when it was still a little hot. 
Alternatively, you can wipe the stone clean with a damp clean cloth. You should also remove the stone during cleaning to check if anything has fallen through to the bottom heating elements. All in all, cleaning just takes a couple of minutes and doesn't require any special tools. 
Brevile BREBPZ600XL Pizza Maker
Countertop pizza maker gives you professional brick-oven results, right in your own kitchen. Dual heating elements on the top and bottom of the oven heat The ceramic pizza stone up to 660F, replicating the cooking environment of a brick oven.
---
PROS:
Super-fast cooking in just 6 minutes

Thick, medium, and thin dough settings

Dual top and bottom heating

Accommodates up to 10-inch pizza

Achieves high temperatures of up to 600F
CONS:
Not suitable for pizzas with very thick crusts and multiple toppings

May produce smoke if not cleaned well

Preheats for 30 minutes
---
Breville Pizza Maker Review: My Unbiased Verdict
If you are looking for a device that can give you a chewy, crispy, and evenly cooked pizza, this Breville oven is the perfect addition to your kitchen appliances. It is not only easy to operate but also quick to clean. And while inside it gets super-hot to bake your pizza in minutes, the outside parts remain cool and safe. The legs on the device will make sure your countertop doesn't get hot. And the handle is pretty comfortable, too. 
This oven is pretty fast at cooking as an average time goes for six minutes only. Therefore, you can cook several back-to-back pizzas in no time. It is quite compact for its functionality and produces the same crisp taste as that of a traditional brick oven. You can even warm your left-over dinner pizza with this tool quick. And you get to do all this in the comfort of your kitchen. 
Do you love cooking pizza at home? What do you use to get a crisp and superb tasting pizza? Have you tried this oven? Tell me what you like or don't like about this Breville item. I will be happy to know about your experience.