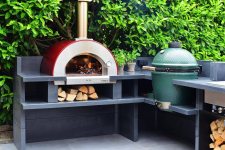 Best Wood Fired Pizza Ovens – Taking a Look at Top 10 Appliances
I bet you love pizza! And I have to admit that it's amazing to make it for yourself right within your compound. This way, you can even hold pizza parties and cook customized gourmet pizzas for your family and friends without a lot of effort.
Wood-fired pizza ovens are getting more and more popular for this purpose. It is because such appliances can produce legit, high-quality pizzas that anyone can cook easily. So, a lot of manufacturers have presented their pizza oven models that are fired by wood.
However, if you're shopping for such a pizza oven, it can be quite hard to figure out which one to select since there are a lot of options on the market. Of course, you'll end up looking for comprehensive reviews that will guide you in making the ideal choice.
I want to make this process easier and quicker for you! In this post, I've reviewed the best wood-fired pizza ovens available on the market. I genuinely love to cook pizza, and I'm always on the lookout for new pizza cooking trends and tools. My reviews will inform you about the best wood-fired pizza ovens you can purchase on the market today. Go through it and choose the perfect pizza oven that will work best for you.
Amazon Bestseller
Top 10 Wood Fired Pizza Ovens
Here is my list of the ten leading wood-fired pizza ovens for preparing your pizzas. You can carefully check out the tips below, as well as the merits and challenges of each model before settling on one that suits you best. Still, take your time before making a decision. Once you decide on the device that you like best, I'm sure that with it, you will enjoy the best homemade pizzas. 
1. IlFornino Basic Pizza Oven – Best Wood Fired Pizza Oven for Home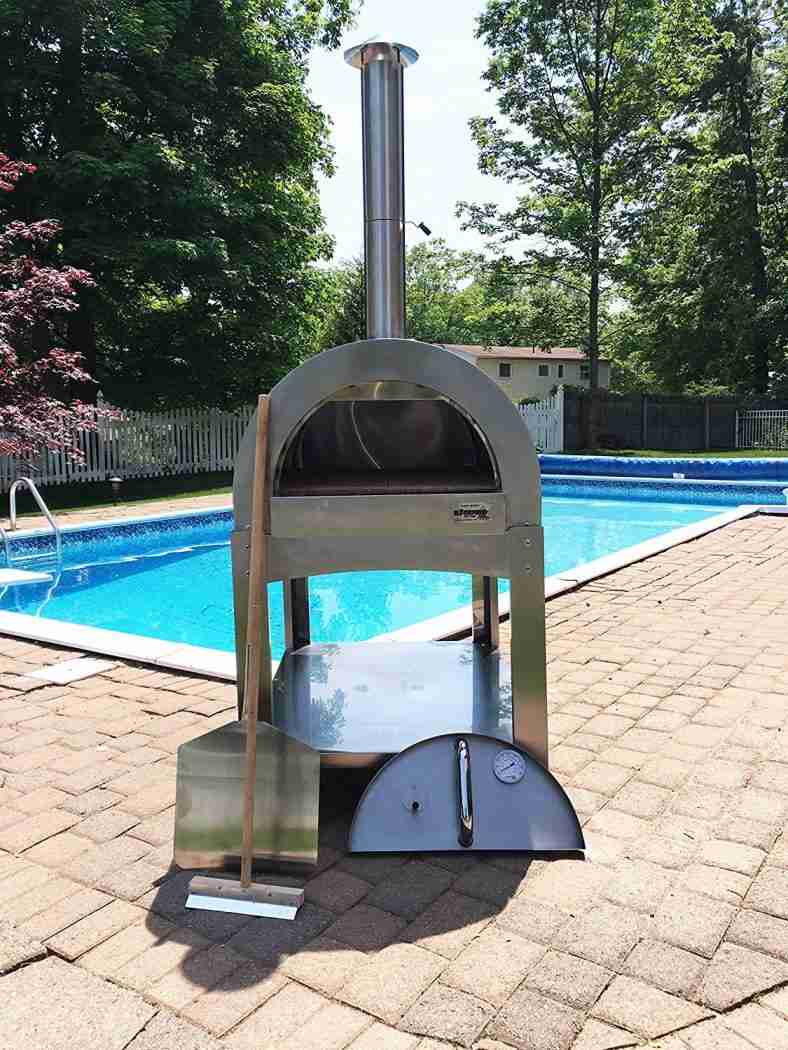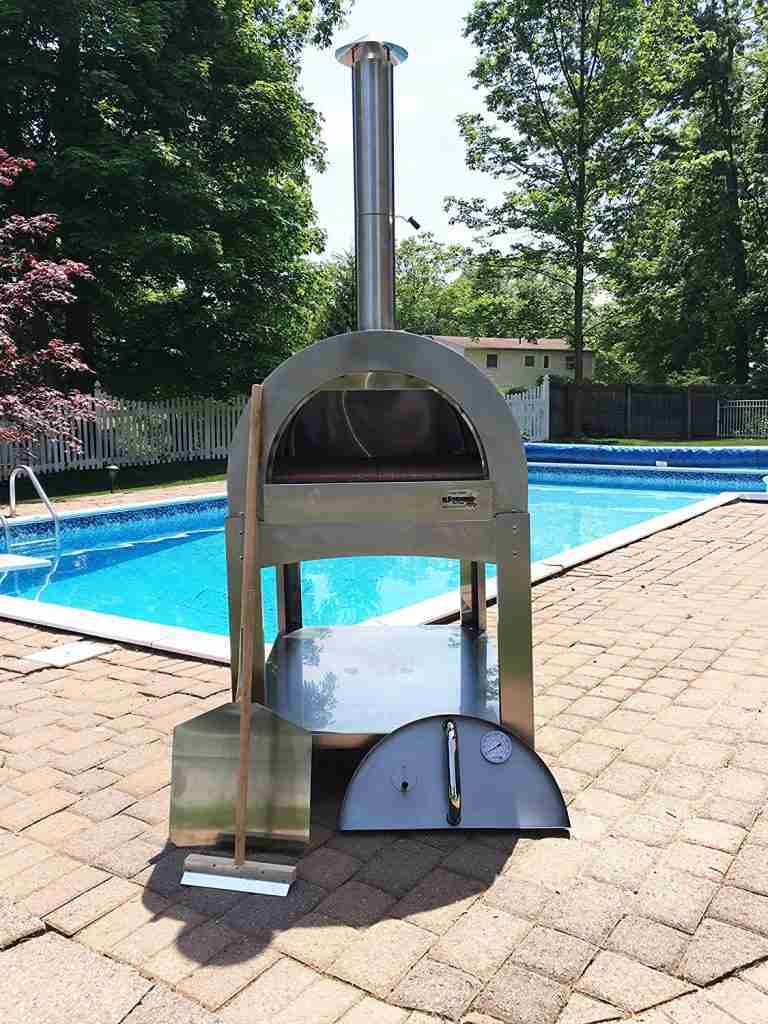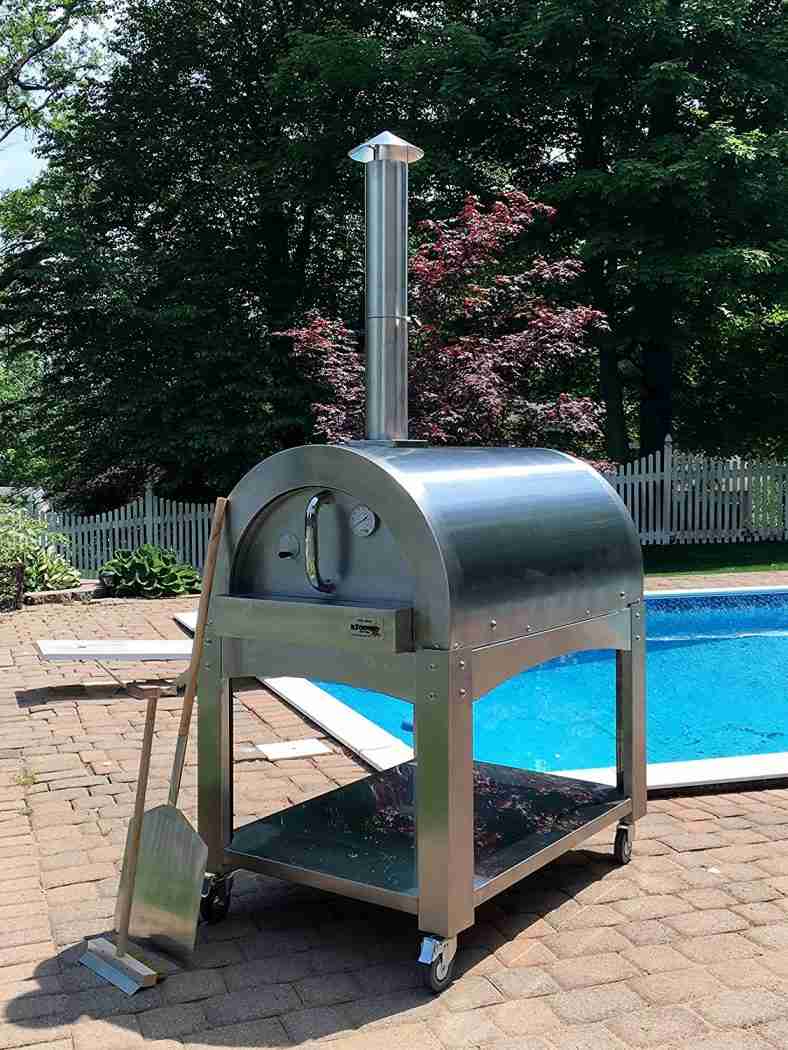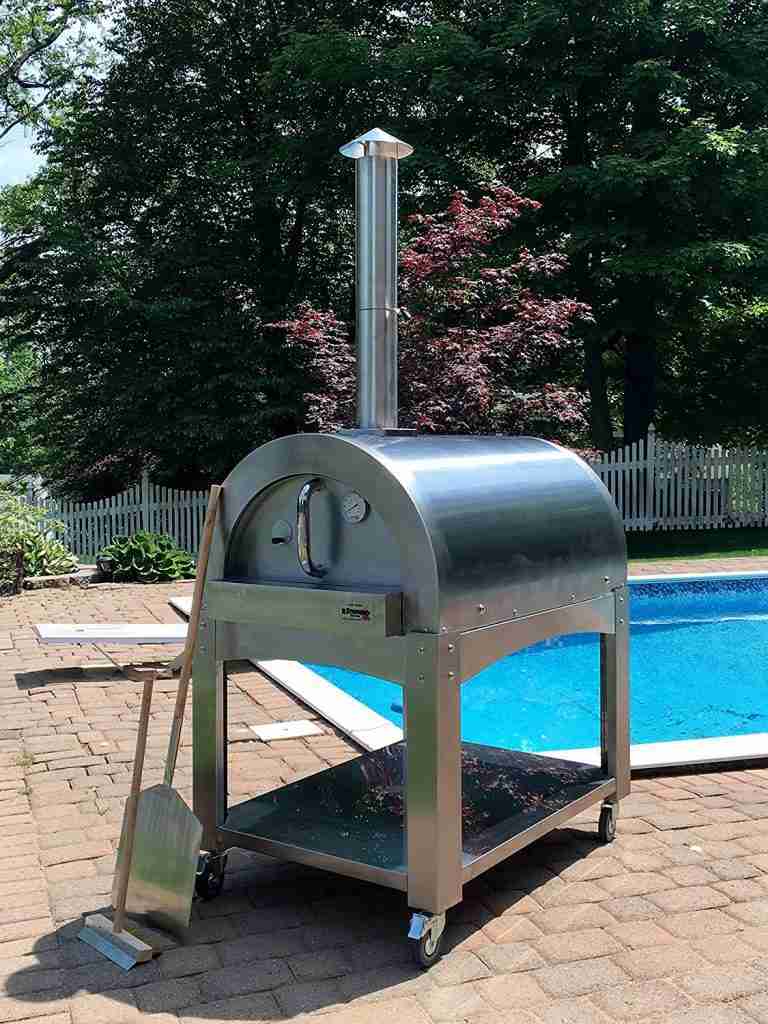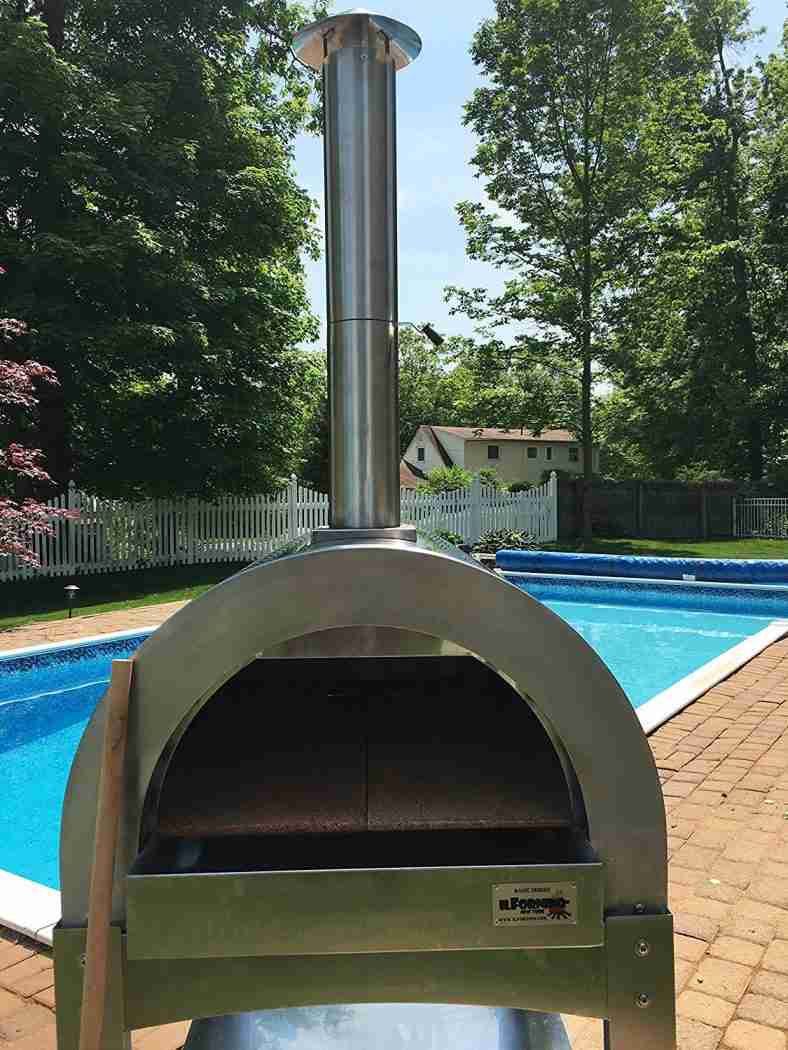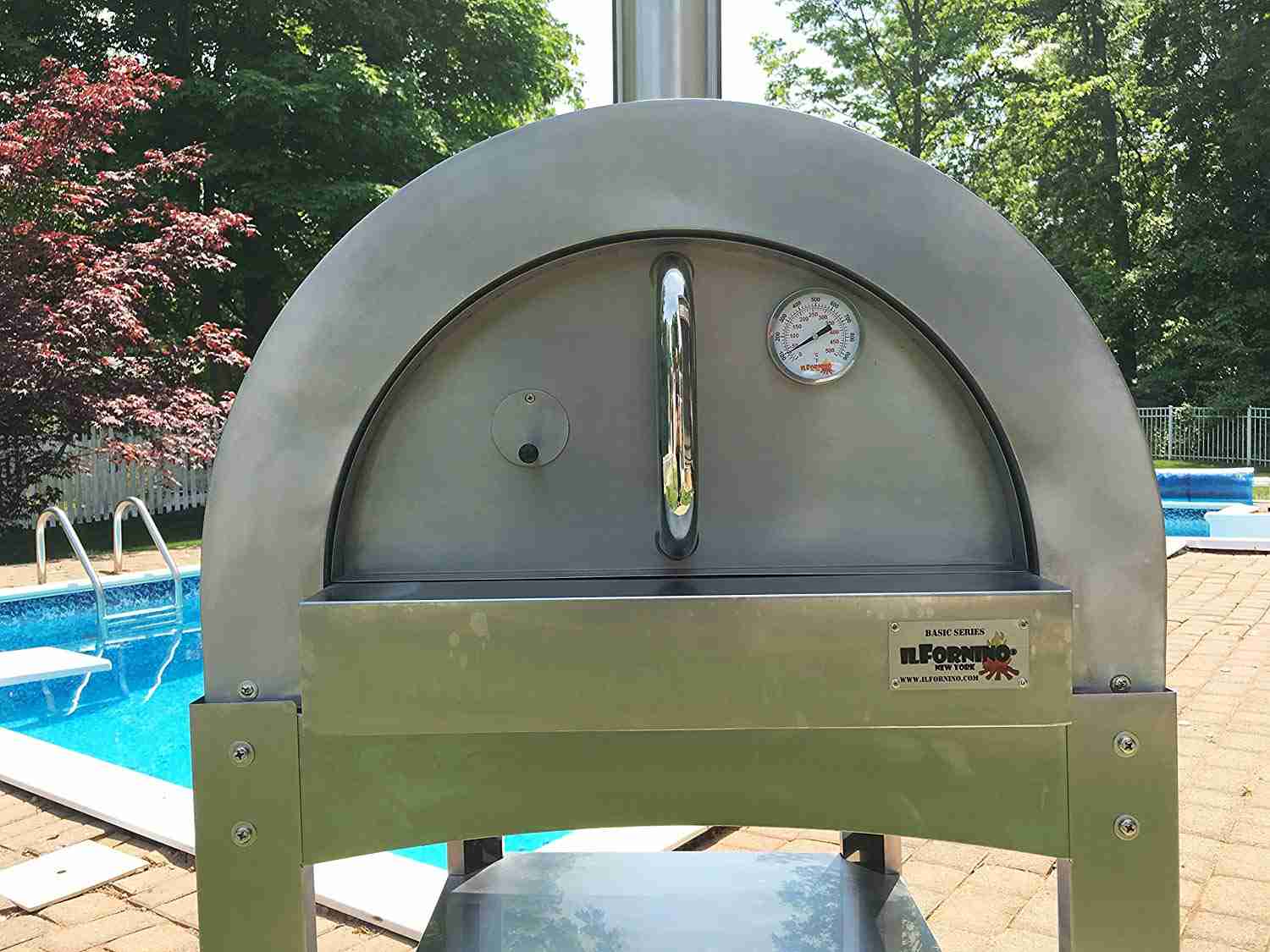 If you're searching for a modern pizza oven that is economical, functional, and practical, then this is the best option. This stainless-steel model has been insulated twice for enhanced durability. Also, it comes with wheels, and therefore, it is portable. The floor of this device has six firebricks of medium density.
IlFornino Basic pizza oven also comes with an in-built ashtray and a bottom section. This unit has a 24-inch opening so that you can prepare several pizzas at once within a minute. Besides, this fantastic oven is pretty powerful and affordable. Whether you're an amateur or a pro, this model is very easy to use. With ilFornino pizza oven, expect to get great pizzas fast and easily.
ilFornino Basic Wood Fired Pizza Oven- High Grade Stainless Steel, New York
The dome is a double wall medium gauge stainless steel filled with 1 layer light-weight refractory insulation blanket.
Medium Grade 430 Stainless Steel construction. This stainless steel is considered to have a good oxidation and corrosion resistance. Good high temperature...
6 – Piece Tiled Cooking Surface. The ilFornino Basic Series flooring is made from 1" thick medium density firebrick.
---
PROS:
It is made of quality materials;
High heat retention;
Easy to use;
Affordable.
CONS:
It needs a long time to cool.
---
2. Harbor Gardens Monterey – Among Best Outdoor Wood Fired Pizza Ovens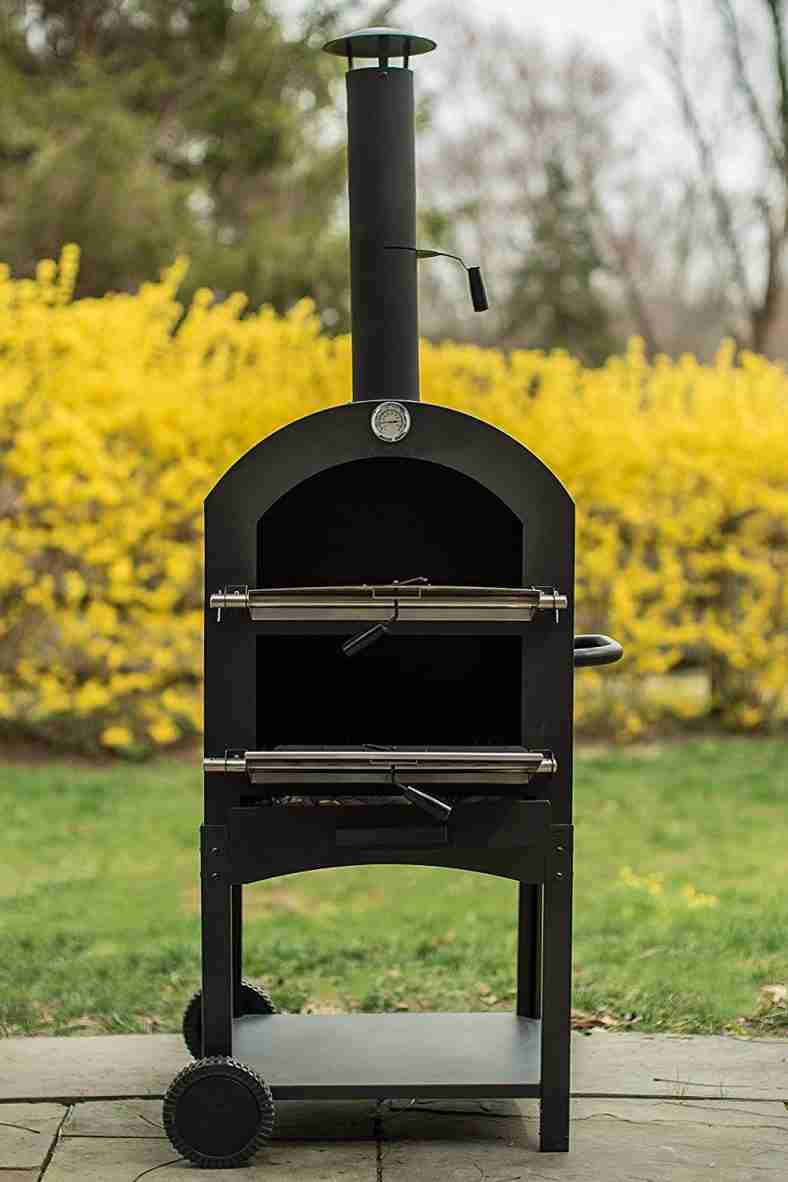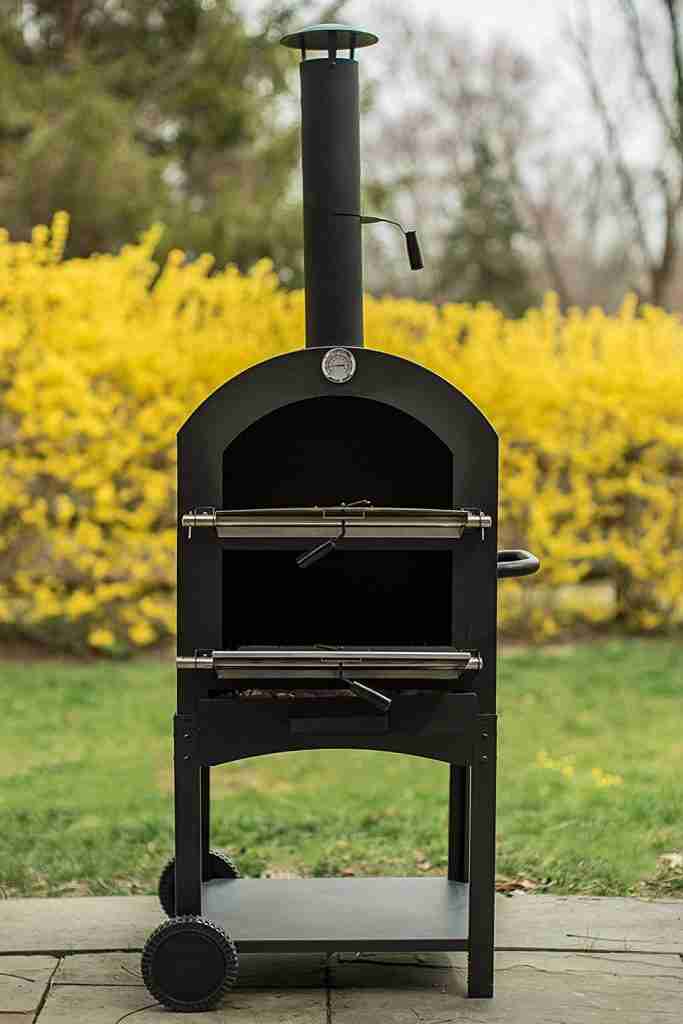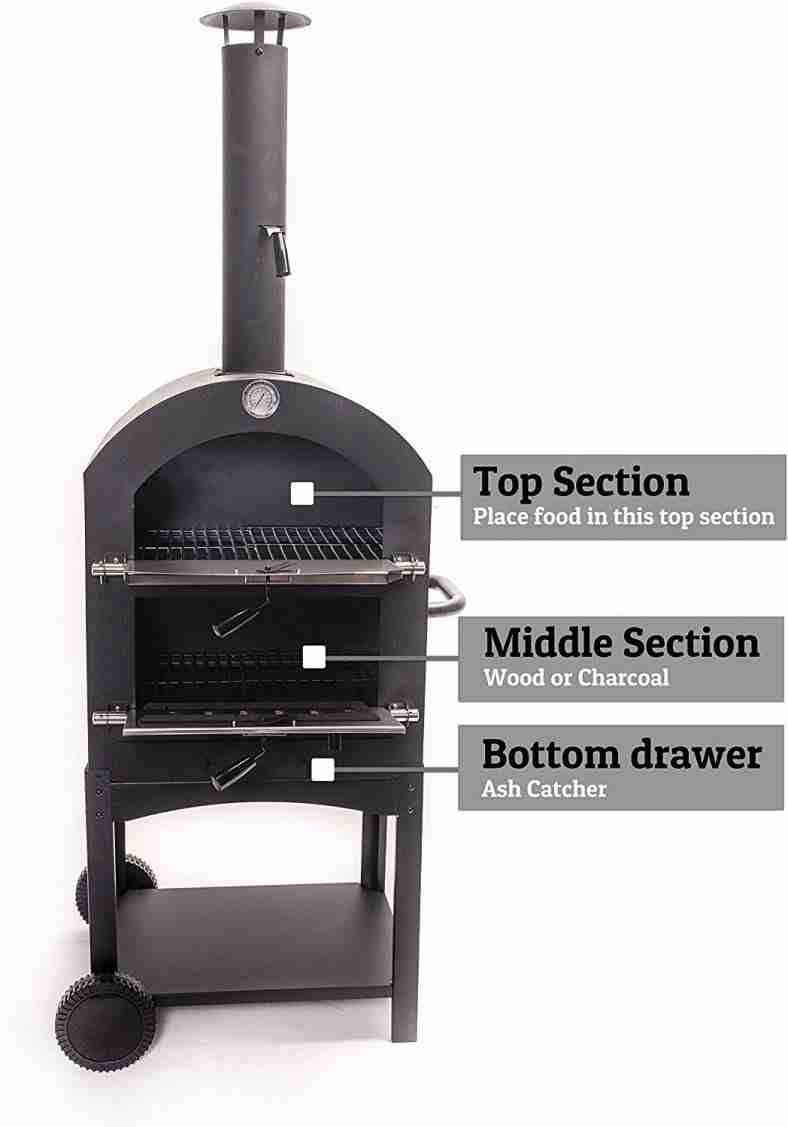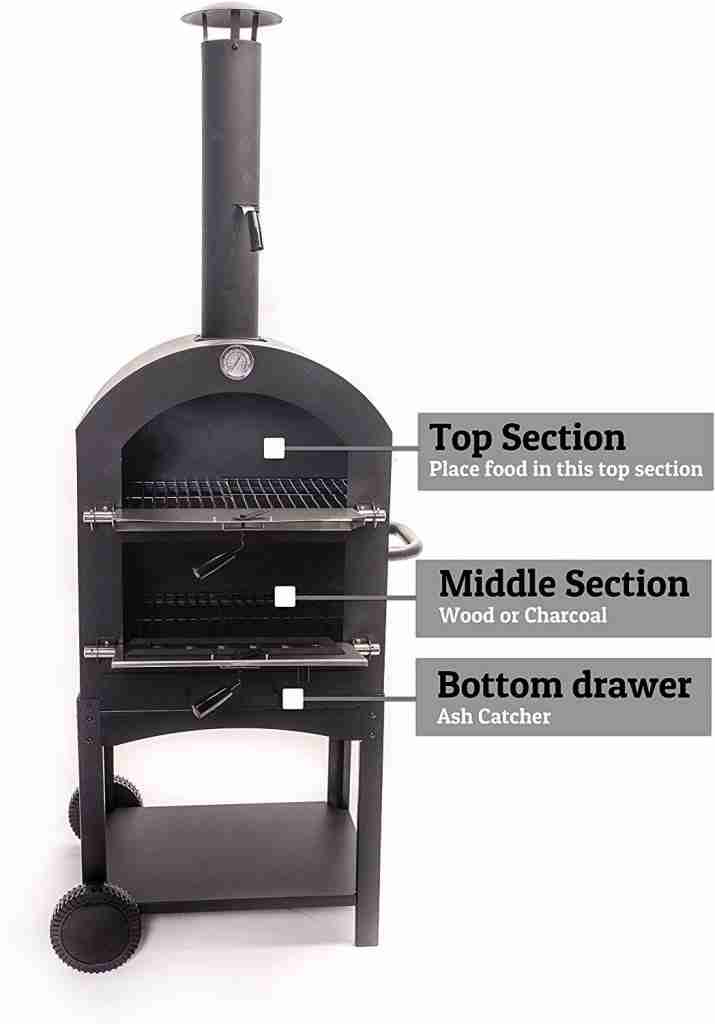 This pizza oven is one of the ideal options to set in the yard. It comes in dimensions of 16.5 x 61.2 x 23.5 inches and weighs 61.7 pounds. Besides, this oven uses wood, and it is easily movable because it has wheels. 
The wood fired pizza oven kit comes with three sections. The top area is where you place food, the big middle area is for wood, and the bottom section is for storing ashes. All these sections can be accessed quickly, and thus, easily cleaned or emptied.
The model has a black finish, and it is created from enamel-coated and stainless steel. Besides, this pizza oven comprises a temperature gauge, which makes it easier to keep tabs on the cooking process. If your cooking skills are advanced, then you will love to experiment with this oven. 
Also, the interior is sizable, so you can prepare various meals and modify portions. Maintaining this appliance is easy since there's a big door at the front of each compartment, and the ash compartment ensures that the wood container needs to be cleaned rarely. 
I have also figured out that with this oven, you can smoke meat, too. Also, you can make delicious bread, chicken, as well as steaks. It is possible to raise the temperatures to 1200°F while preparing meals. I am convinced that this device provides value for money.
---
PROS:
Easy to use;
Affordable;
It requires low maintenance;
It can also be used as a smoker.
CONS:
You will need a lot of wood.
---
3. 1000 Plus Gourmet Oven Kit – Best Residential Wood Fired Pizza Oven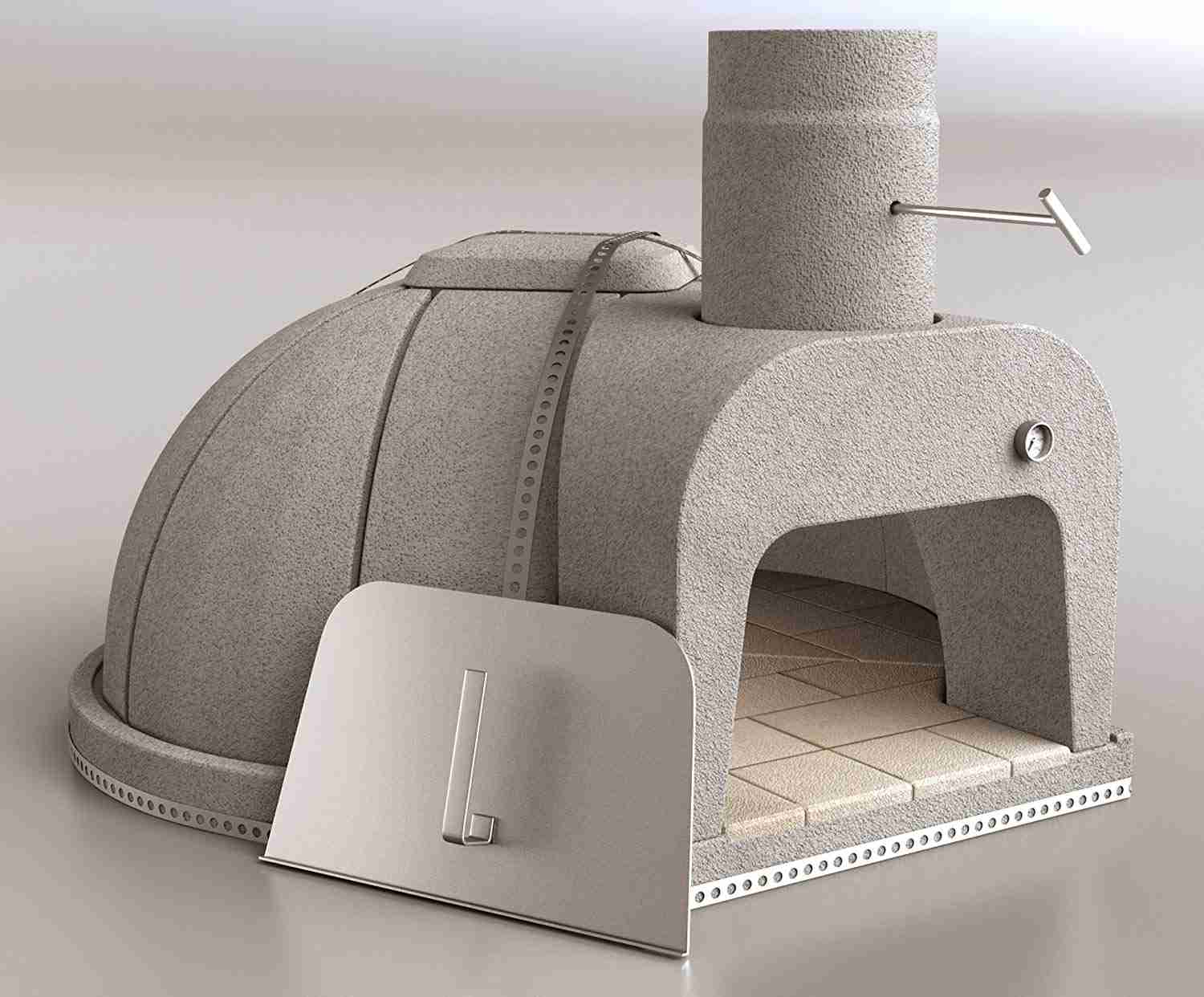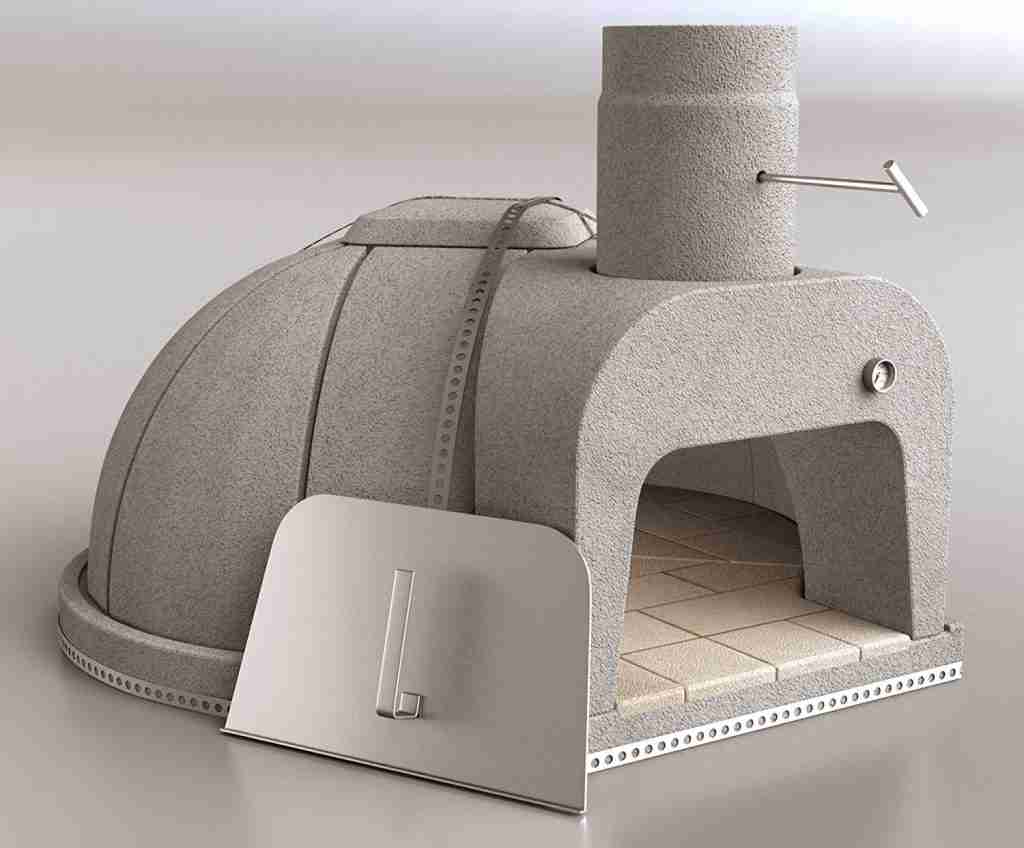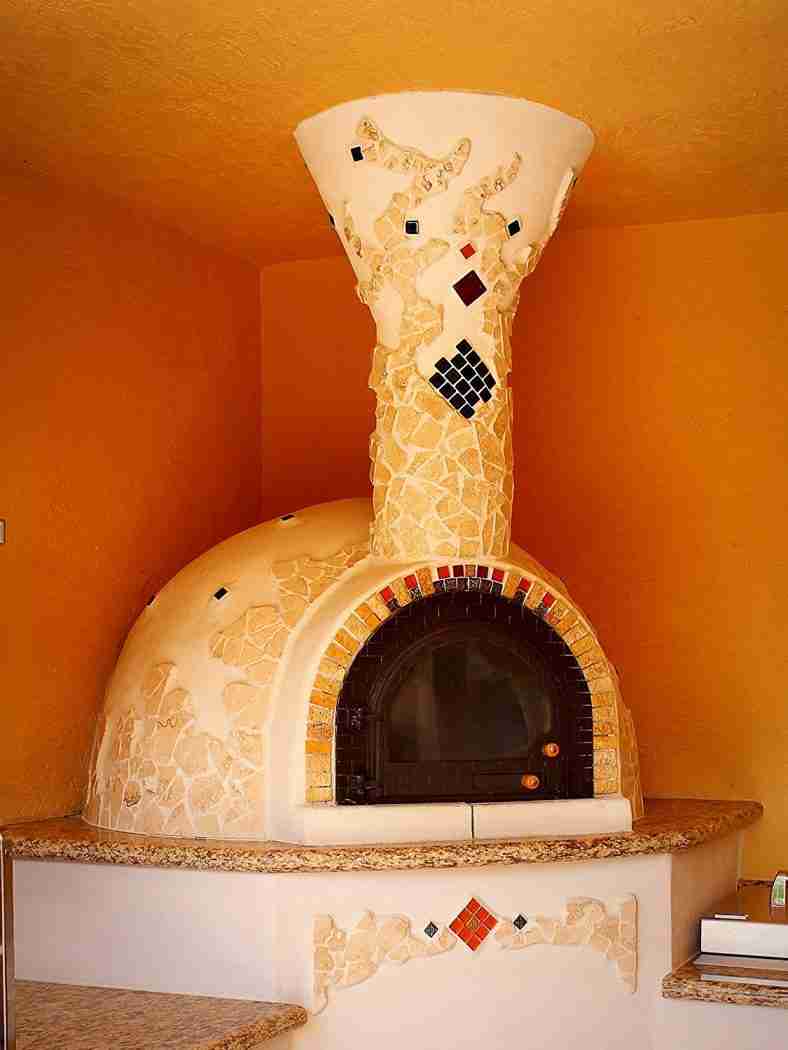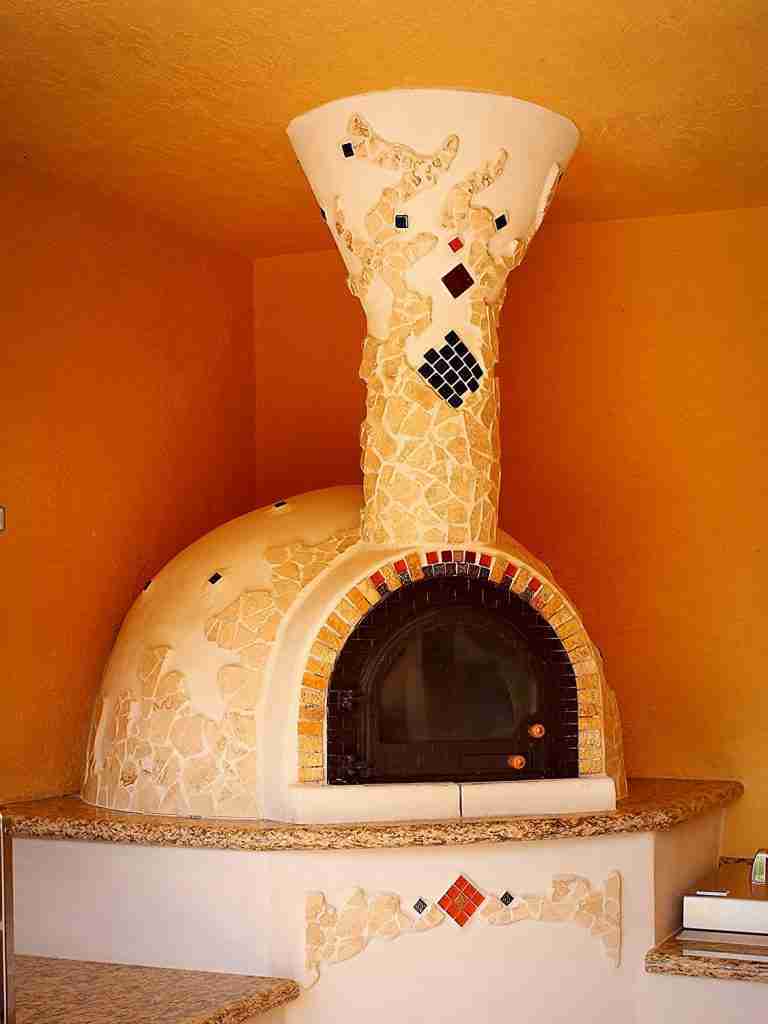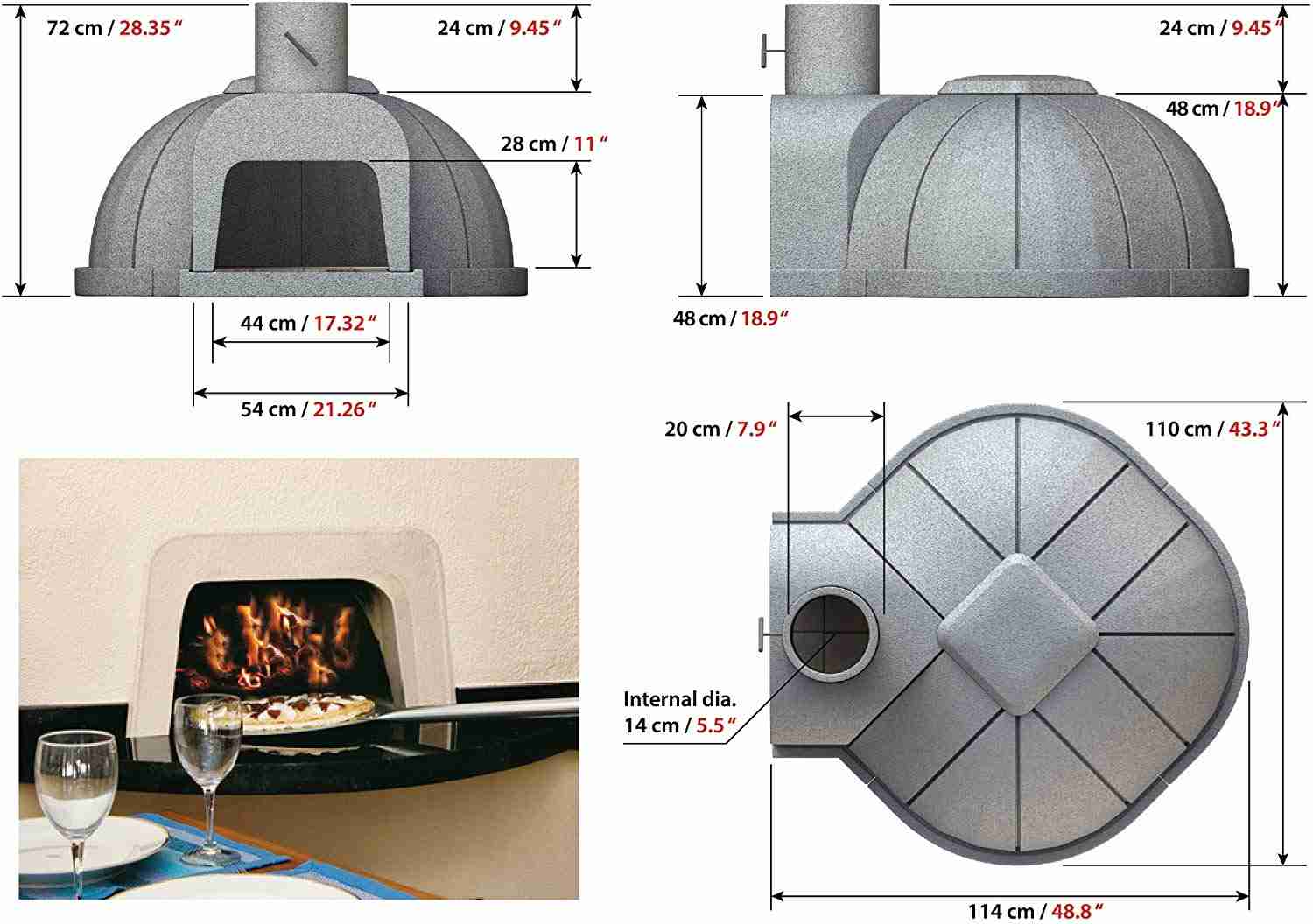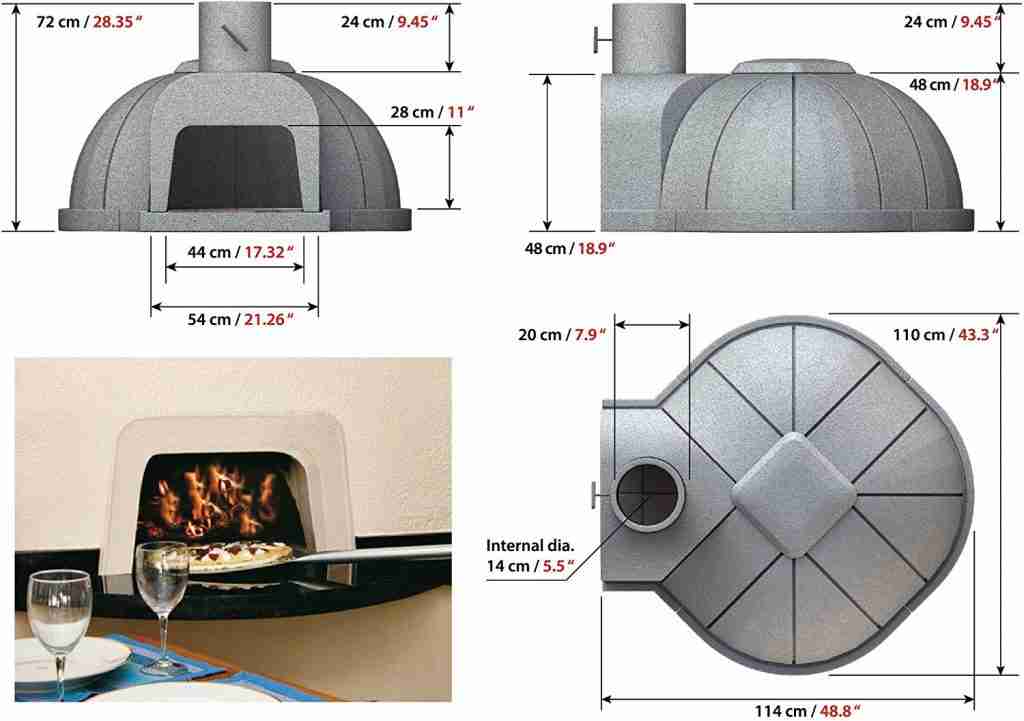 This oven kit is one of my favorite tools. Although its cooking floor surface is a bit smaller compared to some other models, the surface is large enough to cook three pizzas of standard size all at once. This model's cooking floor has round corners, but it is squarely shaped.
This tool also comes with a sizable chimney situated behind the door. Besides, it has a wide mouth, making it easier to access and put pizzas inside. 
The cooking floor of this model has four incorporated tiles. Its dome comes with ten pieces, as well as a capstone placed on the top. So, the kit comes with a 4-piece cooking floor, an 11-piece dome, a one-piece mouth, a chimney with a fire damper, a steel door, a thermometer, steel belts, and a Rock-Wool blanket. 
I find this model the best one for residential use. It can heat up to 900°F. Even though it isn't the ideal temperature to prepare a Neapolitan style pizza in 1.5 minutes, this oven can still prepare great crispy-crust pizzas, as well as other meals.
---
PROS:
The diameter of this chimney is bigger than in usual ovens;
It can heat up to 900°F;
Great value for money.
CONS:
The tiles are not of the best quality.
---
4. Mattone Barile Foam Form DIY Pizza Oven – Best Backyard Wood Fired Pizza Oven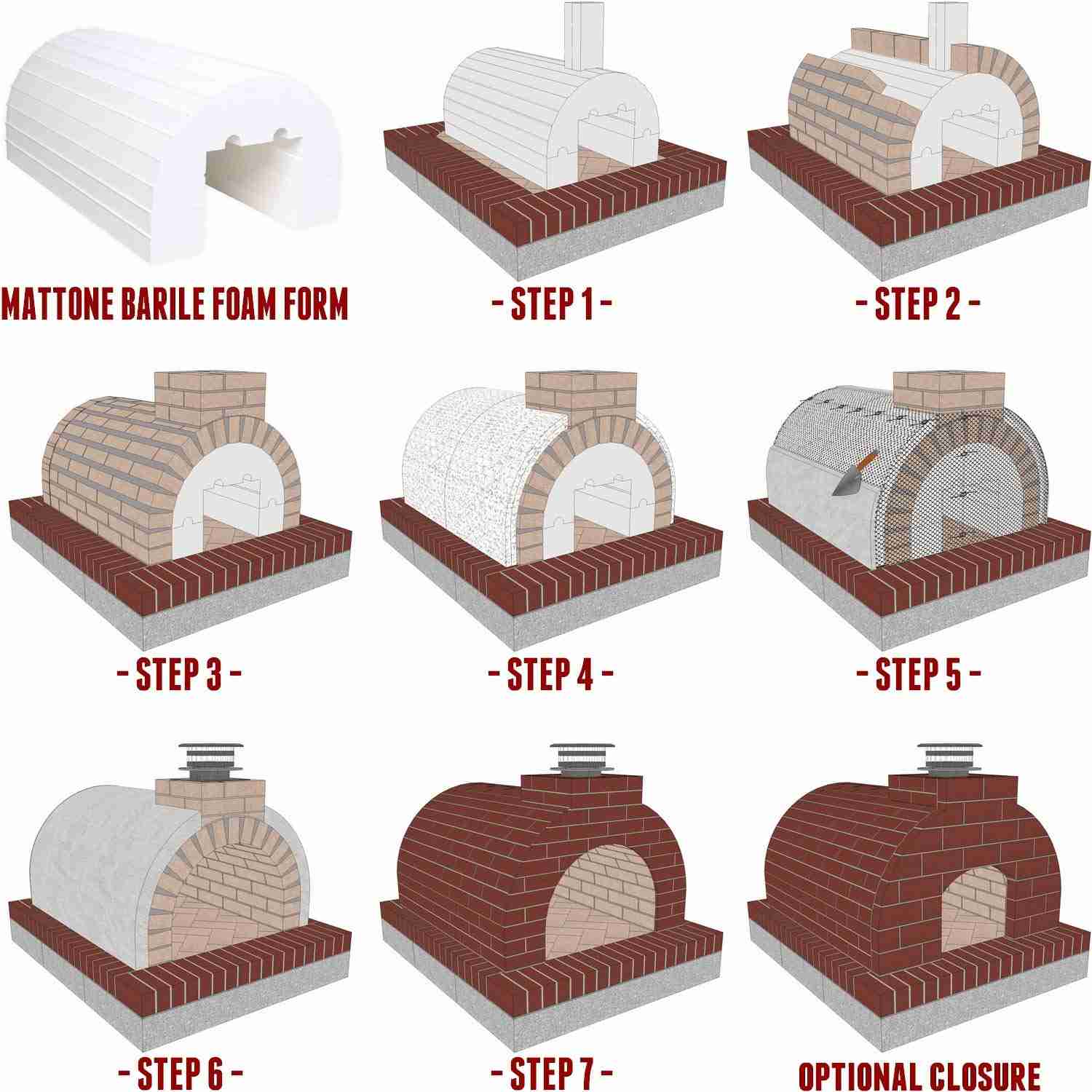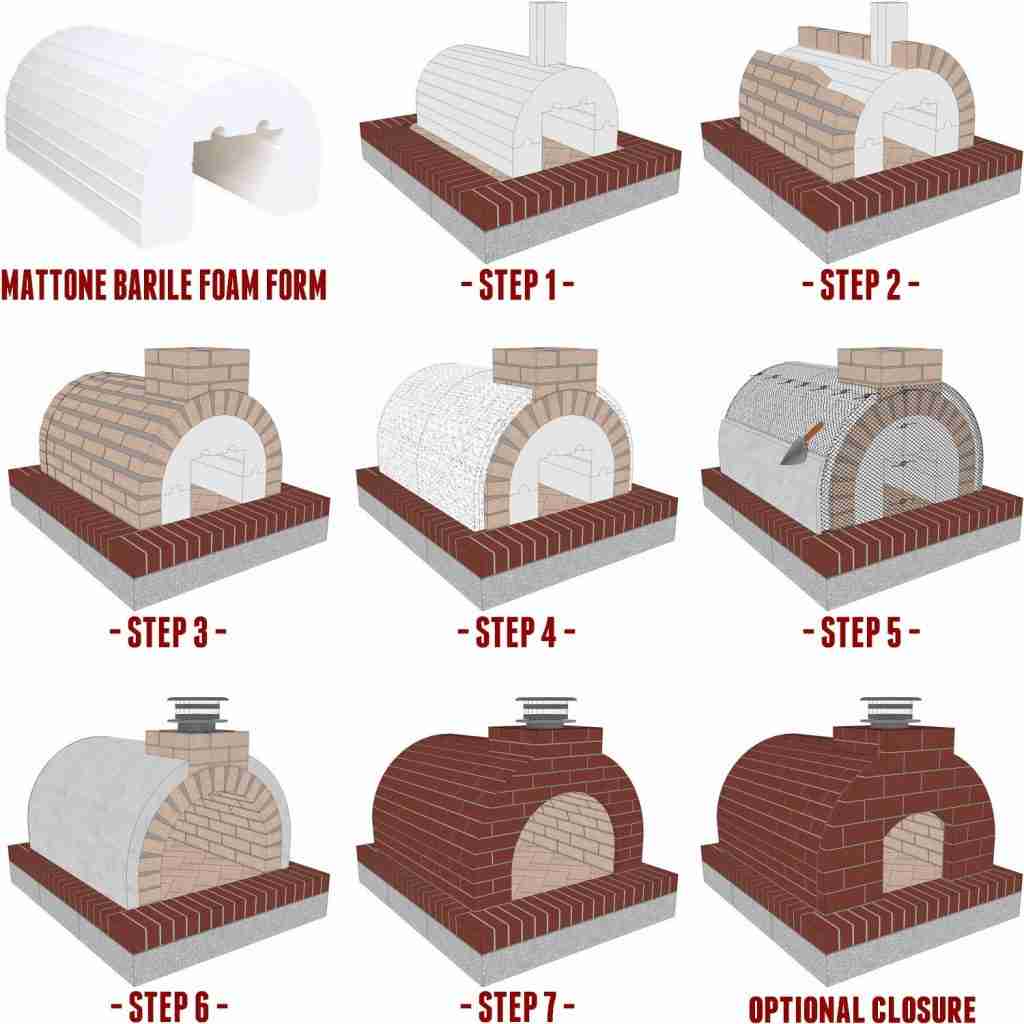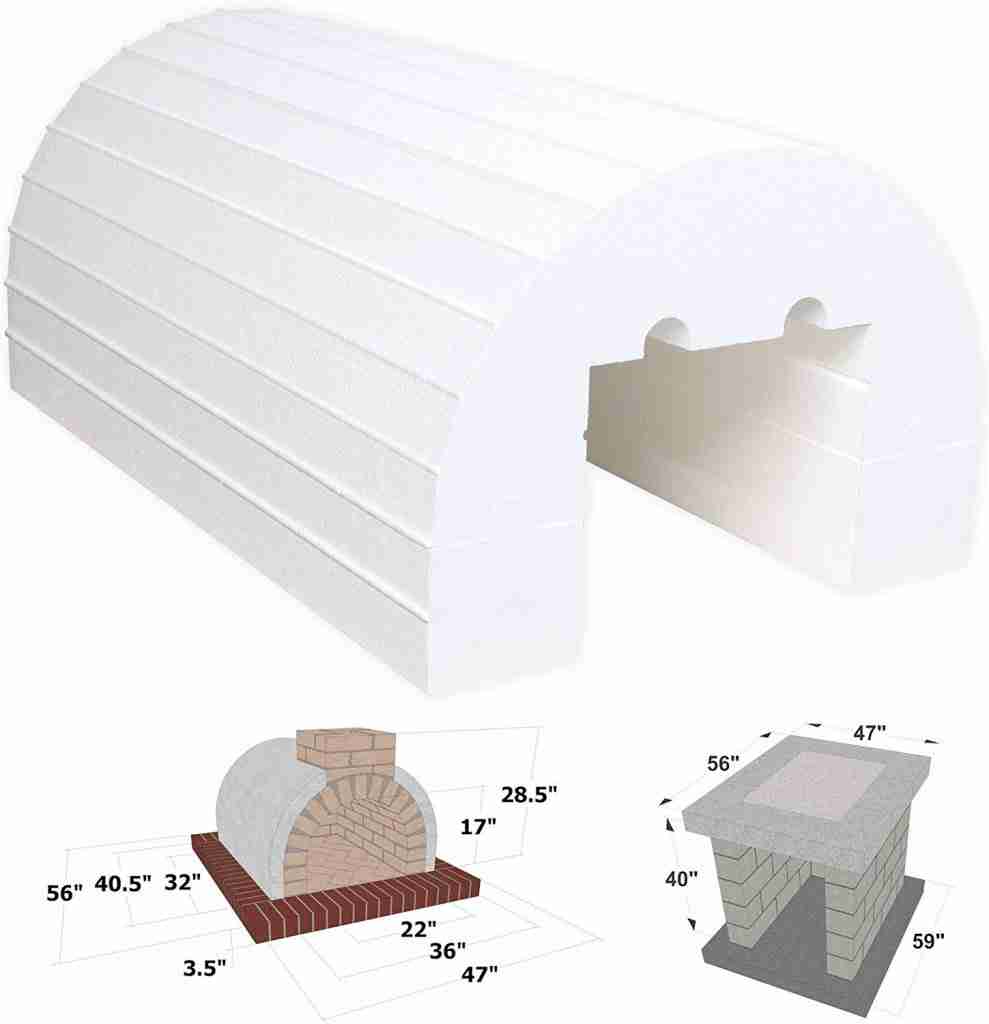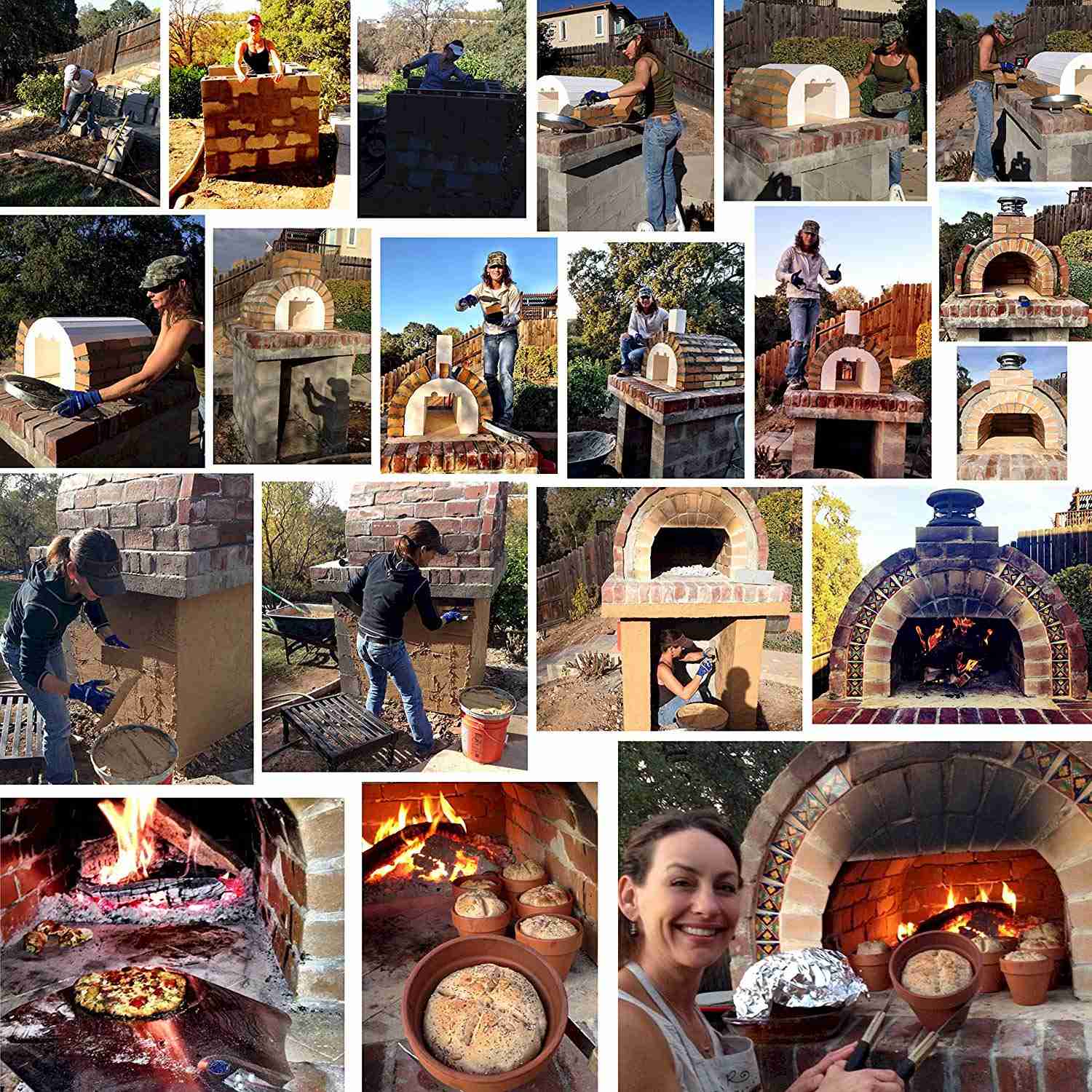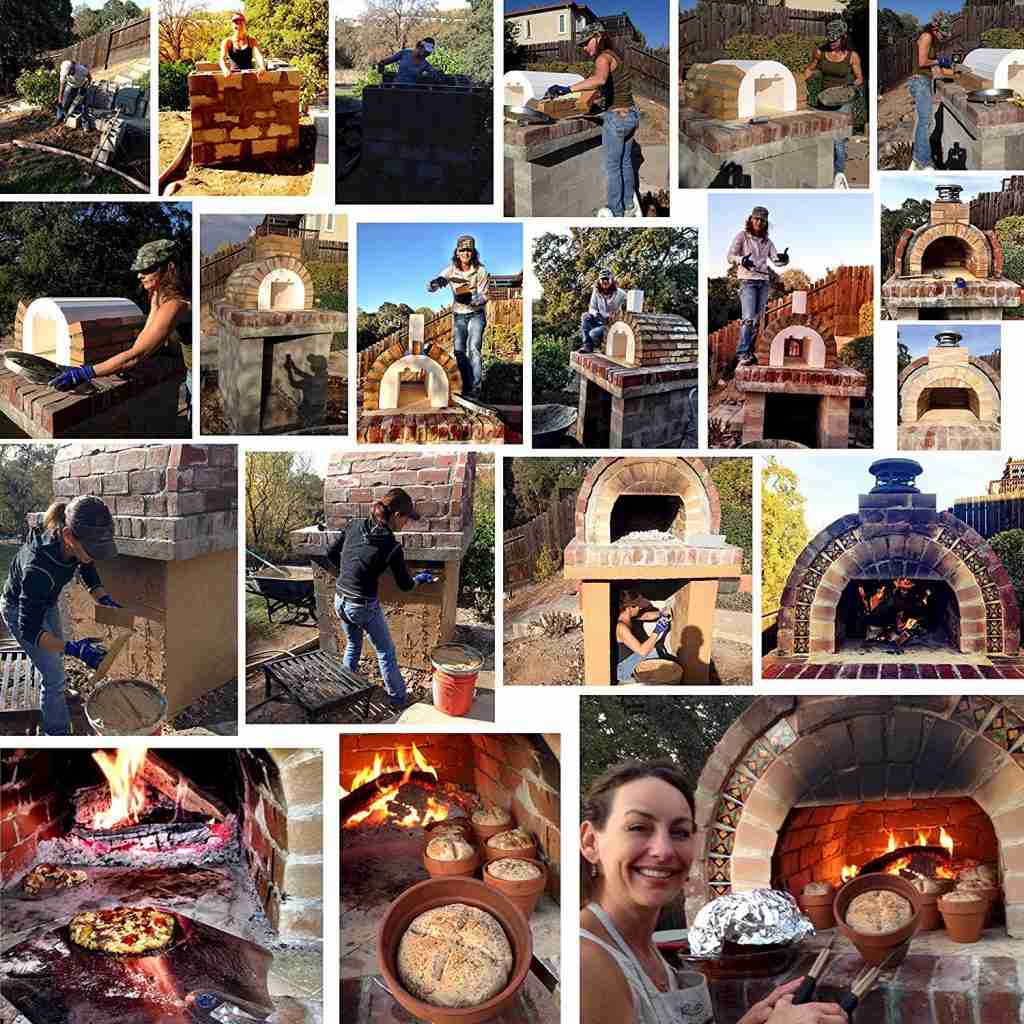 This medium-sized model is an incredible do-it-yourself (DIY) tool. This pizza oven comprises a cooking surface that can prepare either a pizza for two or cook meals for up to fifteen guests. The DIY approach helps in lowering your costs since you can create an oven using materials that have been locally sourced. When you blend this wood fired pizza oven kit with local masonry equipment, including mortar, firebricks, etc., you will eventually create an inexpensive and effectively performing oven.  
The Mattone Barile pizza oven form is the only item that comes in the kit. So, it is not fitted with any accessories, meaning that you'll have to purchase separately. However, in the package, you will also find the fiber blanket made of ceramic, which is highly endorsed. It has been created to fit in smaller patios and places, and such a blanket can prepare up to twenty pizzas within an hour. 
The dimensions of this model are 27 x 19 x 41 inches, while its cooking surface is 1107 sq. inches. Building this oven is super easy and fun, and most families tend to do it together. It works perfectly for BBQ, bread, pizzas, and other smoked foods.
---
PROS:
It can be used for big families or groups;
Easy to use;
It can prepare a variety of meals;
Fun DIY assembly.
CONS:
You will have to purchase accessories separately.
---
5. Tengchang Pizza Oven on Wheels – Best Garden Wood Fired Pizza Oven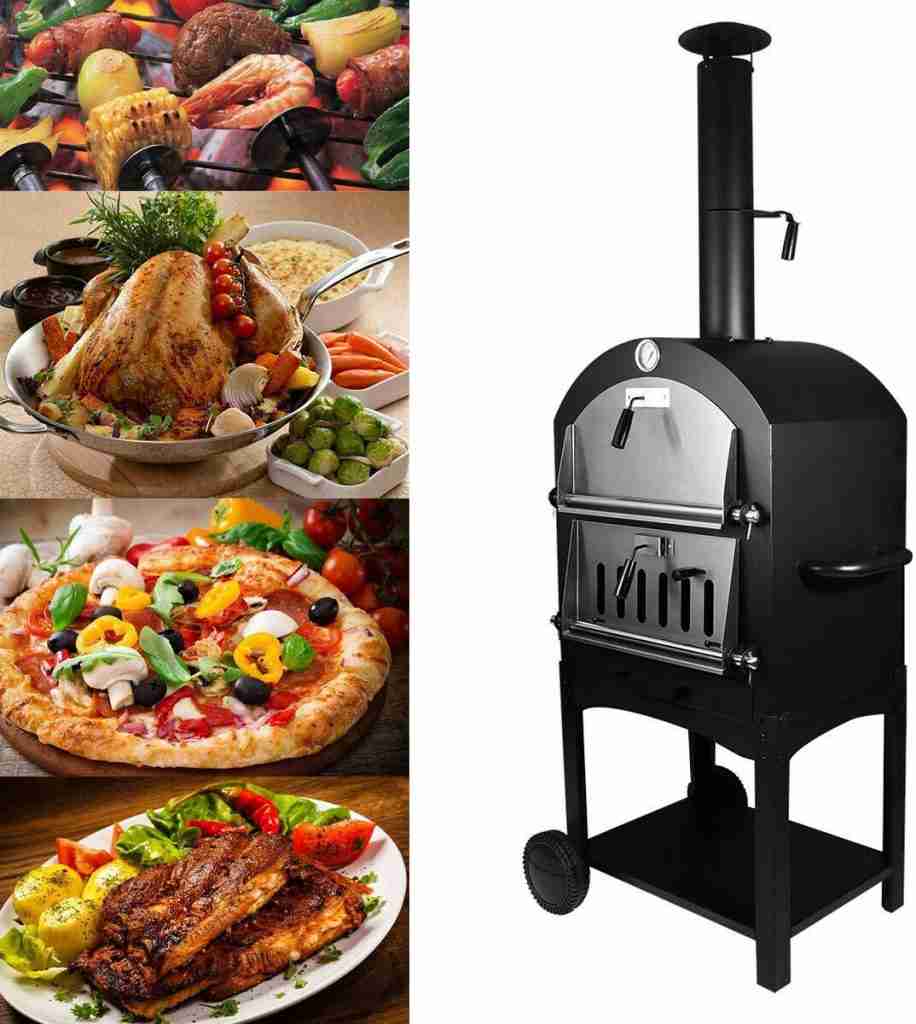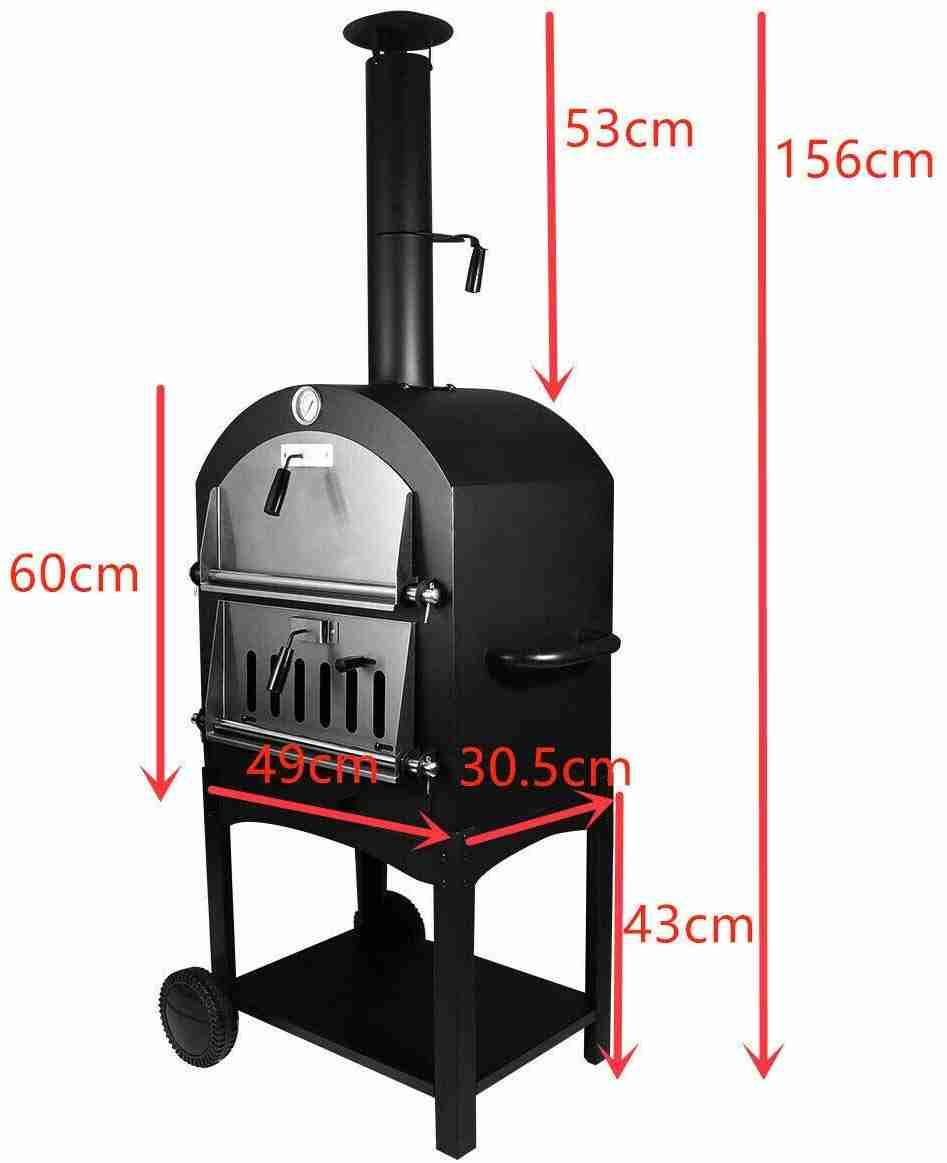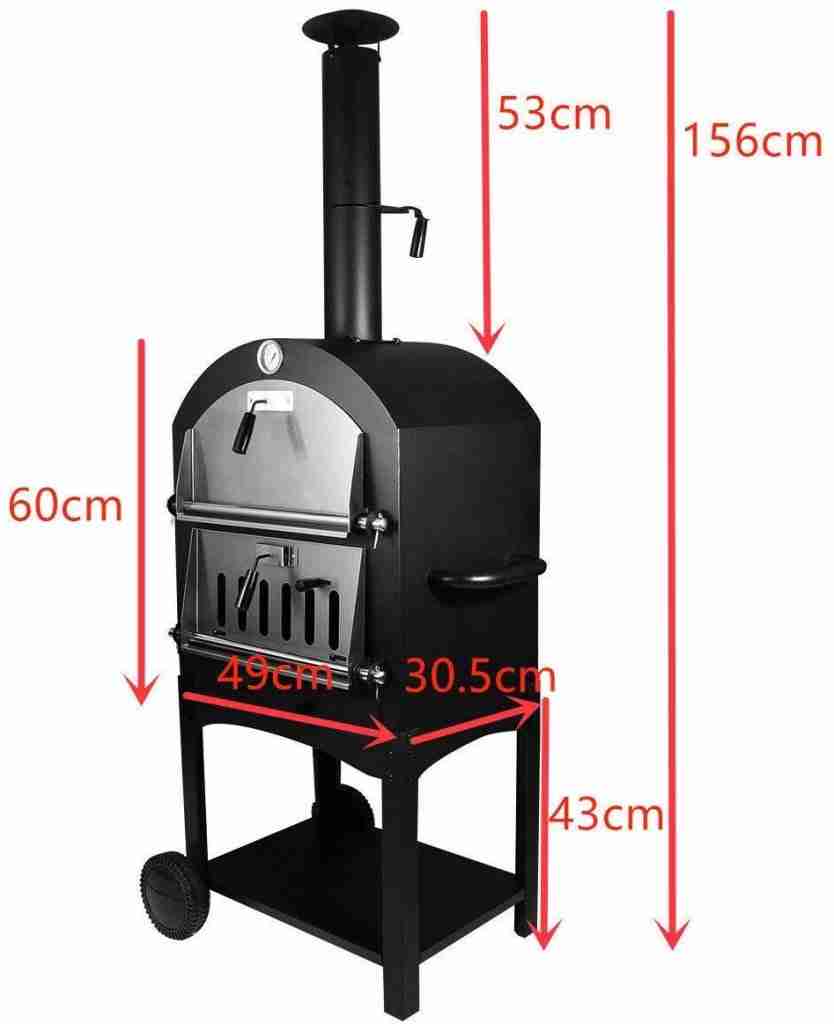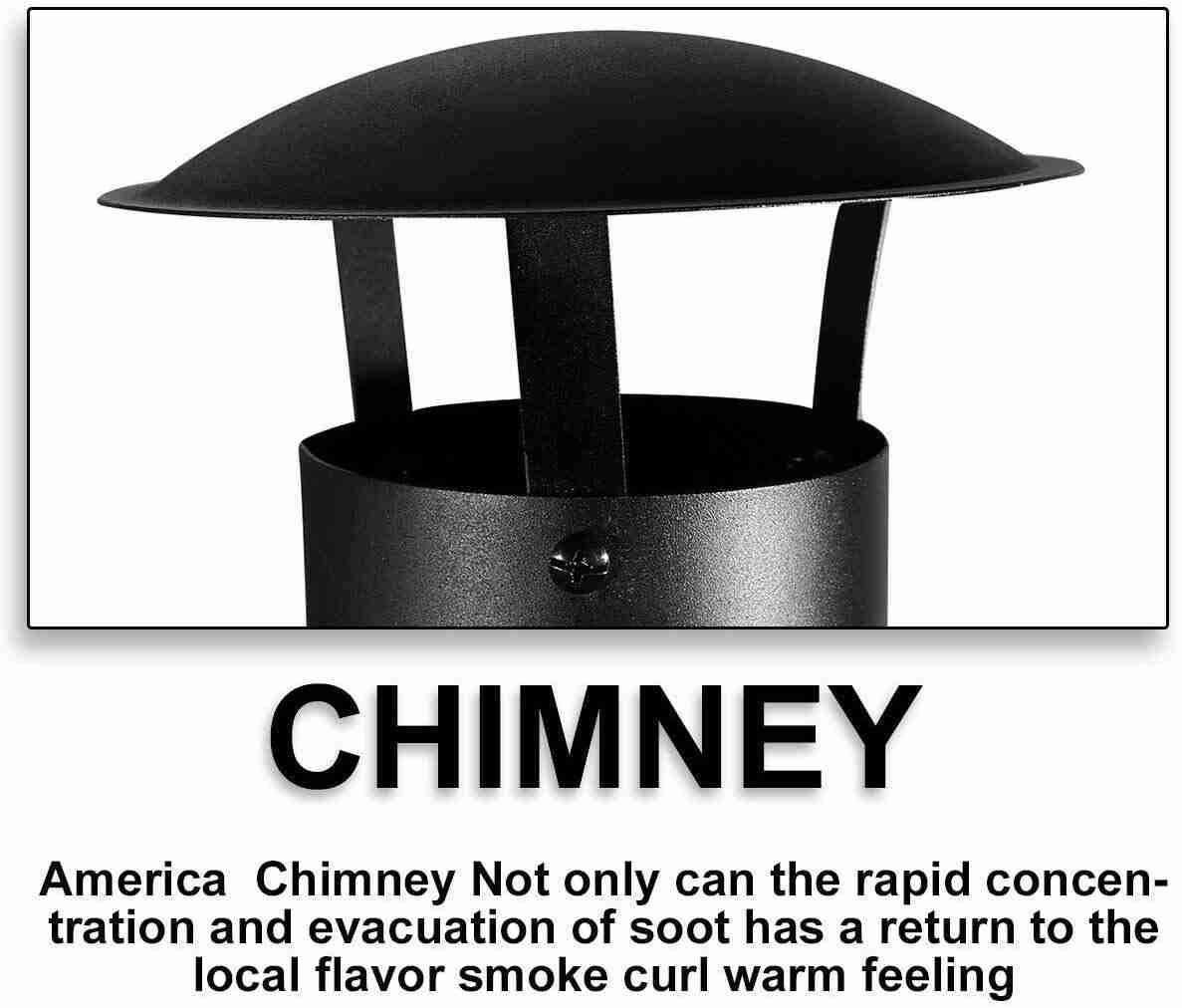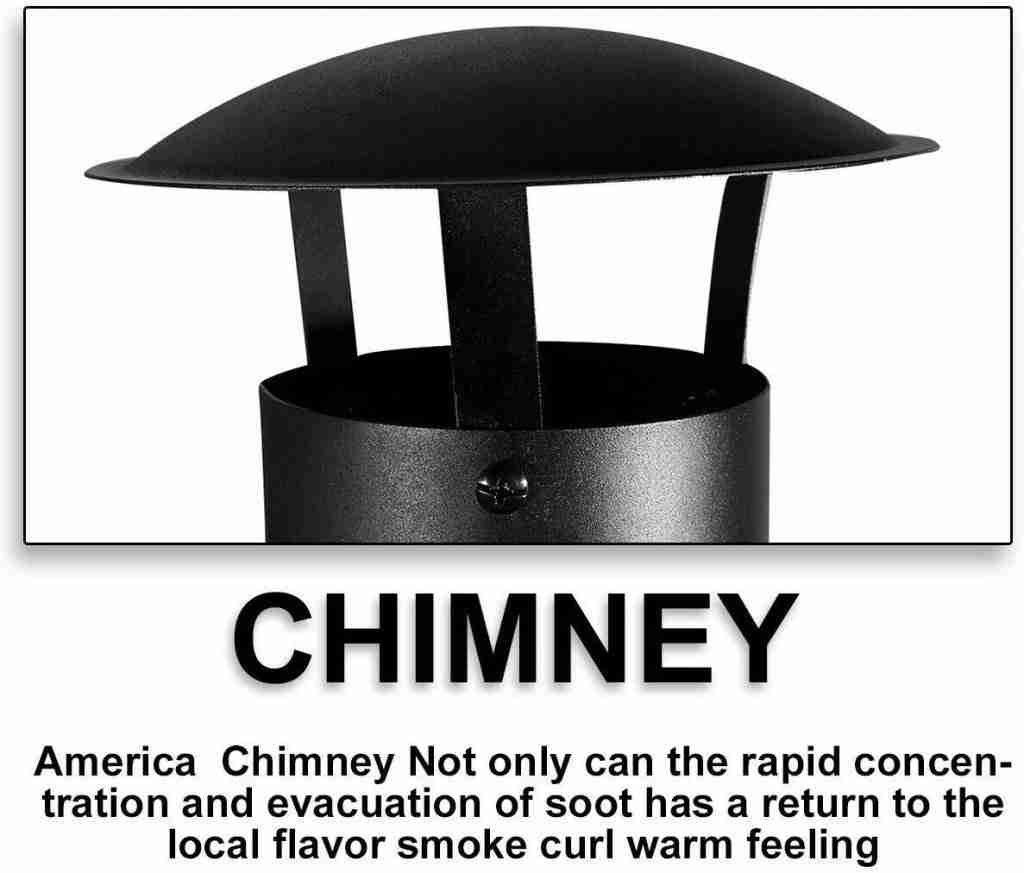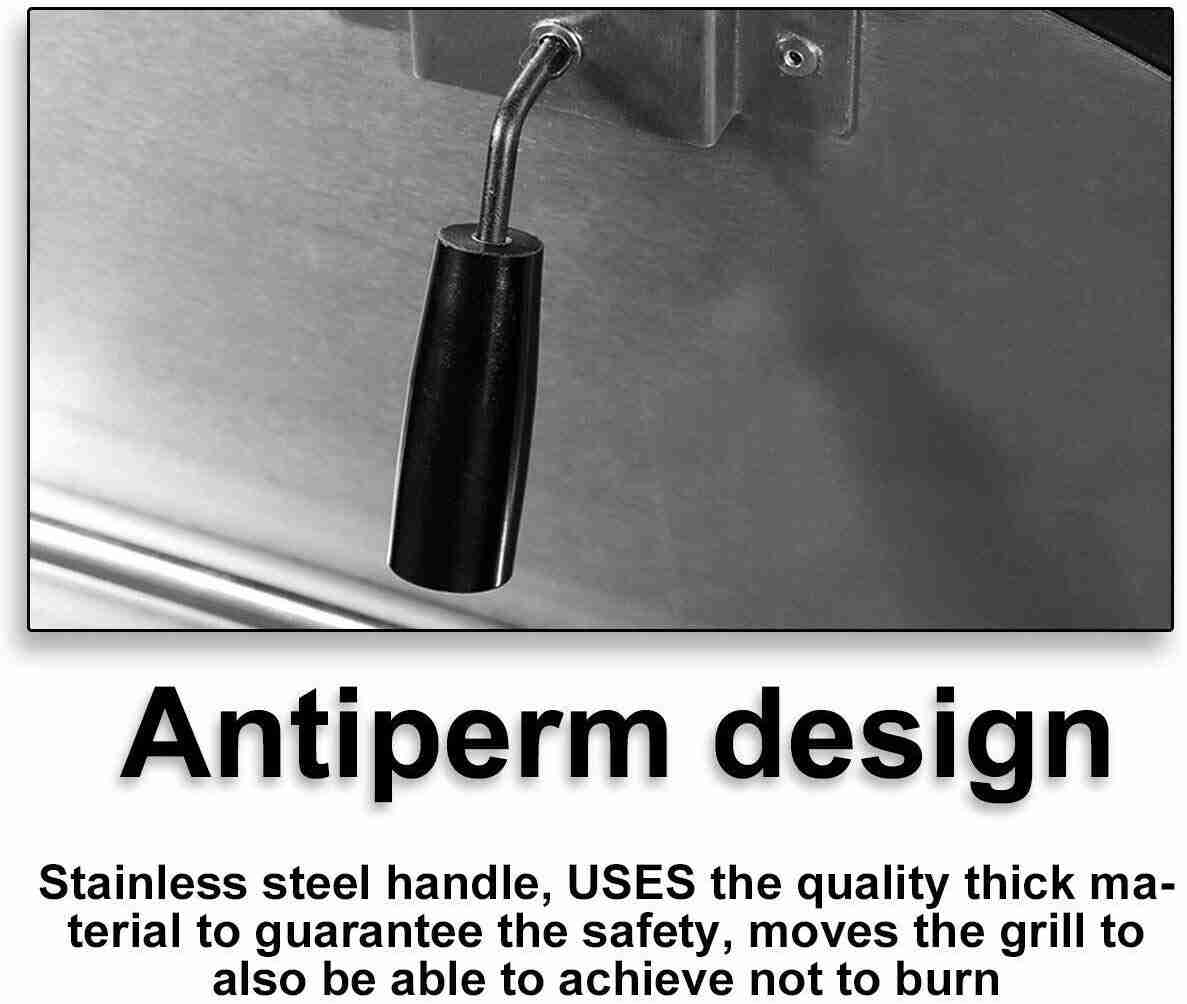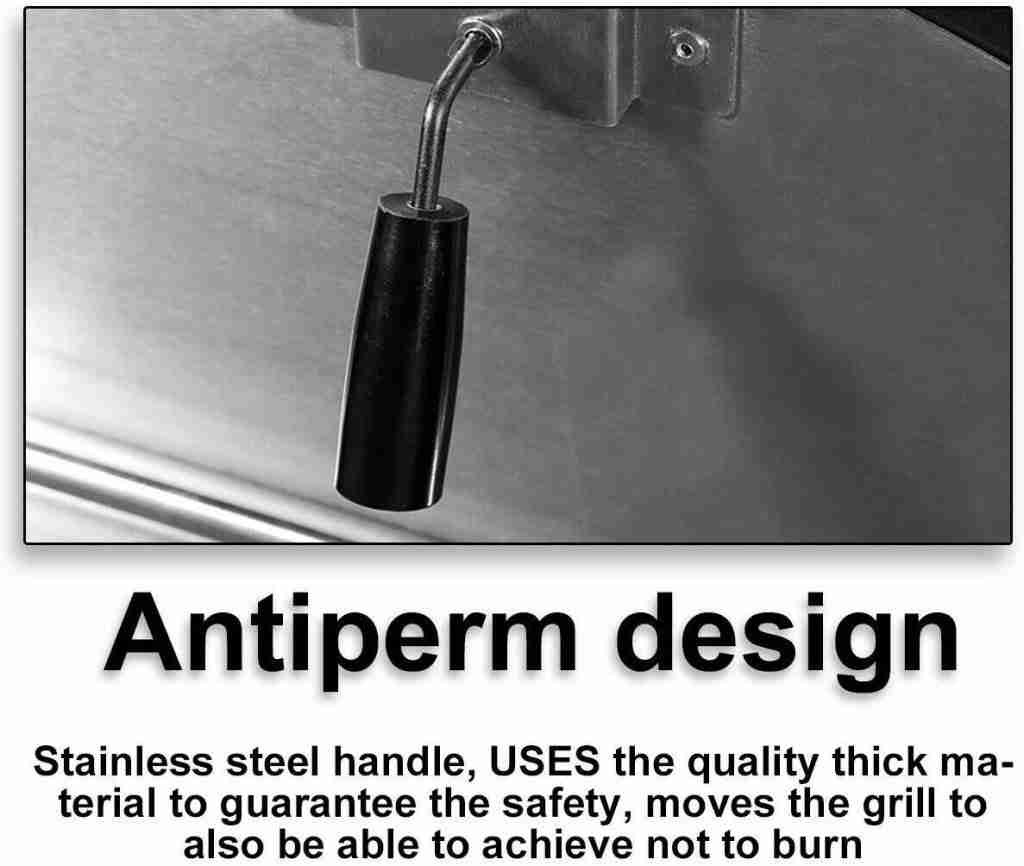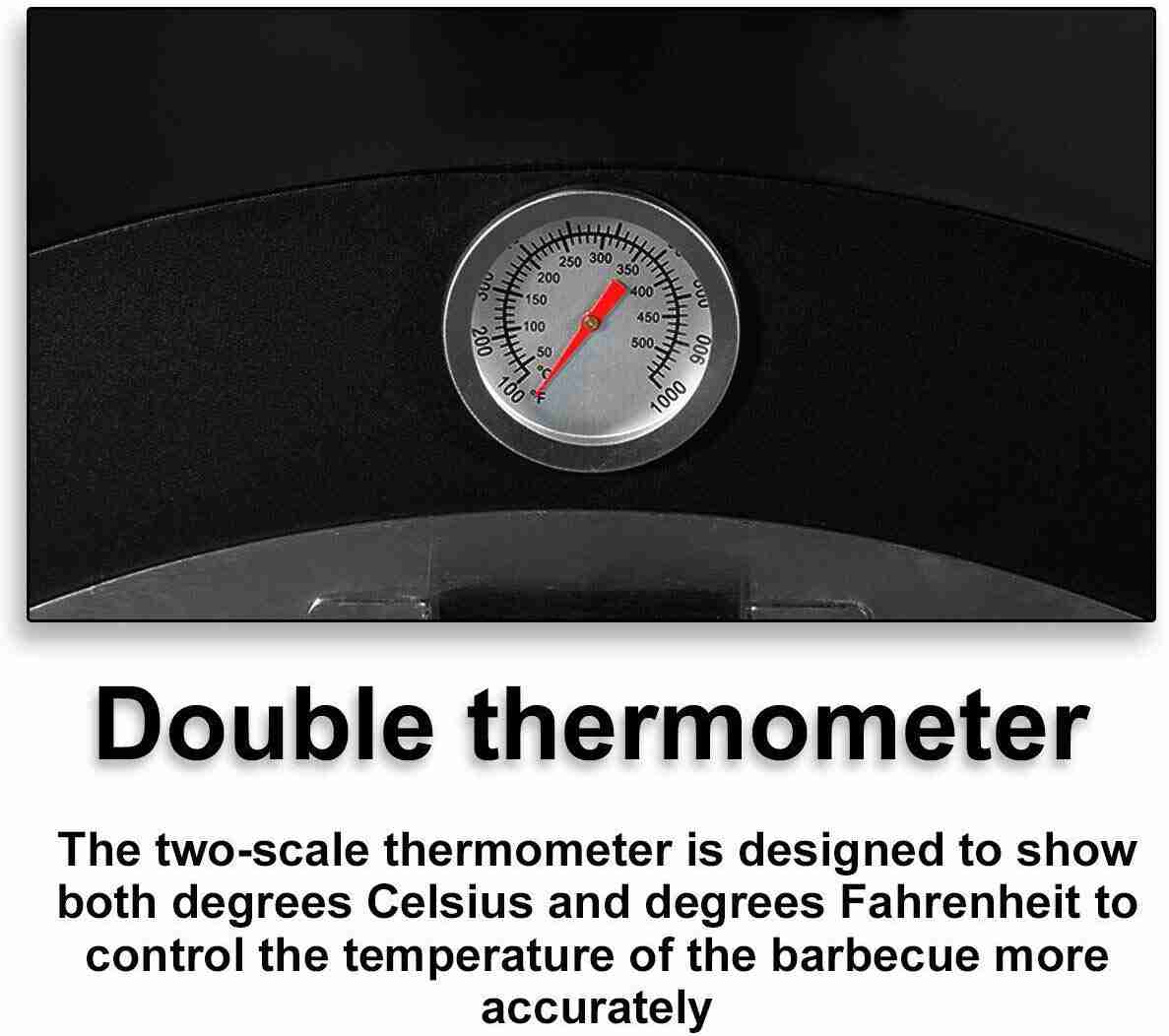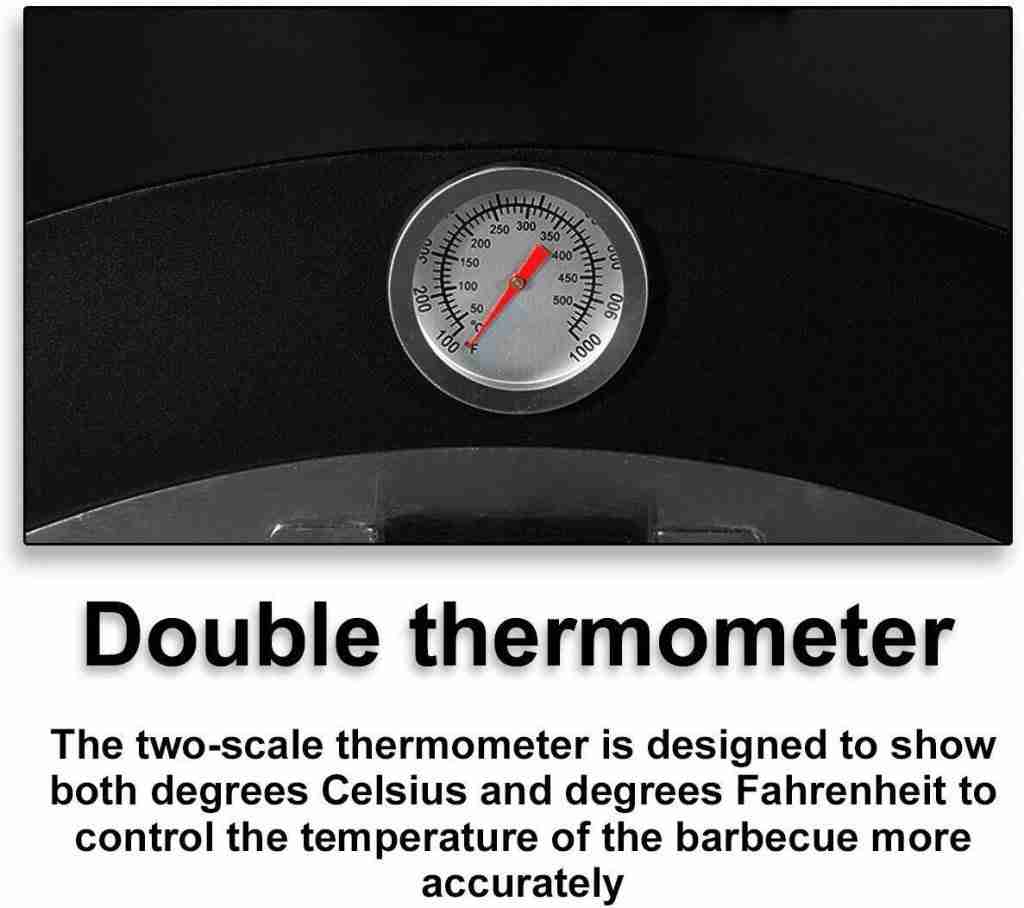 This movable metal pizza oven is more adjustable and multipurpose compared to other tools reviewed here. So, it can be used to prepare not only pizzas but other foods. It is an affordable model to cook vegetables, meat, and even an entire chicken. Therefore, this appliance can also work as a BBQ. 
Tengchang pizza oven dimensions are 62.4 x 19.6 x 12.2 inches. This easy-to-use unit comes with top and bottom areas that you can easily access from the front. You need to put the wood in the bottom compartment, while the top compartment is the oven itself, where you place the food. 
Both compartments have a large door, so maneuvering around this tool isn't hard. The Tengchang pizza oven comes with wheels, making it easy to move and store when the device isn't in use. I recommend storing this equipment indoors to preserve it for a longer time. The kit comes with a BBQ grill, steel nets, an installation manual, and wheel covers. 
---
PROS:
Wheeled, thus, portable;
An accessible sizable feeder;
Affordable;
It comes with several great accessories.
CONS:
A chimney is quite hard to clean.
---
6. Authentic Maximus Red Pizza Oven – Best Portable Wood Fired Pizza Oven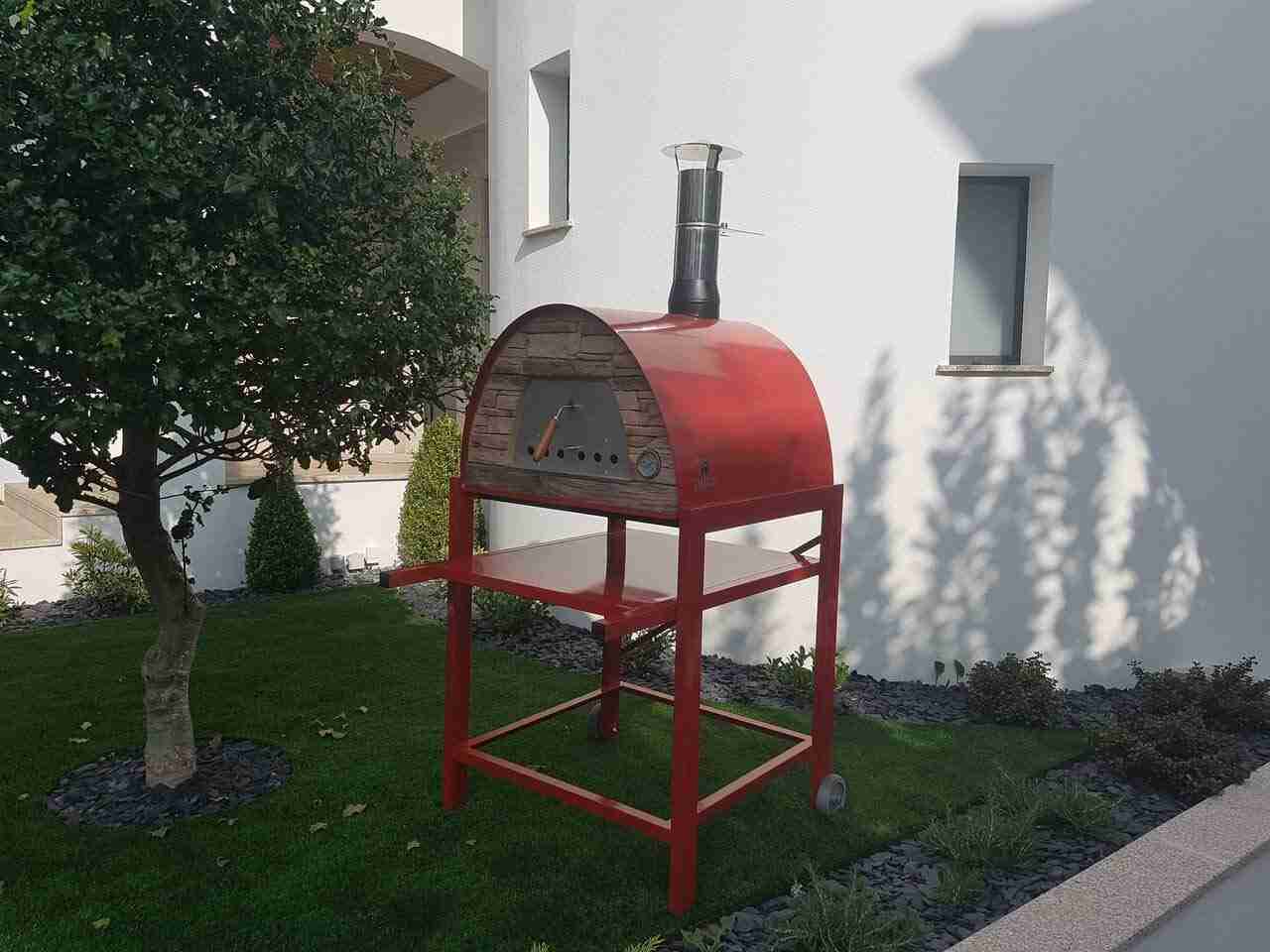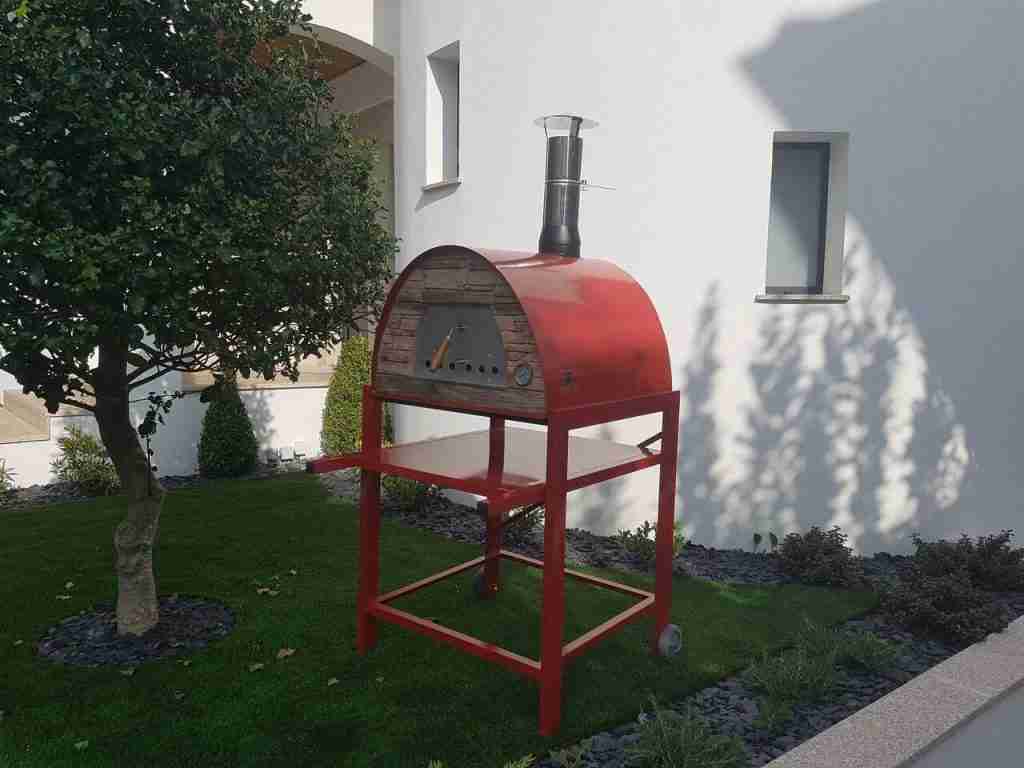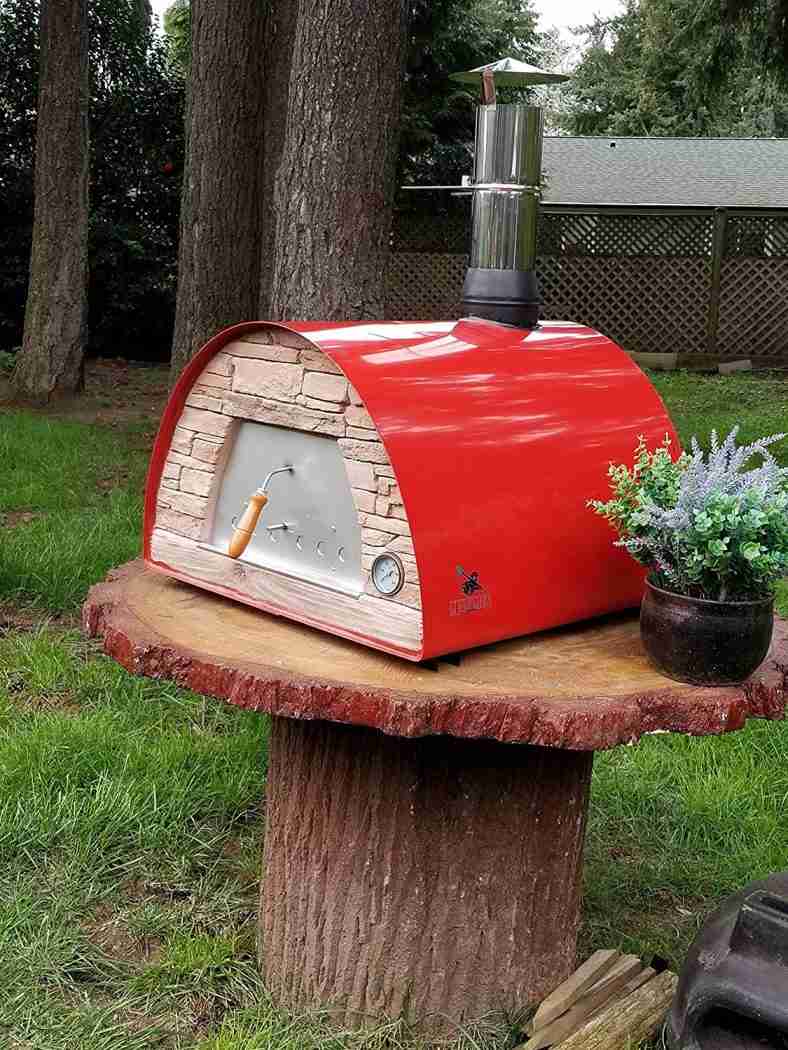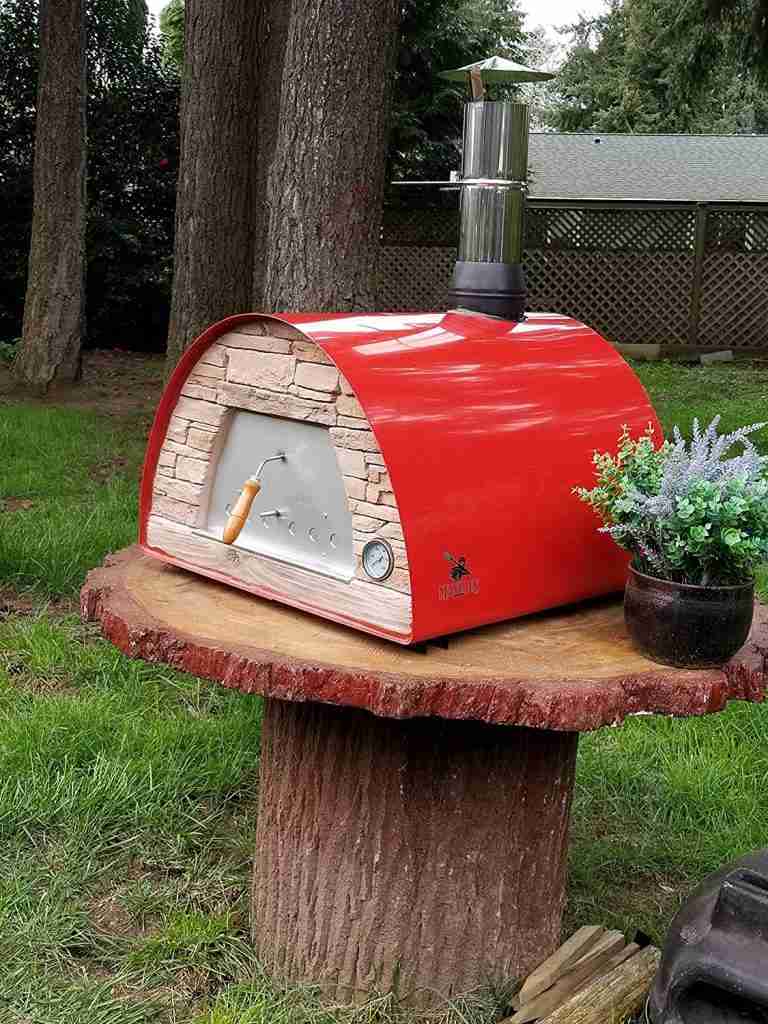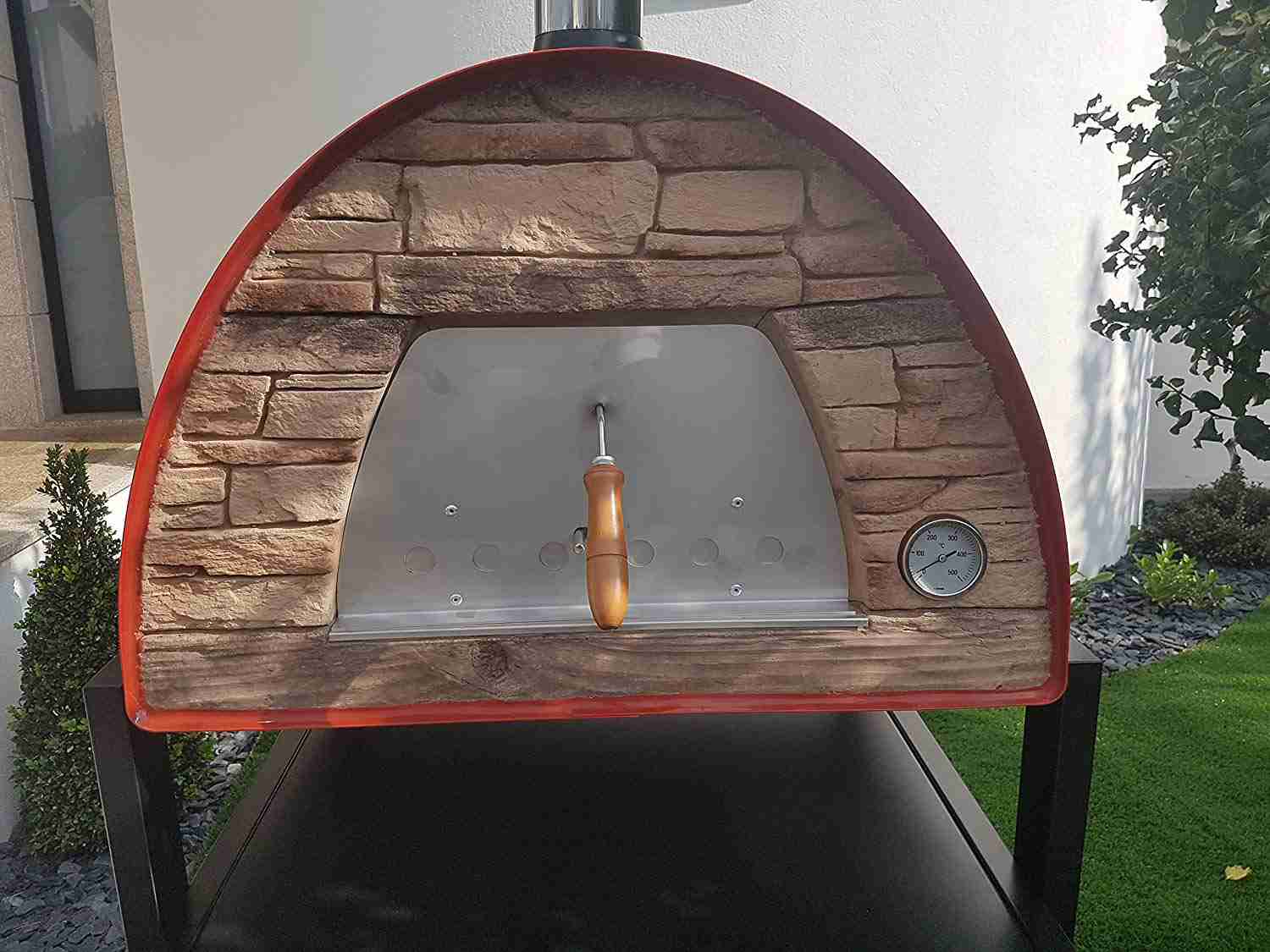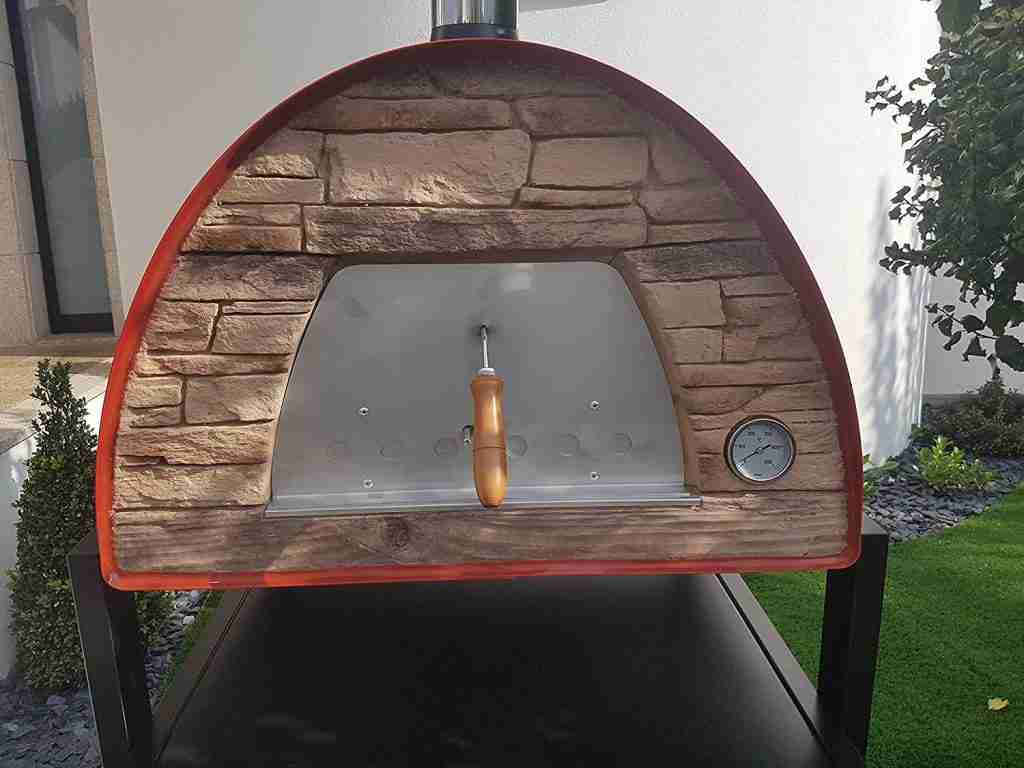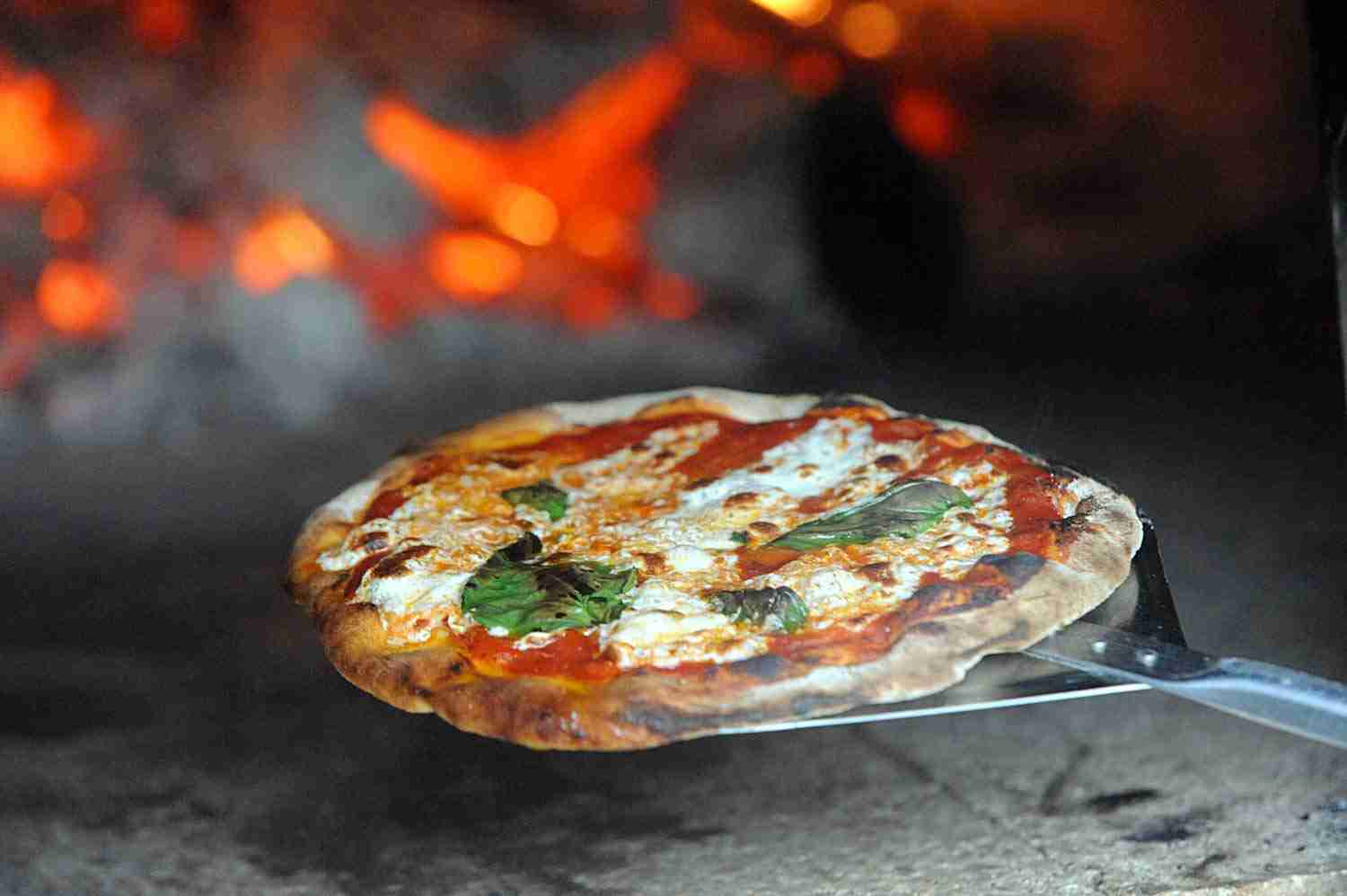 I honestly love this mighty wood fire oven. I find it quite eye-catching since the oven comes in red color. This unique pizza oven gets ready within twenty-five minutes, so its heating time is pretty fast. It weighs 130 pounds and can easily fit in most cars' backs, making it quite movable. It is one of those ovens that you carry with you anywhere you are going to, whether to the beach or for a picnic, or you can have it set in your compound. 
This item can also work as a conventional oven in your house, and it comprises a free stunning ceramic baking dish. This authentic pizza oven is the best device for roasting veggies, chicken, bread, desserts, casseroles, etc. Besides, this model can be turned on anywhere, including trailers, parties, events, food trucks, and so on. 
This equipment is handcrafted in Portugal with aluminum on the exterior, and an interior is fitted with a double stainless-steel wall. Stainless steel is the best material for making ovens since it is resistant to rust and corrosion. The tiles, bricks, and iron used to allow this tool to remain heated inside while being cold on the outside. 
All you have to do is to prepare the pizza dough, put it in the oven, and wait for three minutes for the pizza to get fully baked. Voila! You have a delicious pizza. 
This appliance comprises various items, including a wood/ash catcher, baking dish, pizza peel, thermometer, additional floor tiles, and a chimney. Moreover, this portable wood-fired pizza oven can cook up to thirty pizzas within sixty minutes. 
Authentic Pizza Ovens - Maximus Red Wood Fire Oven
AMAZING PORTABLE OUTDOOR PIZZA OVEN – The Maximus Red Wood Fire Oven is not only a patio pizza oven you can bring it to picnics tailgating or camping...
HANDMADE WOOD FIRED PIZZA OVEN – The Maximus Red is a beautifully designed Authentic Pizza Oven handmade in Portugal; bring the taste of Europe home with...
SUPER-PRODUCTIVE PIZZA MAKER – The Maximus Red can cook 30 pizzas per hour with each one ready in 60-90 seconds and room for two 12" wood fire pizzas...
---
PROS:
A large cooking surface;
Durable;
Heats up super-fast.
CONS:
Can be smokie if you use not the right wood.
---
7. LPG Propane Gas Pizza Oven – Alternative to Wood Fired Pizza Oven Kit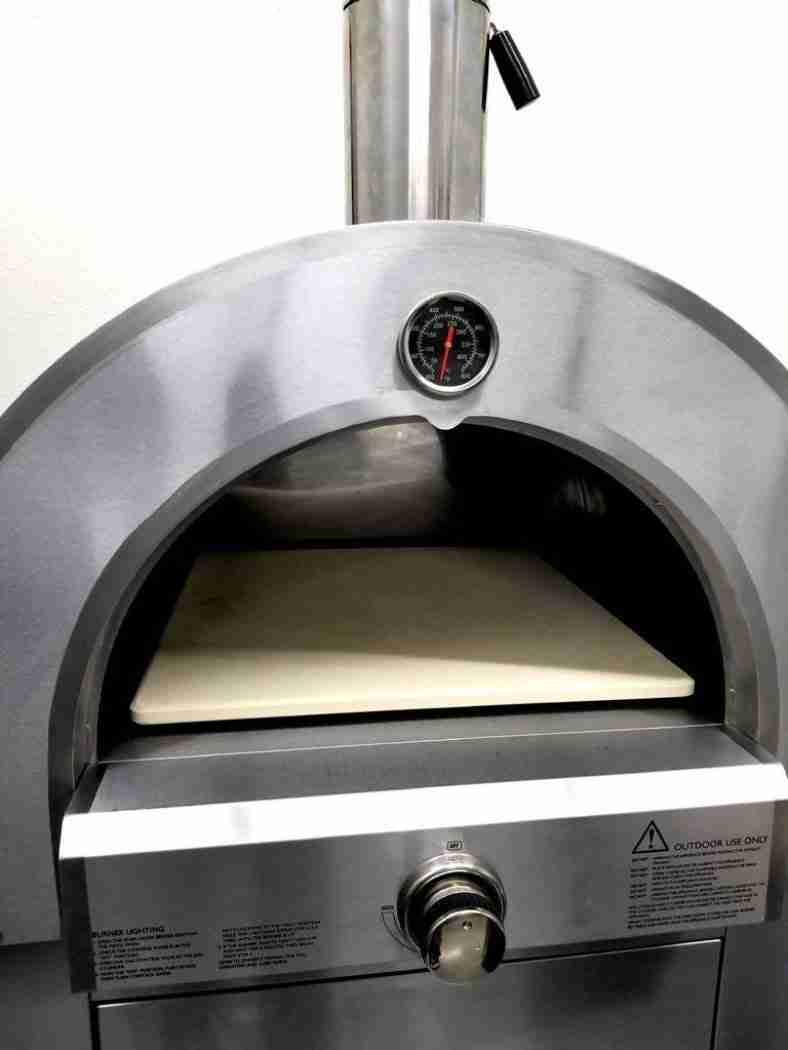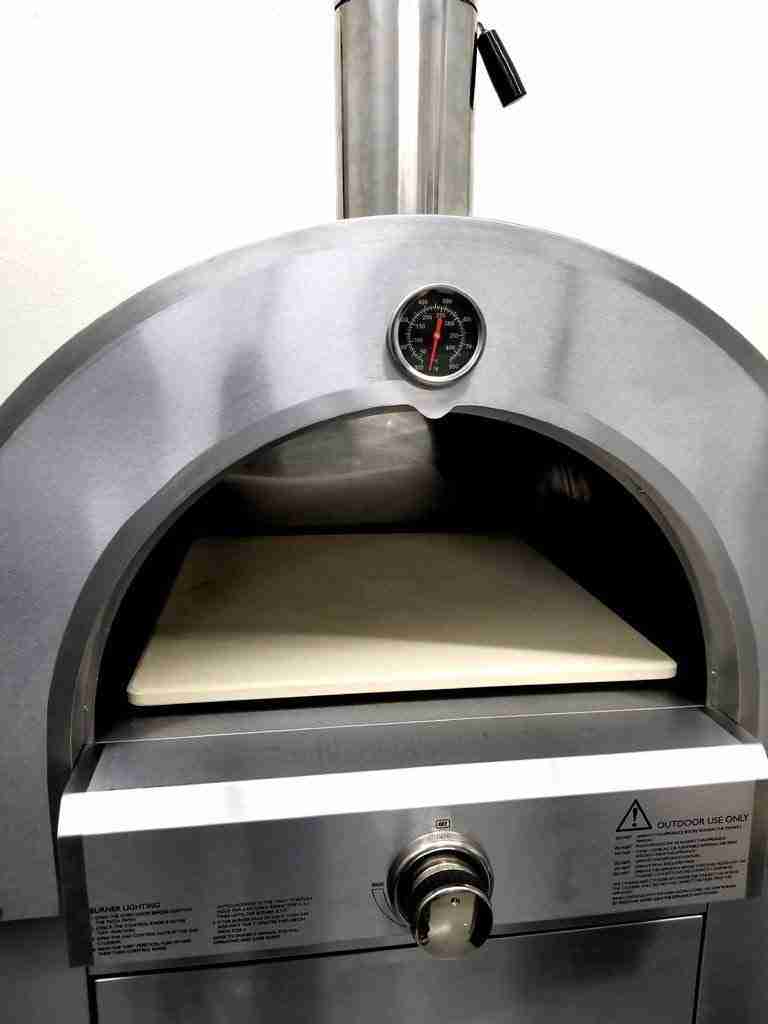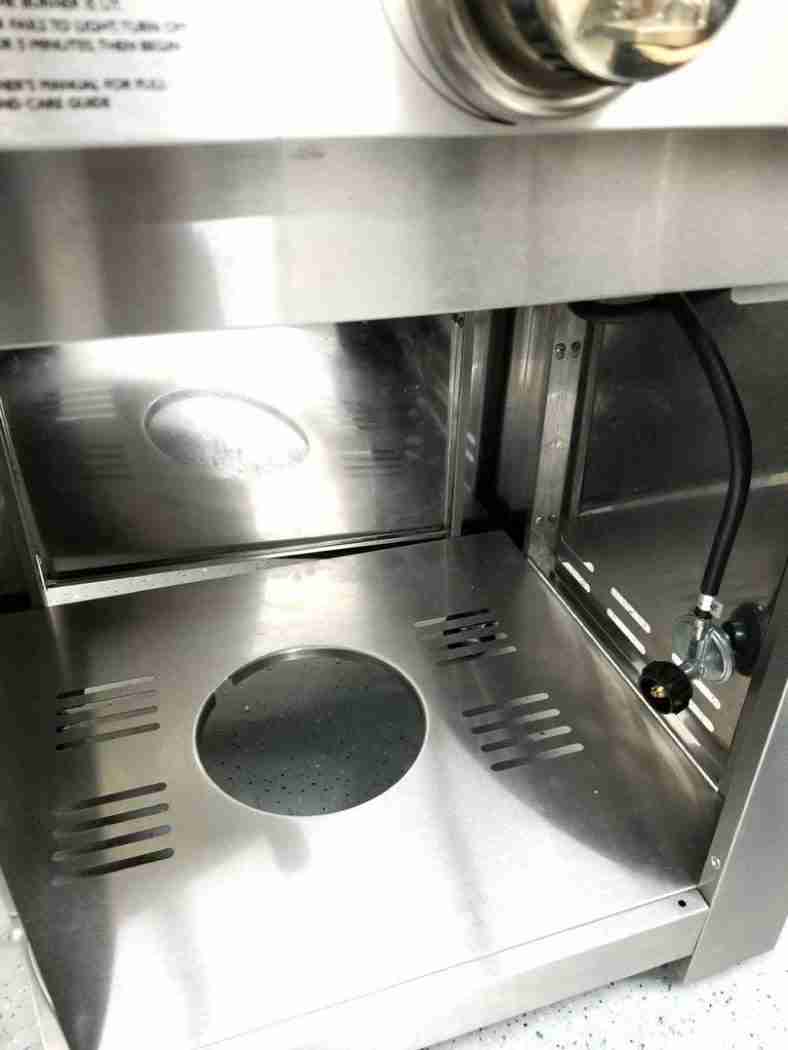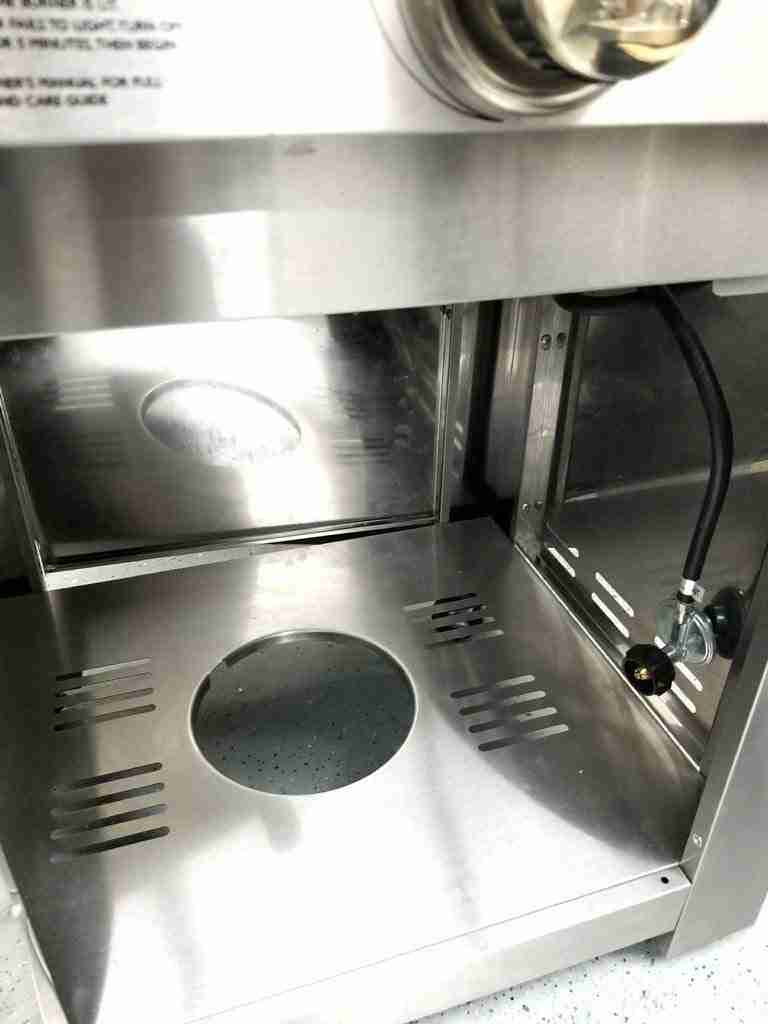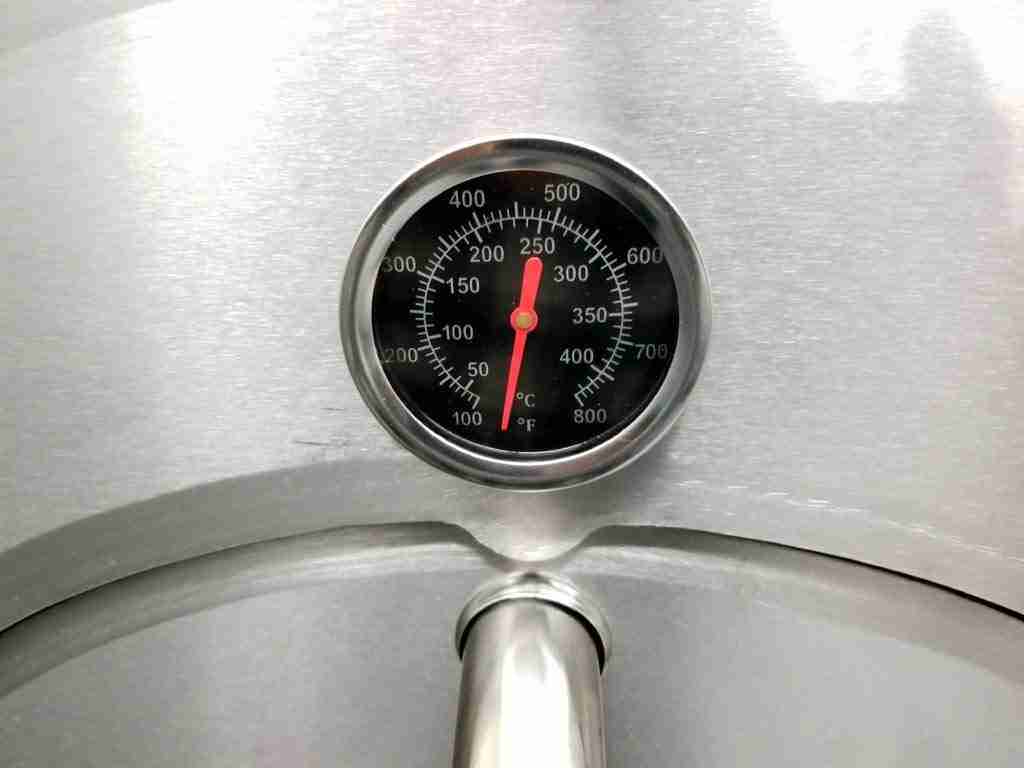 This pizza oven is constructed using 430-grade stainless steel sheets, and I want to note that only top-quality cookers are made from such material. Besides, this oven gets ignited electronically, and it comes with a free cover. 
The complete kit comprises items such as a pizza stone, stand, actual oven, a pizza brush and peel, and a waterproof cover. You can connect the device to a standard-sized LPG tank containing propane gas. However, the oven doesn't come with an LPG tank, so you have to buy one separately.
This pizza oven comes with regulators and lockable castors, which make it readily movable. You will have to put together the stand, but the dome comes entirely assembled. The oven's measurements are 76 x 30.5 x 31 inches, including all vents and doors. The internal dome measurements are 28 x 23 x 13 inches. Also, the model's weight is 156 pounds. 
The LPG propane gas pizza oven comes with a one-year warranty. This tool is fantastic in making delicious pizzas for your friends and family, and I can profoundly call it one of the best ovens for indoor use.
---
PROS:
Portable;
Durable;
It operates on a propane gas;
It comes with a one-year warranty.
---
8. Lisboa Premium Pizza Oven – Best Indoor Wood Fired Pizza Oven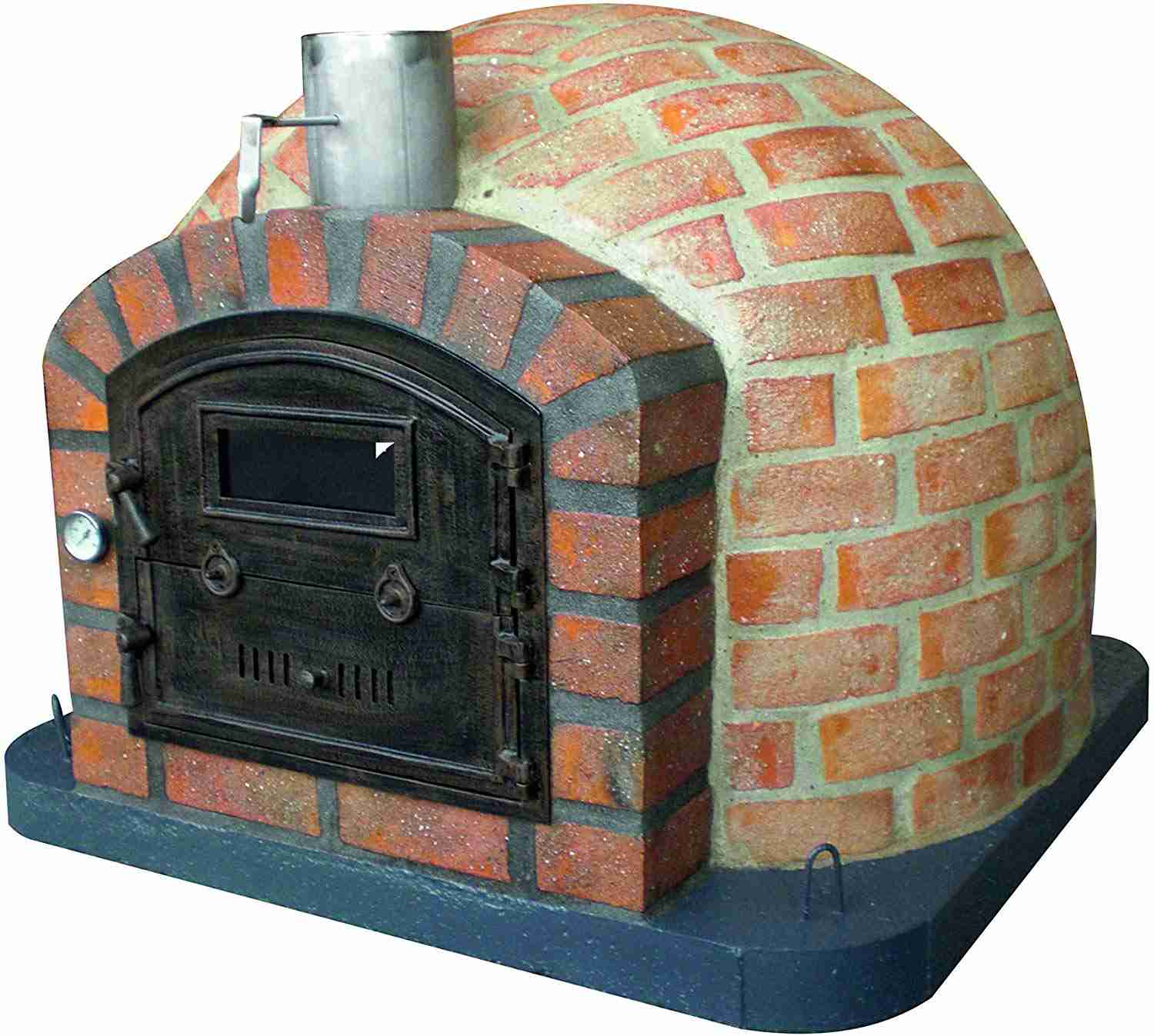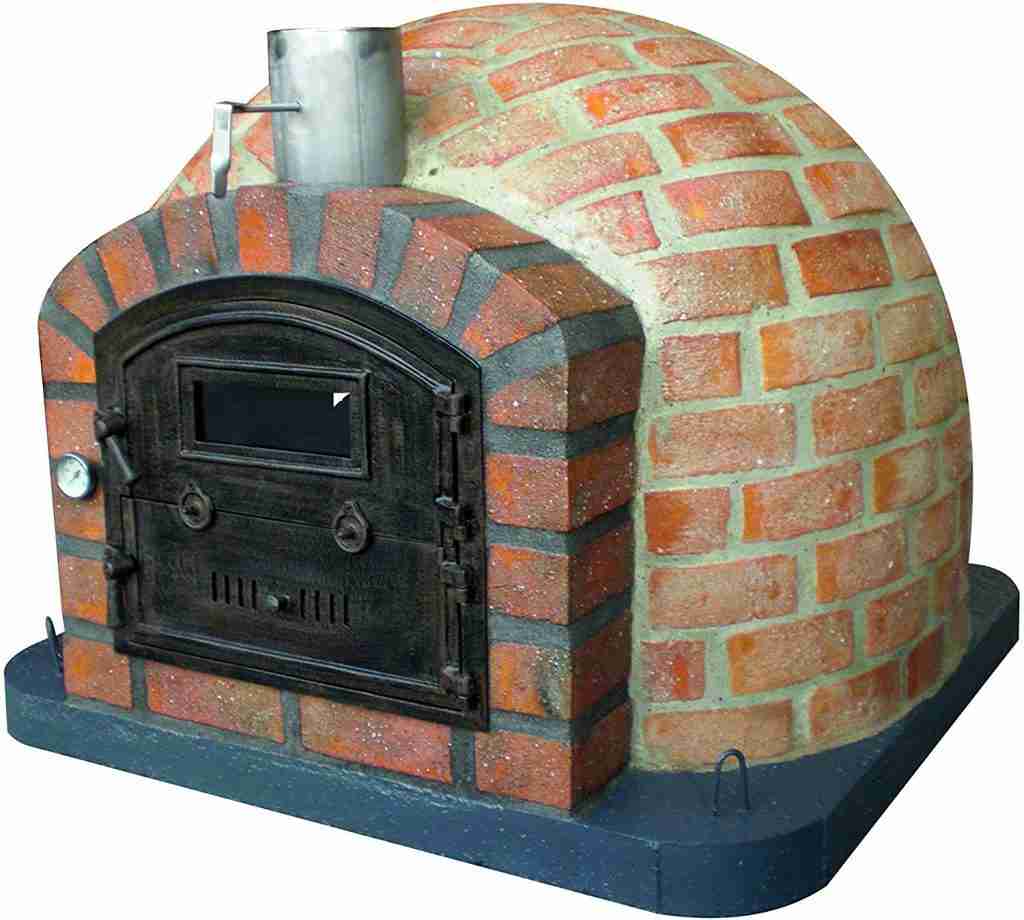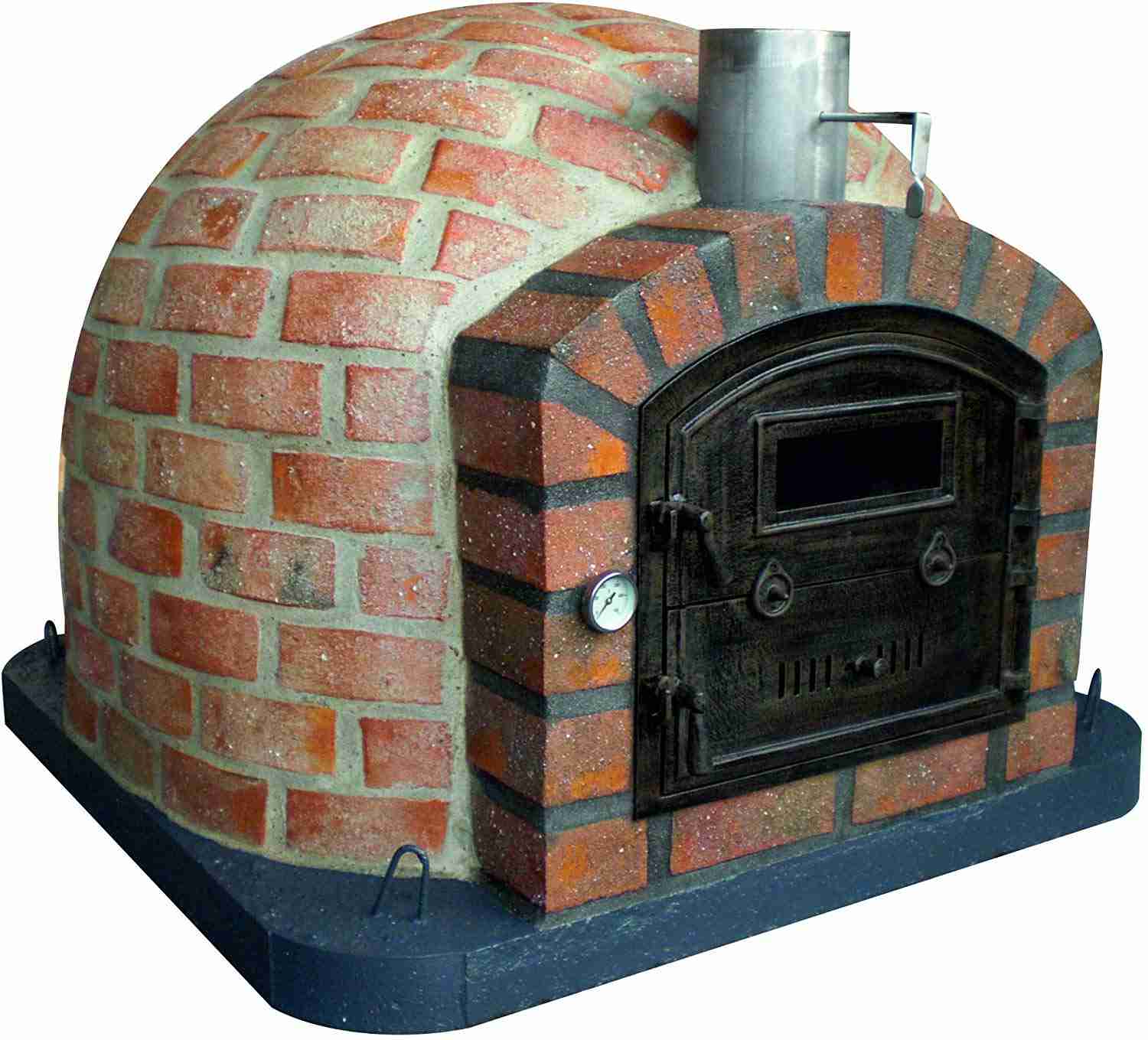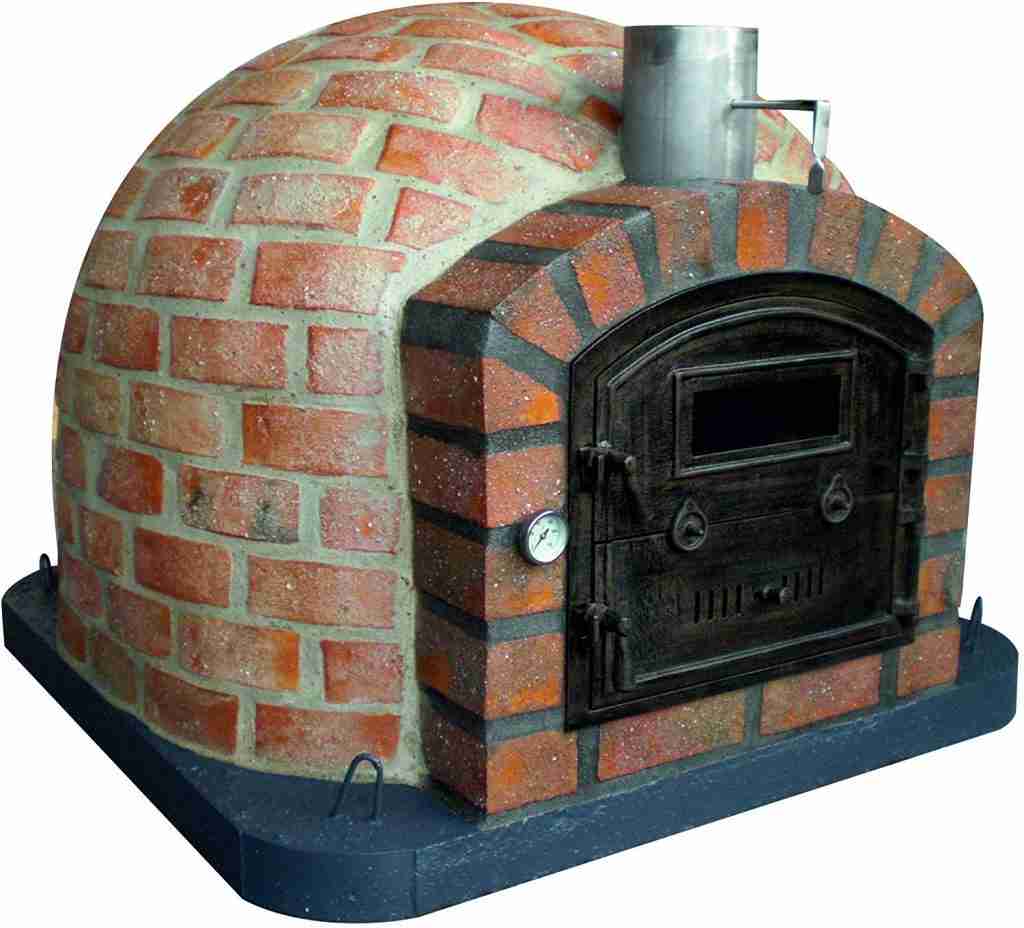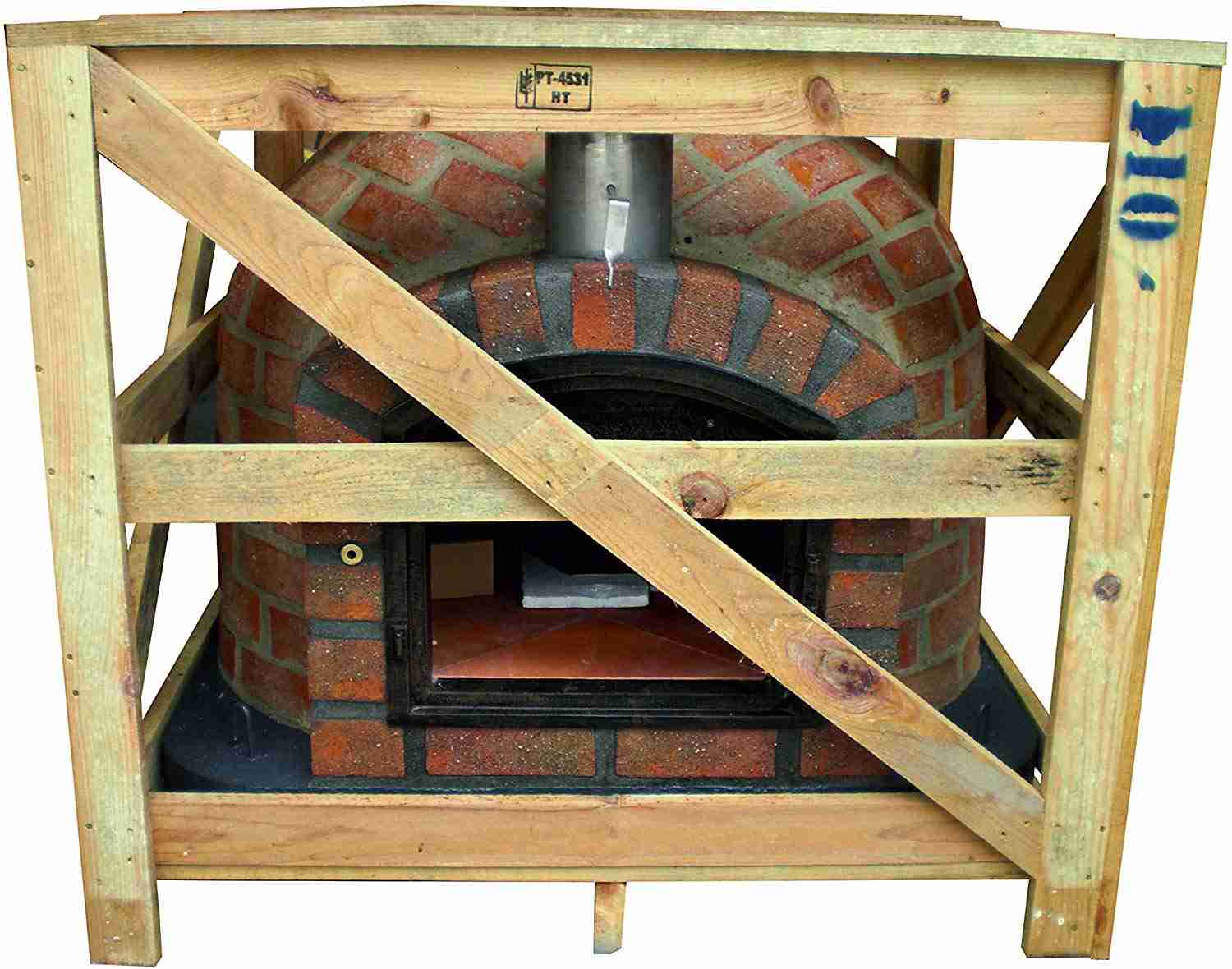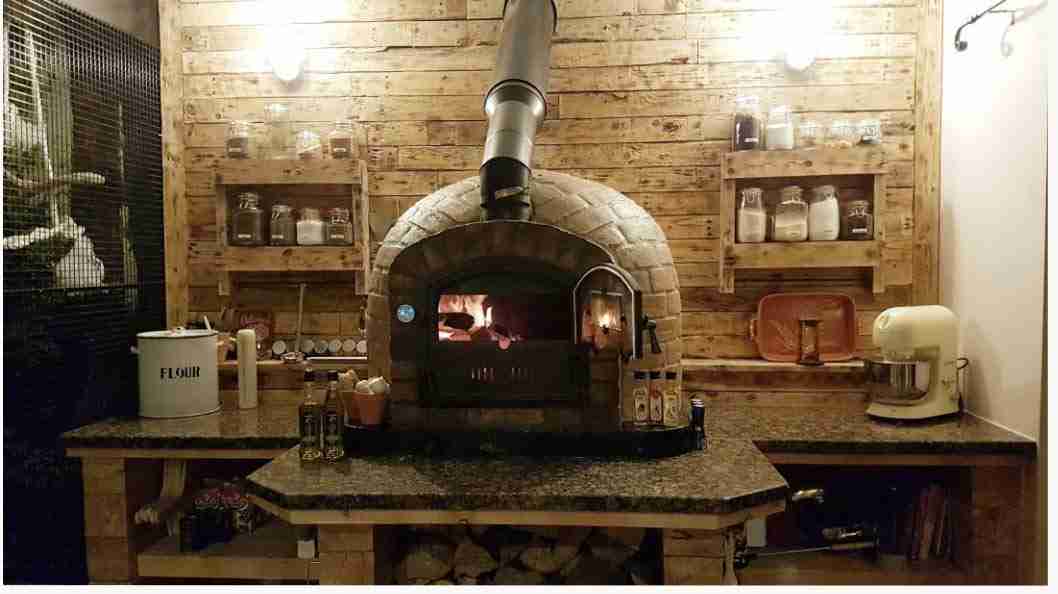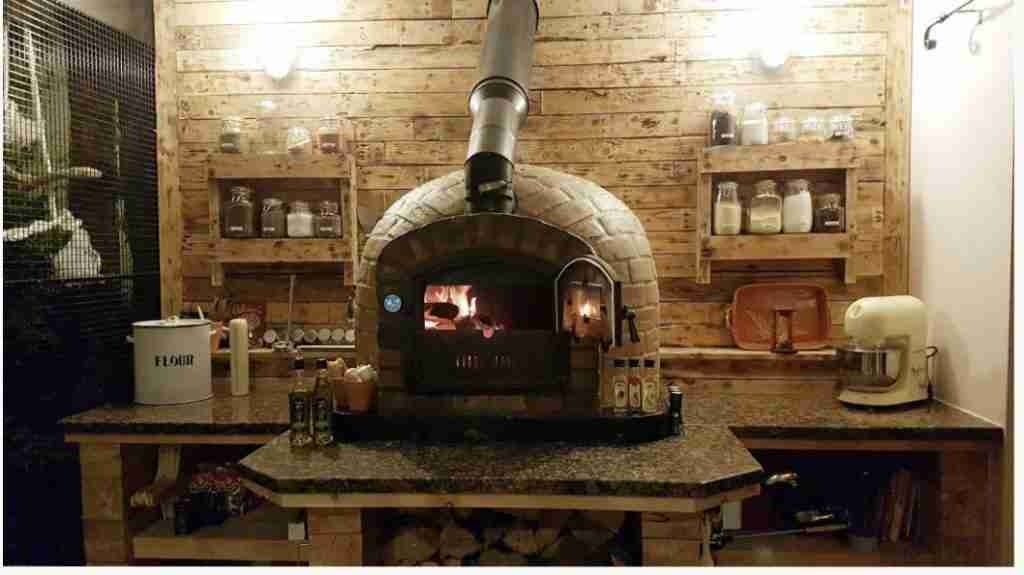 This beautiful pizza oven model differs from any other pizza cooking tools. It is the largest pizza oven ever, made of steel, cement, and brick. It's one of those statement-making pizza ovens. Besides, this appliance can also work as a rotisserie oven. 
The Lisboa's opening is much higher compared to other models, such as the Brazza one. So, this tool is more spacious than the usual pizza ovens. 
This model has the fire more noticeable than usual, so the tool resembles a fire pit. The oven's door is squarely shaped. This item can cook delicious bread, pizzas, as well as rotisseries. 
This Portuguese oven is hand-crafted and has been insulated three times. So, even though the interior may be excessively hot, the exterior remains cool. The kit comprises a chimney cavity, the chimney itself, as well as a door. Also, the oven has a patch kit to deal with external cracks in case of any. This appliance can cook at high temperatures up to 1000°F, and it can bake a pizza within three minutes.
Rustic Lisboa Traditional Brick Premium Pizza Oven
BEAUTIFUL BRICK PIZZA OVEN FAÇADE – The 's brick façade is inspired by the orange brickwork of Portuguese architecture; also this classy patio pizza...
HANDMADE WOOD FIRED PIZZA OVEN – The brick is a beautifully designed Authentic Pizza Oven handmade in Portugal; bring the taste of Europe home with your...
SUPER-PRODUCTIVE PIZZA MAKER – The can cook 30 pizzas per hour with each one ready in 60-90 seconds and room for two 12" wood fire pizzas at a time;...
---
PROS:
It prepares pizzas in a short time;
It heats up to 1000°F;
Durable.
CONS:
Heavy;
It takes a long time to heat up.
---
9. Traditional Brick Pizzaioli Oven – Best Budget Wood Fired Pizza Oven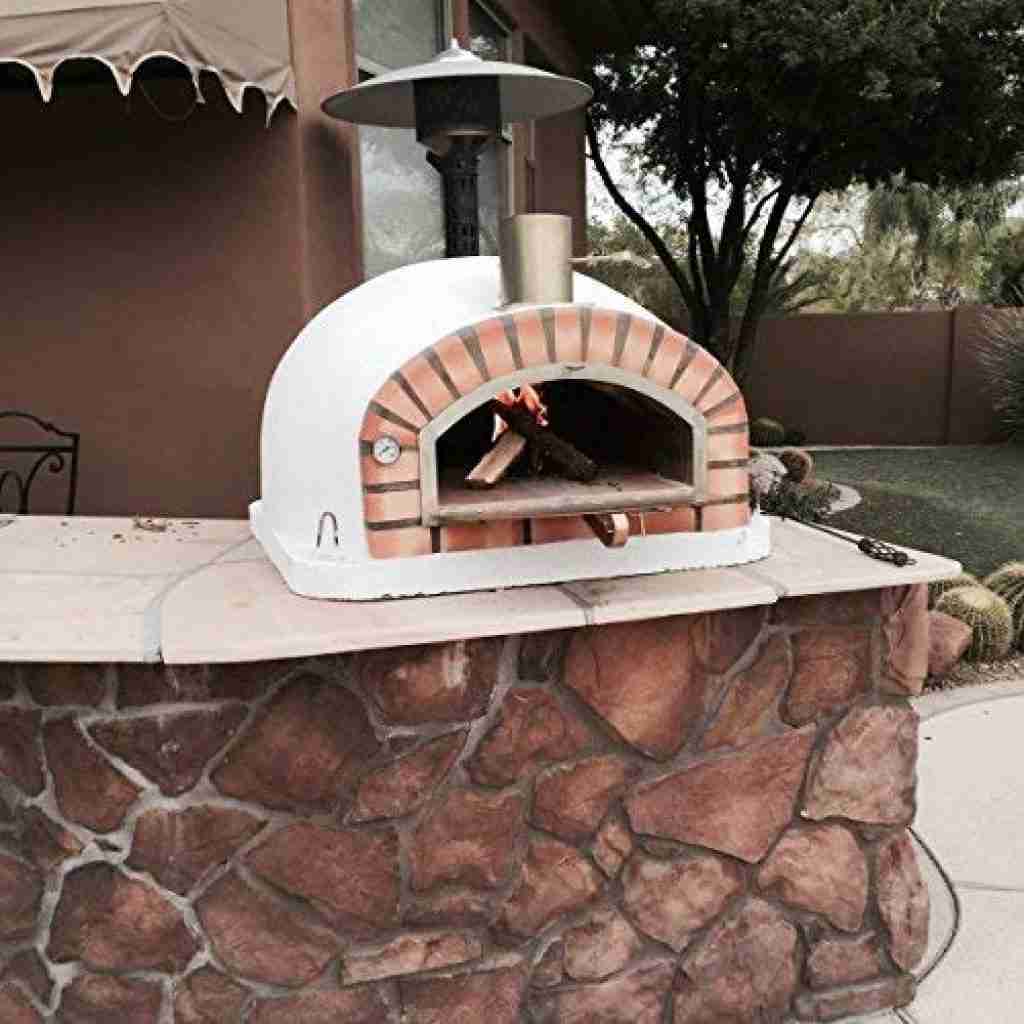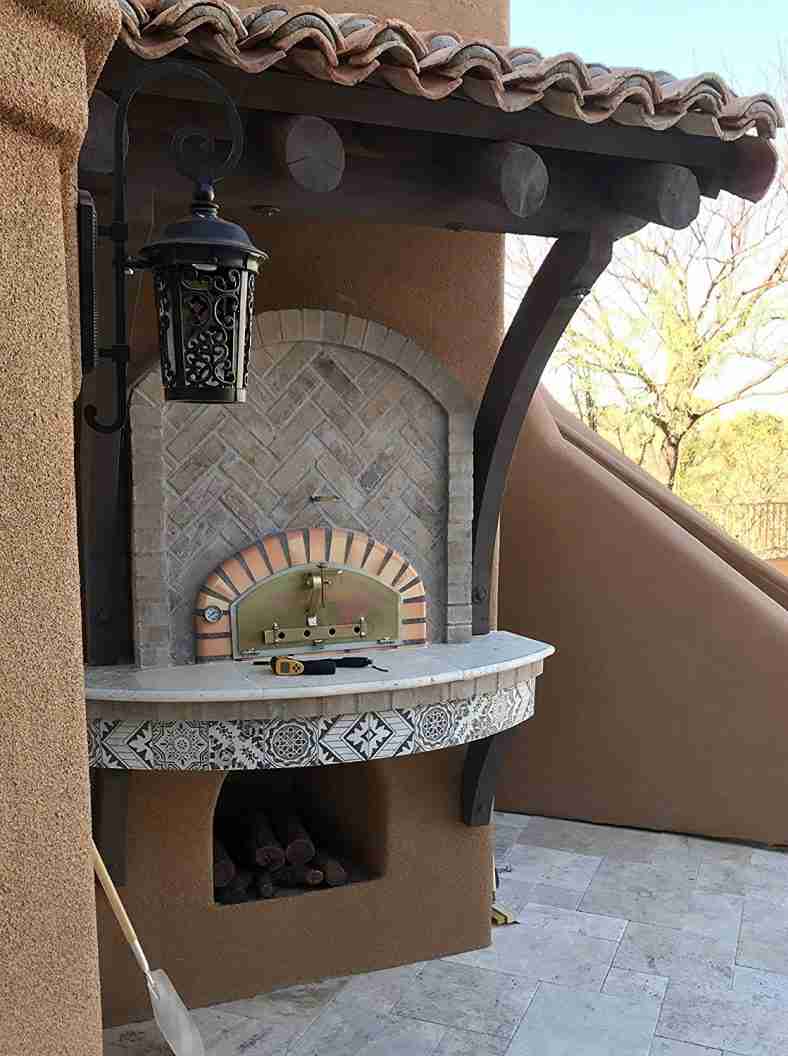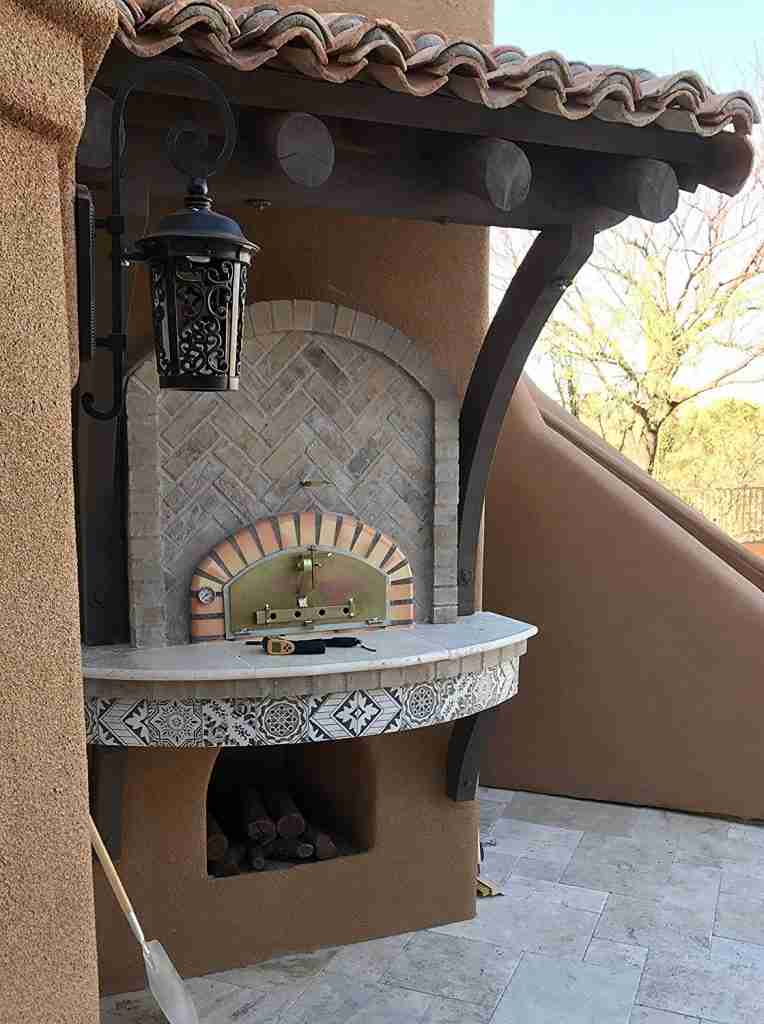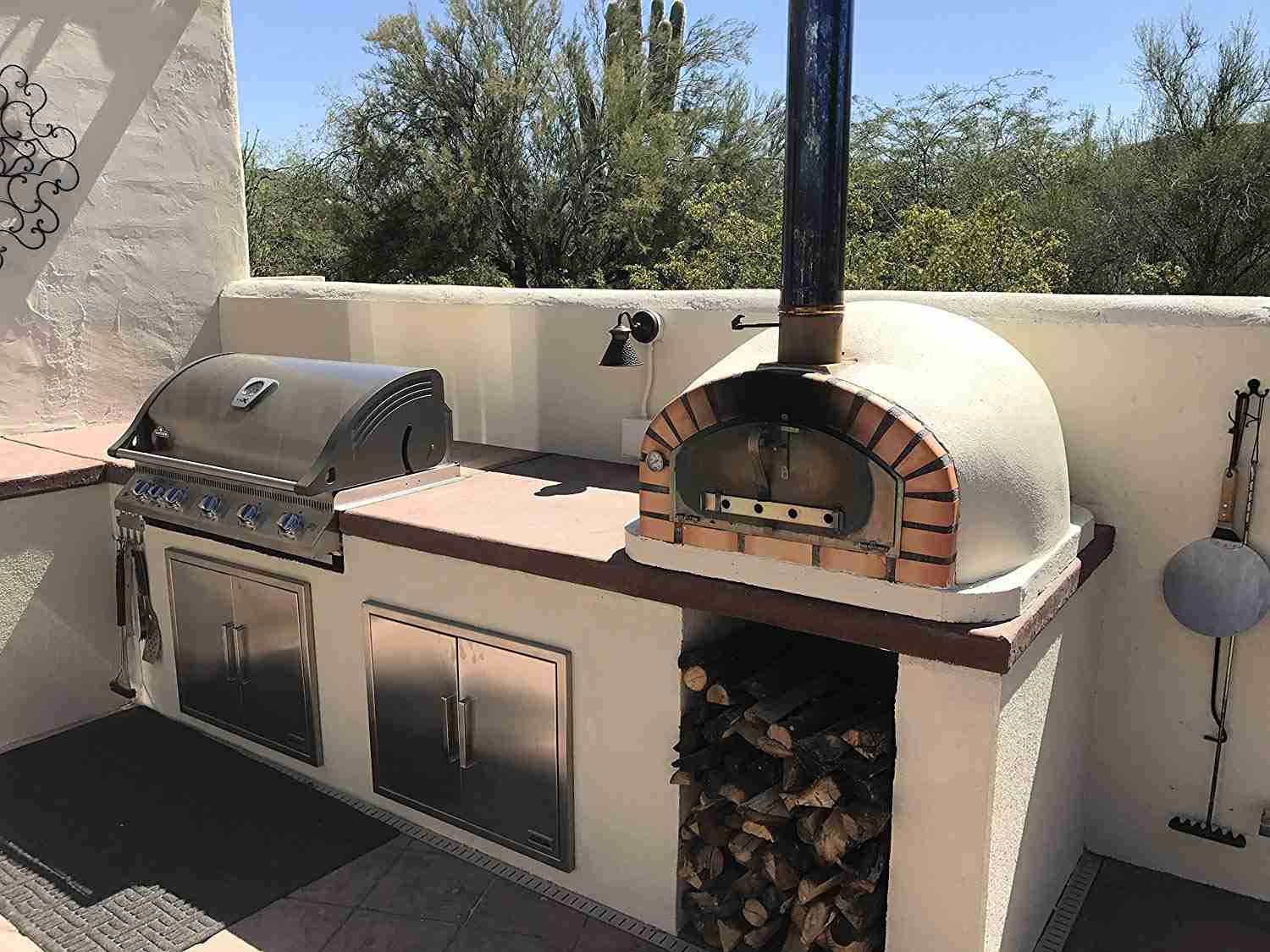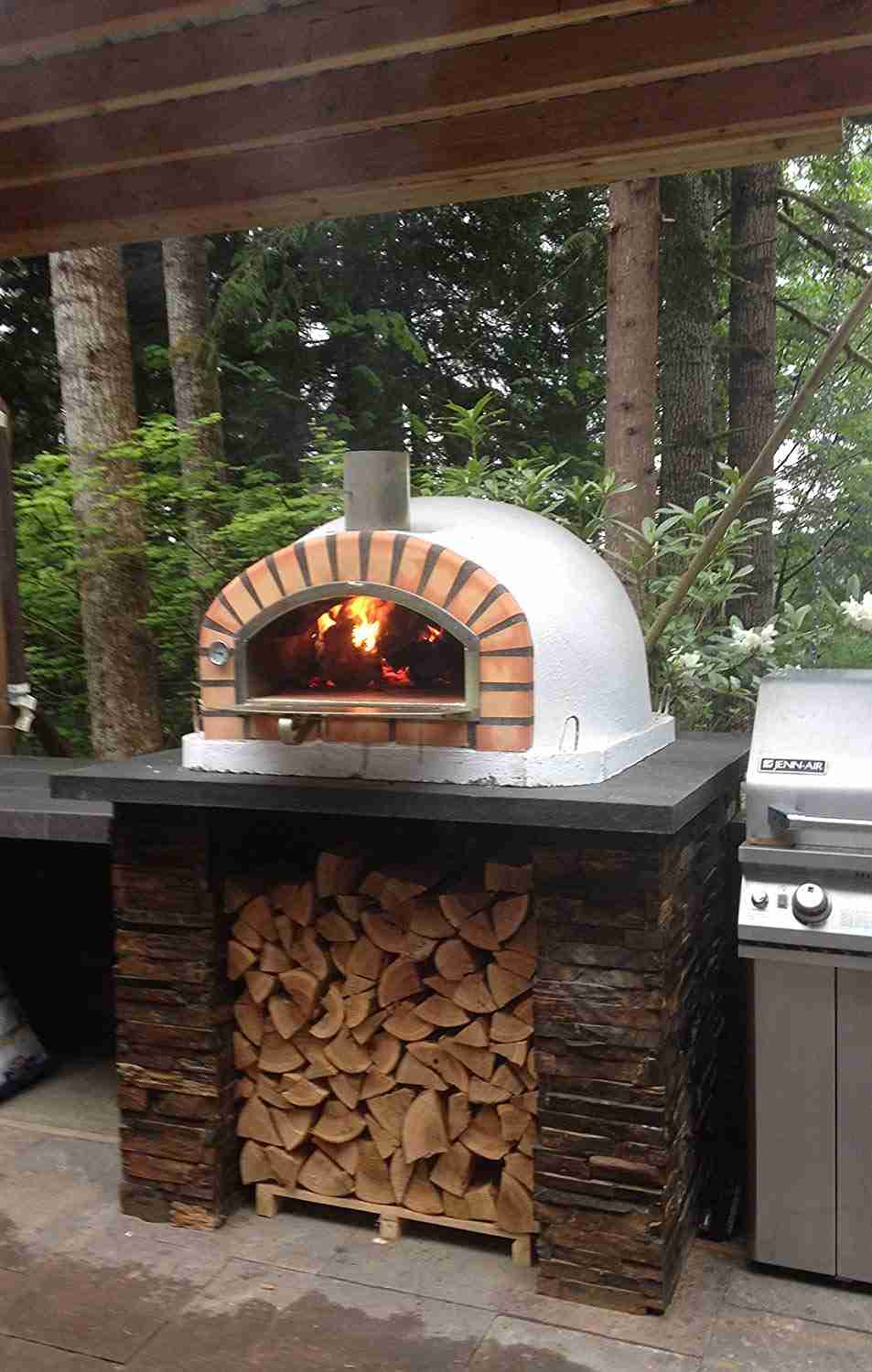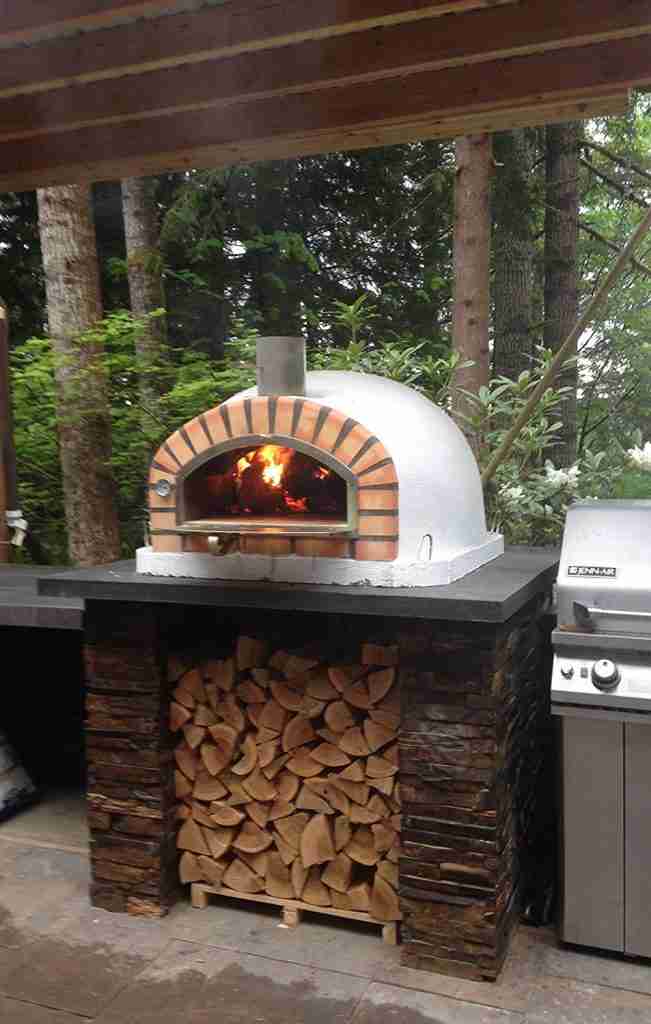 This item has been handcrafted using bricks, iron, and zinc. It is the most traditional wood-fired model created by Authentic Pizza Ovens. The tool has a wide mouth and a bottom dome, making it the best item for preparing pizzas. 
The lower dome ensures that there is higher direct reflected heat to the floor of the pizza oven. It has a door that opens down, and it is also coated with zinc. However, the door contains no lead, which I find great. Thus, there are no health hazards, even if the food items come into contact with the oven surface. 
The model is fitted with steel eyelets that are placed in corners to hoist the oven into place. However, you can cut them off when you are done putting your oven into position. Additionally, this hand-crafted pizza oven has been insulated thrice with three layers of various materials, including Rockwool, cement, mortar, and brick. The equipment is reinforced with wire and has another refractory cement layer. It consumes approximately 5 to 6 pounds of wood, based on the wood type, as well as the moisture. 
I've noticed that this oven can cook whatever a conventional oven can prepare, and the taste is much better! This Portuguese hand-crafted pizza oven can cook all varieties of meals, including veggies, chicken, bread, pizzas, desserts, etc. The kit contains a roasting pan, a thermometer, and a patch kit to deal with any external cracks.
Authentic Pizza Ovens Traditional Brick Pizzaioli Wood Fire Oven
Make sure the oven you purchase is TRIPLE insulated-DON'T FALL FOR DISCOUNTED OVENS- No insulation, No CookiNG!!! THE MOST AUTHENTIC BRICK PIZZA OVEN –...
HANDMADE WOOD FIRED PIZZA OVEN – The brick Pizzaioli is a beautifully designed Authentic Pizza Oven handmade in Portugal; bring the taste of Europe home...
SUPER-PRODUCTIVE PIZZA MAKER – The Pizzaioli can cook 30 pizzas per hour with each one ready in 60-90 seconds and room for two 12" wood fire pizzas at...
---
PROS:
It prepares pizza in fifteen minutes;
A top-quality item;
It can be used for cooking different meals;
Insulated with three layers.
CONS:
Heavy;
It takes quite a while to heat up.
---
10. Ravenna Authentic Clay Pizza Oven – Best Cheap Wood Fired Pizza Oven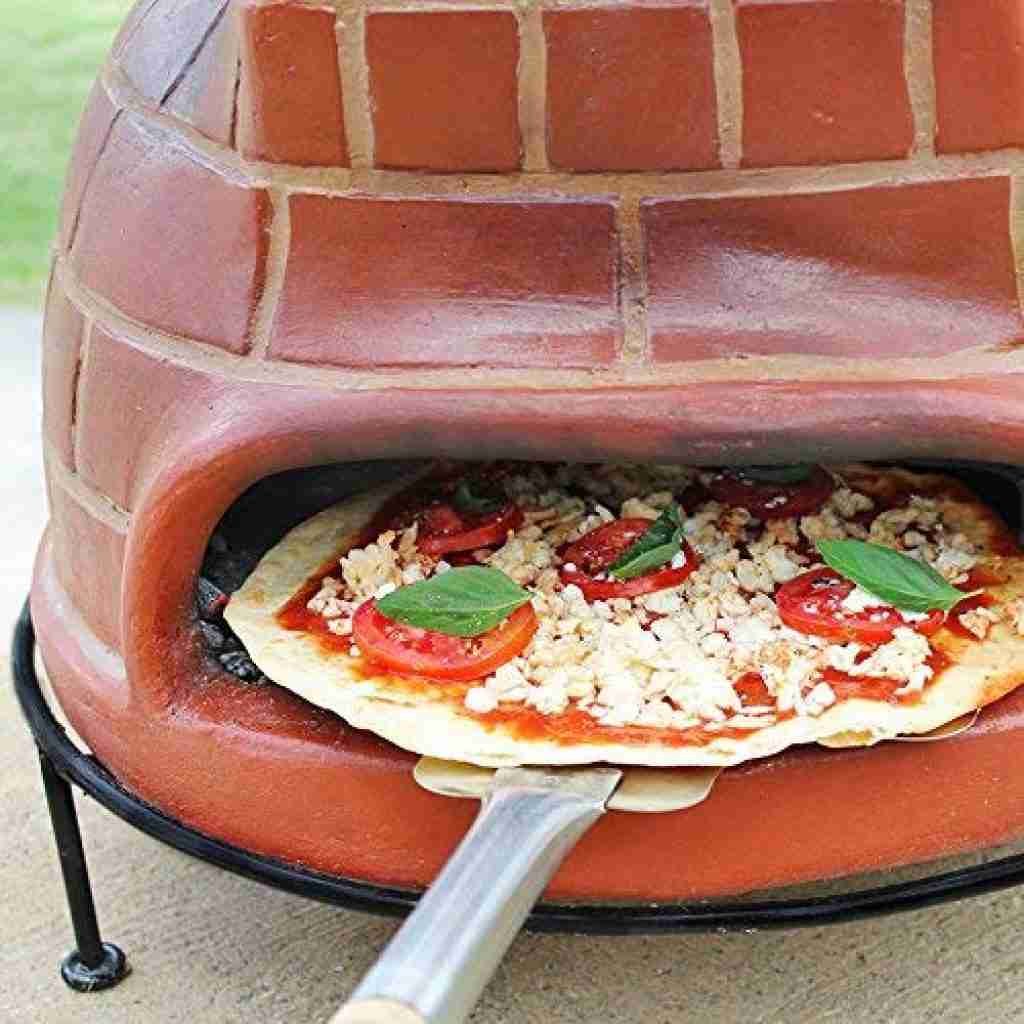 This clay-based pizza oven is the most effective tool for your yard since it has amazing outdoor features. Expect your pizzas to be cooked within minutes and have an amazing taste. 
In comparison to the newer pizza cooking models, this Ravenna authentic pizza oven takes a long time to preheat. It comes with a carry bag, a stainless-steel metal stand, and a peel. 
The key feature of this oven is the smoky pizza it cooks. Each meal gets a quite nice smoky flavor. Also, this oven looks like a fireplace, although it doesn't require a lot of maintenance. Moreover, it comes with a free cookbook, which will help you to prepare dishes using this oven.
---
PROS:
It bakes smoky-flavored pizzas;
You can cook in a traditional manner;
It comes at an affordable price;
A free cookbook is in the package.
CONS:
Pretty heavy;
You'll have to wait for half an hour for it to heat up.
---
Purchasing the Perfect Wood Fired Pizza Oven
Now that I've finished reviewing these amazing pizza ovens, you should now have an idea of what models fit your needs and preferences the most. I hope that my comments and comparisons were useful, and now you are ready to make an informed choice.
Before you settle on one of these ovens, I recommend paying attention to various factors, including your price range, the size of the appliance, the number of pizzas you can make with it, the portability, the time needed to prepare a pizza, etc. It is crucial to put all these factors into consideration before determining what item to buy. 
Also, you have to be aware of the accessories that come with each pizza oven, the preparation method, as well as the best wood for wood burning pizza oven. In my opinion, the best wood for wood burning pizza oven includes aromatic hardwoods, such as mesquite and apple, but the pick is up to you. 
Do you have any comments or questions regarding these pizza ovens? What have been your experiences using any of these pizza ovens? I would love to read your comments in the section below.