I am a huge pizza lover myself and have been running a blog about specialized ovens for many years. I know from my own experience how difficult it can be to choose the right tool. That is why there are collections with a wide variety of stoves on my blog: commercial and countertop, electric or wood-burning, etc. Each reader can find a device that meets their requirements and budget.
Now it's time to make a separate top dedicated to the best pizza ovens I've ever tasted. Trust me, these products really deserve your attention as they are the best in their categories.
Here you will find detailed reviews of large and small models that run on gas, electricity, wood, and even camp stove fire. I will also briefly tell you at what temperatures it is best to use each type of oven. I really doubt you can find someone who doesn't like eating pizza. I bet you have a lot of friends who can't live without it. At least I have a lot! So why not throw an Italian-style party with your own freshly baked Neapolitan pies? The main thing is to get the right oven.
My Personal Top 8 Best Pizza Ovens Overall
This section is completely dedicated to pizza ovens. I tried to do each review as detailed as possible and included information about the manufacturer, paid attention to the main characteristics, price, and also added short reviews on additional accessories that may be useful.
1. Best Portable Pizza Oven Overall: ROCCBOX Pizza Oven
The ROCCBOX company exclusively manufactures pizza ovens for the home and commercial use, as well as additional accessories. Their portable Pizza Oven is a miniature version of the professional device used in restaurant kitchens that you can use in your backyard.
Basic characteristics
The oven body is made of stainless steel, but it has a silicone coating for users' safety that will protect you from burns. The device runs on both gas and wood. But only a propane burner comes with it; the wood one will have to be purchased separately. The oven preheats to 932°F, allowing you to cook an 11-inch pizza in literally one minute. A thick stone bottom evenly distributes and retains the heat inside, so that the dish is cooked on top and bottom with a delicious crispy crust. There is a precision analog thermometer installed on the left side of the case to help you monitor the temperature.
In terms of durability, this oven is of excellent quality. The only drawback is that the front side quickly becomes covered with soot. I recommend removing smoke, soot, and ash stains after each use. But this oven practically does not require cleaning from the inside. Check the burner from time to time to make sure it is not clogged with ash.
Do not leave the device outdoors. If you do not use it for a long time, store it in a dry, closed place. In my opinion, for such a price, the manufacturer could have supplied a cover for it in the kit, since moisture, dust, and other debris can get into the inlet.
---
---
How good is the price?
The ROCCBOX Pizza Oven is in a higher price range than most competitors. Although it offers excellent quality and builds, in my opinion, the cost is still a little overpriced. At the moment, it is about $400.
Accessories
I recommend purchasing the following accessories in addition to this oven:
A cover. It will protect your device from rain, sunlight, and dust.
A wood burner. For those looking to make an authentic Neapolitan smoky pizza.
2. Wood-Fired Compact Outdoor Pizza Oven: Bertello Outdoor Pizza Oven
Outdoor Pizza Oven by Bertello became especially popular in 2020 after appearing on the Shark Tank TV show. You can easily organize a small picnic outdoors or dinner with friends in your yard with this oven.
Basic characteristics
The device is made of dark stainless steel, so you do not have to suffer from rubbing off soot, since it will practically not be visible. There is no protective cover on the case, so you should be careful when using it. The baking stone is made of cordierite, a high-strength material that resists chipping and fading.
The oven runs on wood and charcoal, as well as gas. However, a gas burner is not included in the kit; you will have to buy it separately. My experience has shown that it can be difficult to maintain the heat for a Neapolitan pizza with firewood. And since this model provides for the simultaneous use of gas and coal, I recommend investing in buying a propane nozzle. The maximum temperature this device can reach is 930°F.
To keep it clean, you need to remove ash and clean the pizza stone regularly. To do this, you will have to stick your hand into the cooled oven almost completely. Unfortunately, there is a chance of getting dirty with soot. The simple design and lightweight (29.3 pounds) of the oven allow you to prepare pizza anywhere. However, even though it is intended for outdoor usage, it is better to store it undercover.
---
---
How good is the price?
Given the device's excellent characteristics and ease of maintenance, I would say that its price is quite reasonable (a little over $300). Even taking into account the fact that you will need to purchase a gas burner additionally.
Accessories
Among the necessary accessories for full-fledged work with this device, I would name the following:
An infrared thermometer. It is really a necessary thing since there is no built-in temperature gauge here.
A propane attachment. It is much easier to maintain a constant temperature with it.
3. Gas Powered Backyard Pizza Oven: Ooni Koda Outdoor Pizza Oven
Ooni pioneered the production of portable pizza ovens and is now a leader in this field. Probably many have heard about their Ooni Koda Outdoor Pizza Oven. It has a compact design and low weight (20.2 pounds), which means you can take it with you to a picnic in the countryside.
Basic characteristics
The lightweight of the device is achieved by using thin carbon steel, which stays cold outside, while temperatures inside can reach 932°F. Even if you accidentally touch the body of a preheated oven, you will not get burned. The device operates on propane gas and heats up to the desired temperature in 15 minutes. Since the device is really compact, the inlet is also small. It can be difficult to turn a 12-inch pizza for those new to this type of oven. When you get used to it, you will be able to cook not only pizza, but also meat, fish, and vegetables.
As it runs exclusively on gas, you will have no problem cleaning it. You don't have to clean it of soot, and food debris burns away at such a high temperature. Just let the oven cool down and wipe the insides with a paper towel. The manufacturer recommends turning the baking stone over from time to time so that it will clean itself.
Although the appliance is designed for outdoor use, it is best not to cook pizza in rainy or particularly windy conditions. Store it in a place protected from rain and make sure that no debris or insects get inside.
---
---
How good is the price?
In my opinion, this oven is pricey (about $350), especially considering the necessary accessories to work comfortably with it. But I think its compactness, mobility, and quick heat up to an ultra-high temperature are worth it.
Accessories
In addition to this model, I recommend buying the following products:
A pizza peel. You will need this long-handled tool to tuck pizzas inside and take them out safely.
Cover for storage and transportation. Since this oven is made for picnics, you may need a cover with convenient carrying handles.
4. Corded Pizza Oven for Home: Presto 03430 Rotating Oven
National Presto Industries manufactures cookware and cooking utensils ranging from popcorn poppers to multi cookers. Presto 03430 Rotating Oven is a great option for those who prefer to enjoy pizza at home. It's compact and lightweight (8 pounds), so it doesn't take up much space in your kitchen.
Basic characteristics
The appliance is not an ordinary oven, but an open baking pan with two heating elements. The baking sheet has a nonstick coating and rotates without stopping to ensure even heating and roasting of food. With it, you can bake your own pizza or frozen one or reheat one delivered from your favorite cafe.
You can control each heating element individually. Turn on only the bottom or top one, or both at once for a faster result. On average, it takes 10 to 15 minutes to bake one 12-inch pizza. There is a convenient timer with which you can set the operating time of the device you need. Moreover, it does not need to be preheated. You can turn it on and immediately put the food on the pan. The power of the device is 1235 watts, while it requires less electricity than conventional appliances.
The baking tray is easy to remove and clean. Thanks to the nonstick finish, even greasy stains and food residues can be easily washed away. To make the oven take up less storage space, remove the pan and place it vertically next to the oven.
---
---
How good is the price?
This pizza maker is perfect for those who love pizza but don't want to spend too much on professional-like devices. It has a reasonable price of about $50.
Accessories
The manufacturer sells this oven without any additional accessories, so you should get:
A pizza peel or spatula. It is better to buy a special wide peel so that it is convenient for you to remove a pizza from the baking sheet.
A pizza cutter. With it, you can cut even the hottest cake neatly.
5. Small Portable Pizza Oven With Digital Controls: Wisco 421 Pizza Oven
The American company Wisco Industries specializes in equipment production for cafes, restaurants, and shops, but many of their products can be used at home. For example, the Wisco 421 Pizza
The oven has professional tool's characteristics but is compact enough to fit on the countertop in your kitchen.
Basic characteristics
This oven has two types of heating (top and bottom), so you can be sure that the pizza will not burn and bake evenly. There is no need to turn the pie every 30 seconds, like when using an open flame. However, true Neapolitan pizza lovers may dislike the lack of smoke aroma that wood-fired ovens give. However, even frozen cakes in this model can get deliciously crispy.
The device's power is 1500 watts, and you can choose any temperature you want (from 100 to 500°F). Its electronic display shows the temperature and the set operating time. The removable tray can fit pizzas up to 12 inches in diameter. Cooking will take 5 to 10 minutes, depending on topping thickness. I had to experimentally determine the ideal temperature and cooking time for my pies.
The body and interior of the device are made of durable stainless steel. This material does not require any special detergents. If you wish, you can remove the baking sheet and wash it separately.
The item is very simple and easy to store. It weighs only 19 pounds and does not take up much kitchen space. It has four legs that do not slip or scratch any surface.
---
---
How good is the price?
Here I see an excellent value for money. The model is relatively inexpensive (about $120), while it has good technical characteristics.
Accessories
Additional tools you may need:
A baking pan. Since this model comes exclusively with a removable tray, you will definitely need it so that you can use the oven for more than just pizza.
A pizza stone. If you like, you can use a baking stone instead of a pan to get better results.
6. Outdoor Pizza Oven for Camp Stoves: Camp Chef Artisan Pizza Oven 90
If you love outdoor cooking with friends, Camp Chef company has everything you need. And Camp Chef Artisan Pizza Oven is a nice choice. It can become your constant companion at picnics, as pizzas cooked in this device turn out to be incredibly tasty.
Basic characteristics
This oven design follows the look of any classic wood-fired oven, in which Neapolitan pizza is usually backed. It has been designed to fit perfectly with the brand's 16-inch 3-burner stove. It heats up quickly enough to the maximum temperature of 700°F and retains heat well, distributing it evenly throughout the room. You can adjust the temperature based on your needs.
The body itself is made of stainless steel and has double walls, thanks to which the device reliably retains heat inside and protects you from the possibility of burns. Cordierite stone perfectly conducts heat and absorbs excess moisture without overdrying a dough. You can bake not only pizza but also delicious cookies, pies, and even homemade bread.
The simple design makes this oven easy to clean. Just wipe inside and out with a damp cloth. Remember that ceramic baking stone does not tolerate large temperature changes, so wash it with warm water. If you have not been using the oven for some time, it is better to put it back in the box. The inlet does not close, so dust, debris, and insects can get inside.
---
---
How good is the price?
Considering that this oven is not a standalone appliance, but an additional accessory for Camp Chef products, its cost is quite high (about $140). Unfortunately, if you do not have a 16-inch 3-burner stove, you will not be able to use this model.
Accessories
This oven comes with a recipe book only, so you may need the following accessories:
A pizza scraper. With it, you can remove pieces of sticky dough and other products from a baking stone.
A carrying bag. Considering that the device is designed specifically for outdoor picnics, a bag for carrying it will not be superfluous.
7. Wood Fired Backyard Pizza Oven: Harbor Gardens KUK002B Pizza Oven
Harbor Gardens manufactures garden and backyard accessories: from plant stands to fire pits and backyard pizza ovens. With the help of Harbor Gardens KUK002B Pizza Oven, you can cook excellent pizzas, steaks, and bread. It is one of the best models for outdoor activities.
Basic characteristics
The oven's body is made of dark stainless steel, on which soot and ash traces are practically not visible. Although it is a portable device that has wheels and handles, it takes up quite a bit of space and weighs over 61 pounds. The model has three compartments. The first one is for pizza and other products, the second is for firewood, and the third is for collecting ash. By the way, if you want, you can detach the stand and place the device on a flat, fire-resistant surface, such as a brick wall.
Depending on the amount of wood and your skills, the oven can heat up to 1000°F. At this temperature, it can be used as a smoker as well. A thermometer is installed at the case top to make it easier for you to monitor the heating. The set comes with a 12-inch baking stone, which you can replace with any other to your taste, even with a bigger diameter. The main compartment has a door, so you can close it to cook faster.
I like this model because, despite its great capabilities, it is unpretentious in maintenance. Each section has large openings through which you can easily clean it. Since this oven runs on wood and has a simple design, its storage is not a hassle. In any case, I recommend keeping it under a canopy.
---
---
How good is the price?
The price of this device is something that can really please. For its cost (about $220), it can fully meet your expectations.
Accessories
You may need the following tools to cook food in this oven:
Heat resistant gloves. Considering the temperature to which the device can heat up, you should protect your hands with gloves.
A cover. In my opinion, it is better to cover any instrument with a special cover if it is not used for a long time. You will protect the oven from the negative effects of the weather with it.
8. Professional Backyard Pizza Oven: ilFornino Wood Fired Pizza Oven
The ilFornino exclusively produces wood-fired ovens of the highest quality. If you want your every meal on the fire to be like from an excellent restaurant, and pizza is as close to Italian as possible, then ilFornino Wood Fired Pizza Oven is for you.
Basic characteristics
The tool comes pre-assembled, so you don't have to waste your time on assembly. The case is made of heavy-duty stainless steel, and the inside is finished with a ceramic coating. Thanks to the double-layered walls, the oven stays cool outside, while keeping the heat inside perfectly. It can heat up to over 900°F in just 20 minutes. However, due to the perfect thermal insulation, it will take much longer to cool down.
The device has a reliable design. Although it is equipped with wheels and handles, it is not easy to move due to its heavy weight (280 pounds). It has a cooking surface of over 1000 square inches. It means you can bake several pizzas at the same time. You can also quickly cook meat, fish, bread, and even make desserts for a large company in this oven. A thermometer is installed on the door of the central part.
It is easy to care for this device, especially since it comes with a brush with a scraper on a long handle. Simply use it to clean stuck food particles from the ceramic and wipe the case with a damp cloth when it cools.
---
---
How good is the price?
Since the manufacturer positions this oven as professional equipment, its cost is appropriate (over $2100). I recommend buying such a device if you really plan to use it often. Overall, if you are ready to spend that kind of money, it should be better than any other pizza oven you have ever tried.
Accessories
It would seem that the kit should include all the accessories that may be useful for such a price. However, here's what you should buy additionally:
A protective coating. Such a valuable device needs to be well protected, especially if you live near water or in a high humidity region.
A turning peel. It is available as an optional tool. Although, given that the heat is distributed evenly inside the oven, I don't think it will be useful to you.
How to Bake Pizza in Oven?
Once you've decided on the perfect oven, it's time to start making the right pizza. In my article, I mentioned a Neapolitan pie several times. The art of its cooking is included in the UNESCO heritage list. Of course, not everyone can find Mozzarella di Bufala, Neapolitan yeast, and San Marzano tomatoes in the nearest market, but why not try making your own version?
Step 1: Prepare a dough
I recommend making your own dough rather than using a store-bought one. On my blog, I have already published a recipe for excellent pizza dough; you can use it. Combine all ingredients as directed and knead into a soft, elastic dough. Let it rest for a while, then divide it into several pieces and roll each one. It is better to make a pizza base not thicker than 0.12 inches. Consider the diameter of your baking stone when rolling.
Step 2: Prepare and put all the ingredients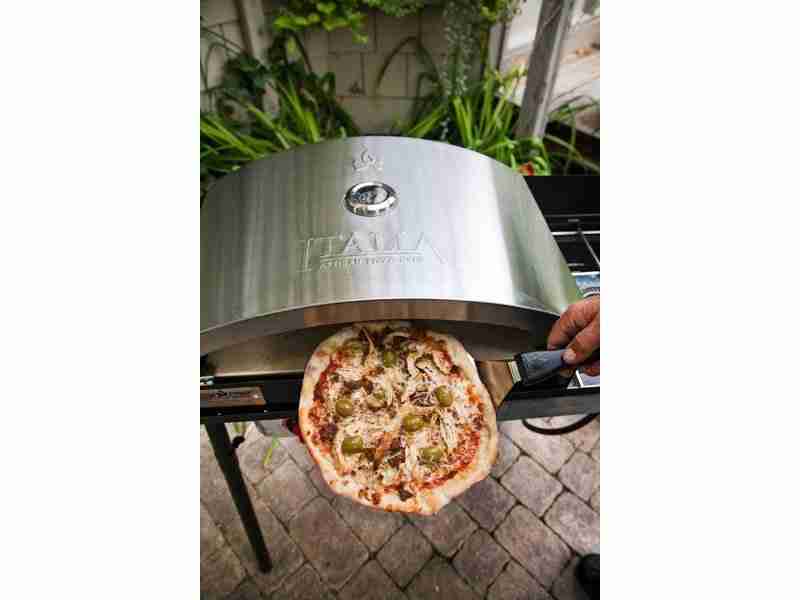 I recommend preparing and slicing food while your dough is resting. You will need tomato sauce (store-bought or homemade), mozzarella, parmesan, olive oil, and basil for a classic Neapolitan pizza. Spread the sauce over the pizza, top with the slices of cheese and basil.
Step 3: Bake it
Put the pizza in the oven preheated to the maximum temperature (some models don't need to be preheated). It is best to use a baking stone as it distributes heat evenly to make the perfect pizza.
Baking times and temperatures are highly dependent on the individual capabilities of your oven. Remember to be safe and never put a pizza in a heated device with your bare hands. Be sure to use a pizza peel and heat-resistant gloves for this.
At what temperature to cook pizza in a convection oven
One of the benefits of a convection pizza oven is that hot air circulates evenly throughout the room. As a result, it helps reduce energy costs. Preheating takes about 15-20 minutes, and cooking time is about 5-8 minutes. Preheat your oven to 450-500°F. Thanks to the even heat distribution, you do not have to turn the pizza. If you use a baking stone, place it inside as soon as you turn on the device.
At what temperature to cook pizza in a gas oven
Gas ovens should be preheated. Place a baking sheet or stone inside and pick the highest possible temperature (preferably around 450-500°F). Remember that the stone can take longer to heat up than the oven itself. Therefore, you can use an infrared thermometer to know when to put your pizza. On average, it takes 8 to 12 minutes to bake. Remove the dish from the oven when its sides are browned, and the cheese is melted.
At what temperature to cook pizza in a wood oven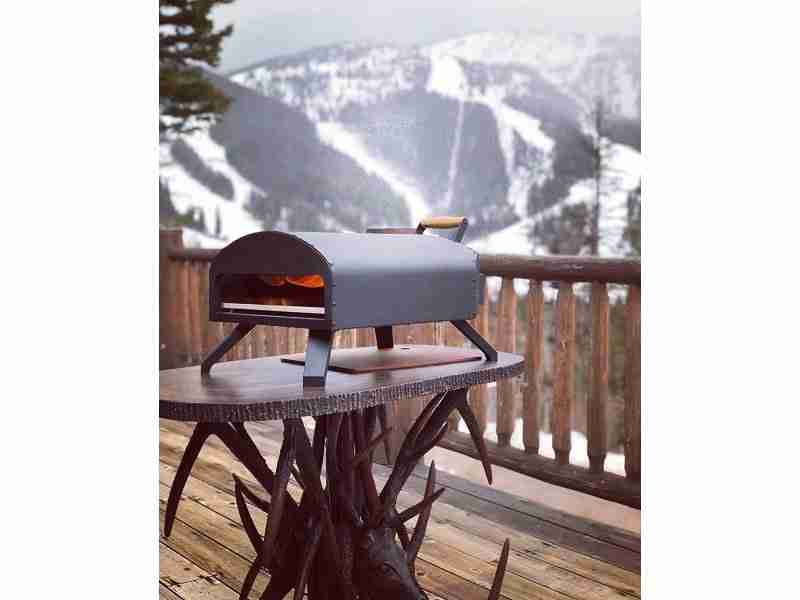 A wood-fired oven is ideal for creating authentic Italian dishes, as they are the ones that can produce the highest temperature. Ideally, the oven temperature should be as high as 900°F for classic.
Neapolitan pizza. It reduces the cooking time to one minute. Some models have enough space to bake several cakes at once.
Finding the Best Pizza Oven for Home and Backyard
Because wood ovens reach their maximum temperatures, they are considered to be the right pizza maker, for example, the ROCCBOX Pizza Oven. However, modern gas and electric models also have impressive performance and are not inferior to their wood counterparts. I think that for ordinary users who occasionally organize picnics with friends or family gatherings, such devices will be an excellent choice. They take up less space, do not require special skills, and are easy to clean.
Do you have a pizza oven? Which type do you prefer? Do you have a personal secret to making the perfect pizza? Please let me know in the comments below!