Roccbox Pizza Oven Review: Helpful Tips Before Your Purchase
Have you ever found yourself around a campfire with your friends and family and wondered why you could not have pizza instead of marshmallows? Or maybe you have had this weird pizza craving at the beach? Well, here is the perfect solution for you. The Roccbox portable pizza oven is the perfect pizza making tool that can be used anywhere.
My name is Edward, and I have been cooking over an open fire for as long as I can remember. Finding the perfect grill or oven is a special skill I picked up along the way. After a trip to Italy in 2014, I developed an interest in pizza making, and it has become an obsession of mine. I have tried all sorts of pizza ovens and special pizza-making inventions along the way. Today I want to introduce you to the Roccbox pizza oven that I find extremely useful.
Taking a Closer Look at Roccbox Pizza Oven
I am going to use my experience to tell you all about the Roccbox pizza oven, the good and the bad. Here is a comprehensive Roccbox pizza oven review. 
What's in the Box of a
Roccbox Pizza Oven
?
The Roccbox pizza oven comes with every piece of equipment you might need as you make pizza on the go or at home. In the box you'll find:
Roccbox pizza oven

Stainless steel peel

Gas burner

Wood burner

Instruction manual

Thermometer

Recipe book

Hopper tool
At the top of the box, there is a precision-engineered pizza peel made out of stainless steel with a comfortable handle. It is grilled, which makes you look like a pro using it. Next is the set of burners and the hopper tool, so using wood is simple. The device also doubles up as a bottle opener, and it has a key ring attached. At the very bottom of the box is the oven which comes with a wrap-around handle, making it easily portable. 
The best part about this oven as you may have noticed from this list is the fact that it comes with two burners in the box. No additional purchases needed. What this means is that you never have to worry about running out of gas. You simply switch out the burners and get back to making pizzas on the fly just like that. 
The multilingual instruction manual will guide you on how to take out a burner and how to put in the new one in a few simple steps so that anyone can do it. In case you are switching out the burners having used the other burner, be sure to let it cool down to room temperature first. 
The recipe book inbox is just a tip of the iceberg of what you can get from the Roccbox tool. The manufacturer offers a variety of recipes from their online library. You can also read guest chef guidelines on how to make the best pizzas. It is like buying a culinary adventure for the great outdoors. 
Design and Features of the
Roccbox Portable Pizza Oven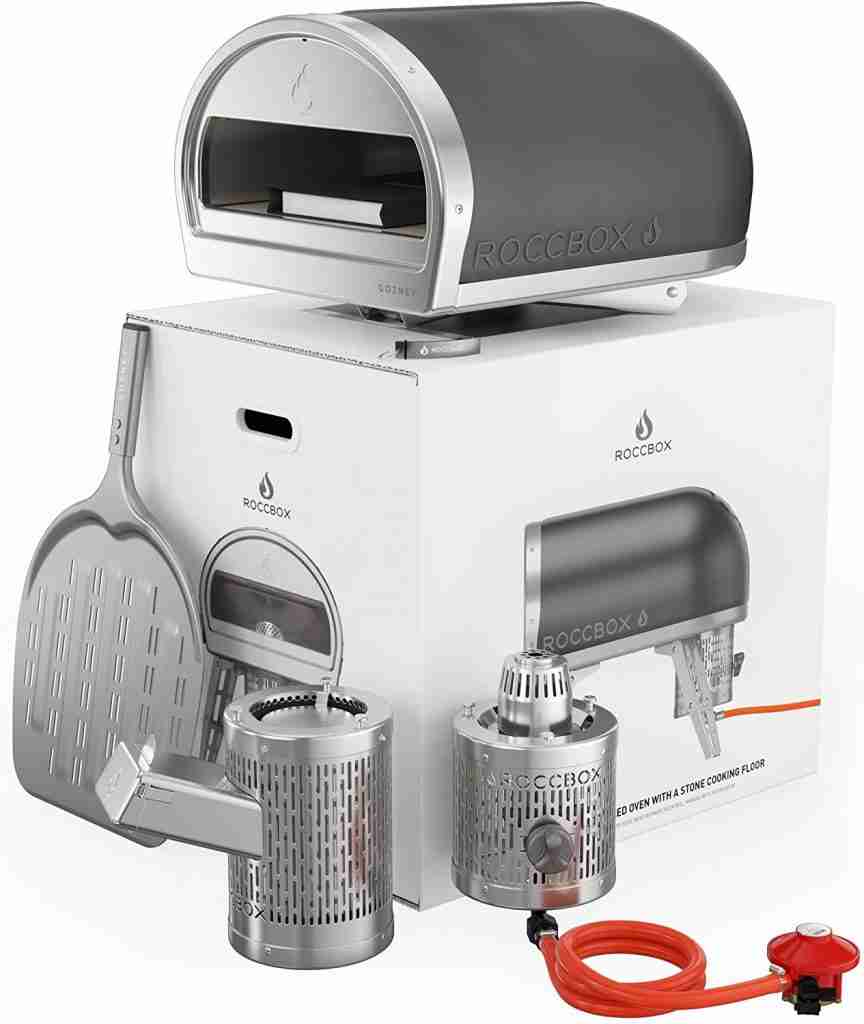 The Roccbox pizza oven has a pretty cool shape. The front end has a rectangular opening where you can slide in your pizza. It is designed with a dome-shaped top for optimal heat distribution so that your pizzas are cooked all through. My pizzas come delicious ones because the even burn from the rolling flame is magnificent. I especially like how the back end of the oven is rounded out. The oven kind of looks like a block of bread with one end cut off. 
The bottom of the oven is made of stainless steel, so is the front face, and the top is insulated. At the bottom toward the back of the oven is an opening where you clip on the alternate burners. It is made to hold the burners in place with fins on the sides of it. It is also easy to clean around the opening and the fins.
The inside of the oven gets pretty hot, so you may want to wait a while before attempting to clean it. I recommend cleaning food left in it after every use so that you won't have any grease building up. The build-up of grease increases the like hood of a fire that is not even for a well-cooked pizza. This is because grease catches fire at the high temperatures. 
The body of the oven rests entirely on three retractable stands. The first one collapses into a short stub and then can fold on to the bottom of the oven, so it is easy to carry. 
Specifications of the
Roccbox Portable Outdoor Pizza Oven
| Package Dimensions | Item Weight | Shipping Weight | Manufacturer |
| --- | --- | --- | --- |
| 23.8 x 22.5 x 17.5 inches | 62.9 pounds | 62.9 pounds | Gozney |
The Roccbox pizza oven is a 22.6×20.1×17.7 inches' unit that only comes in grey on Amazon with a Roccbox logo on either side. It can perfectly fit on top of an average-sized outdoor table. I find using it on a table much better as this makes it easy to read the thermometer and make sure the temperature is just right for the perfect crusting. 
You can easily set it up on the ground on the three retractable stands. As I mentioned, it has one front-facing leg and two on either side at the back. So you can use it with a reasonable degree of comfort, given how ergonomic the peel is. 
The oven weighs 44.1 pounds, which makes it is easy to carry for me. You should not worry about this too much because you are probably only going to carry it from the trunk of your car to your set up. It can easily fit somewhere in your kitchen, or you can store it where you keep your BBQ grill. 
I keep the box handy because it makes it easy to store all the bits and pieces. It also means that whenever you want to go on a trip on a hunch, you simply throw the box in the trunk, and you do not have to worry about forgetting anything important. 
It is worth mentioning that the whole package weighs almost 20 pounds more, coming in at 63.9 lbs when you ship it. You might want to take note of this if your shipping service charges according to weight.
The oven has a 13-inches stone that is 13 inches deep. This means you can make pizzas as large as 12 inches across. Pretty awesome, right? The stone is built to ensure that the rolling flames heat the pizza for a perfect crust pizza evenly cooked. 
You can heat the oven to 932F if you are using the gas burner. It usually takes 15 minutes or so to get the temperature that high. I find it much easier to regulate a stable temperature of about 400 degrees Celsius for a nice well-cooked pizza in a couple of minutes. In my experience, I get a nicely cooked pizza at this temperature in about a minute or so, and you should observe the cooking process to see if the crust is to your liking.
The oven is well insulated, making it suitable for big gatherings. Even when you have kids running around, you don't have to worry about any skin burns. It also means you can keep the oven close to where everyone is gathered and enjoy the aroma as your pizza cooks. 
The outer cover is made out of silicone skin. I should warn you that the front face has no insulation and is entirely made out of steel, so it gets pretty hot. The peel is made of stainless steel, which means it will last for a very long time without getting discolored. Moreover, your pizza will slide right off when you take it out of the oven. Washing it is more convenient than a wooden peel. 
The burners are designed to give the best possible heat distribution in the oven. The design of the wood burner is well-thought-out. The burner has a rectangular section that slants into the cylinder. Thus, all the ash from your use is collected at the bottom of it. It also means that you can use the oven on a table and end up with a neat set up. 
The oven has an inbuilt thermometer that will come in handy in ensuring your pizza cooks to your preference. You can also use it to regulate the degree of burn and thus, the time it takes to cook the pizza of our choice. For example, for a perfect Neapolitan pizza, use 400 degrees Celsius for about 60 seconds, and enjoy an authentic homemade pizza.
The burners are made to be easy to switch out, and the gas burner comes with a hose and gas regulator connected. The installation is simple, just put in the burner opening at the bottom and click it into place by rotating it anticlockwise, and you are all set. The setup is pretty much the same for a wooden burner. 
How to Use the
Roccbox Pizza Oven
Using the oven is easy. To turn on the gas burner, simply turn the switch on the side of the burner. Before you do this, I would advise you to follow all of the safety precautions prescribed in the manual. Ensure that the hose is connected to the bottom of the burner correctly, and the fastening nut is as tight as possible. Ensure you know the correct way to fit the gas regulator as it can be an anticlockwise or a clockwise regulator. Check on the manual for images that will help you tell them apart. 
Ensure the canister is kept at a safe distance from the oven. Avoid using an open flame to check for gas leaks, and this poses a danger to both you and the equipment. Use propane gas only because natural gas will result in oven damage. It is advisable to replace your hose often to avoid potential gas leaks from wear and tear after repeated use. 
The wood burner requires no special checks. You simply fit it and get your fire going. You have to be careful to use only hardwood. Do not use any freshly cut wood, softwoods, or painted wood. Use only hardwoods that are properly dried and chopped up to the proper size that fits in the burner chamber. Do not use any explosives to start your fire. 
Before your first cooking, ensure you heat the oven at full burn to maximum temperature for about 30 minutes. This will get it in perfect condition to get nice evenly crusty pizza.
Sale
ROCCBOX by Gozney Portable Outdoor Pizza Oven - Gas Fired, Fire & Stone Outdoor Pizza Oven,
A PREMIUM, PORTABLE FIRE AND STONE PIZZA OVEN - reaching high temperatures of over 950ºF to give you the ideal balance of thin base and perfectly puffed...
READY TO GO - with built in thermometer, retractable legs and detachable dual-fuel burners Roccbox is easy to transport and set up- just click the switch...
GAS OR WOOD FUELLED* - Offering the convenience of gas and tradition of wood fire, Gozney Roccbox comes complete with a gas burner as standard, and the...
---
PROS:
You can use either wood or gas

Compact design, easily portable

Rolling flames allow for a uniformly cooked pizza

Easy setup 

Simple maintenance

Insulated top makes it safer around children

Warranty

Comes with plenty of pizza revenue so you can use it as your first pizza oven
CONS:
The stone does not rotate, so you have to do it manually

The item has no inbuilt timer
---
All Said and Done, the Roccbox Oven Is Worth It
The Roccbox portable pizza oven is a wonderfully compact tool that is sure to add a spark to your next camping trip or day at the beach. It is safe and easy-to-use. I like how a pizza tastes made with this equipment, and I tend to rotate my pizza once or twice so that I get a nice even brown crust all around. You can make it to your liking as well. 
I hope these little tips and tricks I learned from using the oven will help you to make your purchasing decision. Have you used the oven before? What do you like most about it? What are some of the hints you have for getting the best out of it? Tell me your stories in the comments below.