Breville Pizza Maker Review: The Tool for Baking the Best Pizza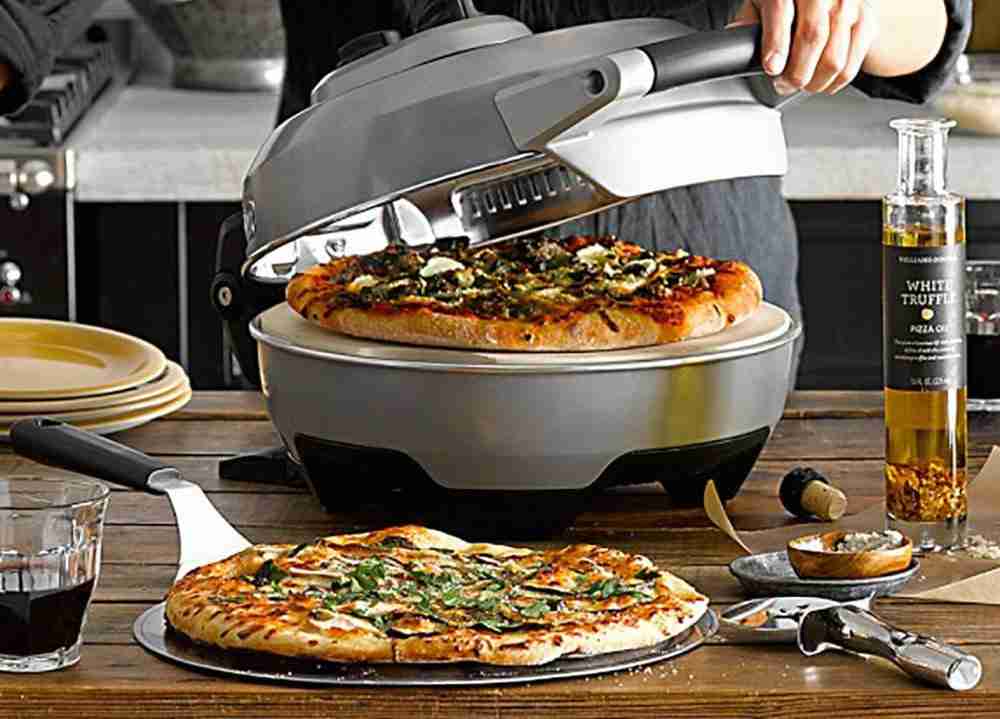 If you don't want to order deliveries and look for a tool to make the tastiest pizza at home, you need to purchase a high-quality pizza maker. The selected equipment should be easy to use and make crispy pizzas on the go. These points are especially important for people who haven't used a pizza cooker before and just starting their way of preparing pizzas.
With many similar tools available on the market today, you may have a hard time selecting the best pizza cooker. That is why I am here to introduce a great tool for pizza making, namely the Breville pizza oven.
My name is Edward, and I have been enthusiastic about pizza ever since I was a child. I used to make pizzas over an open fire, but when I turned 21, I started making pizza with a grill oven. I later took a trip to Italy in 2014, and since then, I've tried various pizza-making equipment ovens and experimented with different ways of making pizza. This blog post is dedicated to a pizza maker that I have used a lot. You are welcome to go through the detailed Breville BPZ600XL review below to learn more about this amazing tool.
A Detailed Breville BREBPZ600XL Pizza Maker Review
This equipment is among my favorite pizza ovens, and it is for good reasons. In the Breville pizza maker review below, I will cover everything you need to know about this tool.
What's in the Box?
This Breville pizza maker comes with everything you need to make your pizza. In addition to the oven, you will receive a stone that works well with this pizza cooker. This stone is 11 inches in diameter, meaning it is the size of the largest pizza you can make.
This stone lasted me for a very long time. However, if necessary, you can contact the manufacturer for a replacement. Mine has been intact since I bought it a few months ago. The warranty on the parts lasts for a year.
Design and Features of the Breville Pizza Maker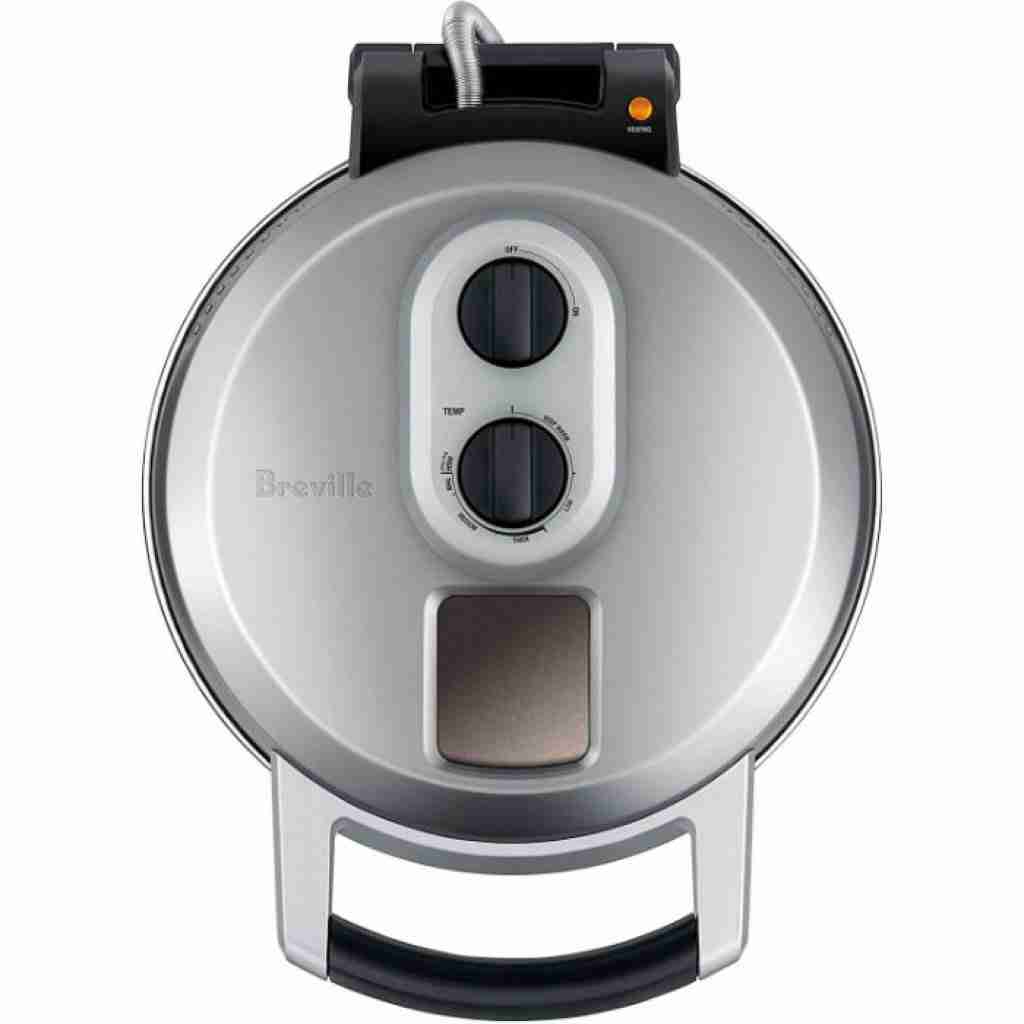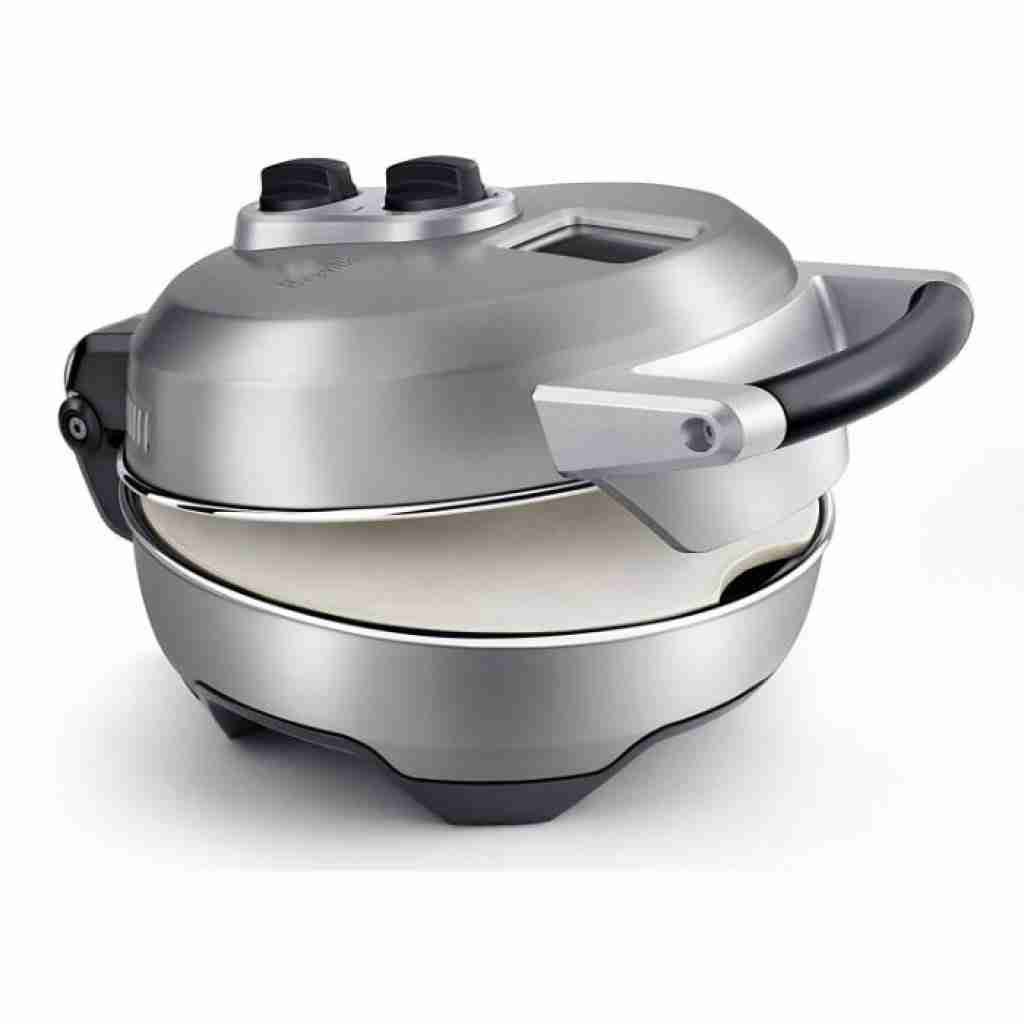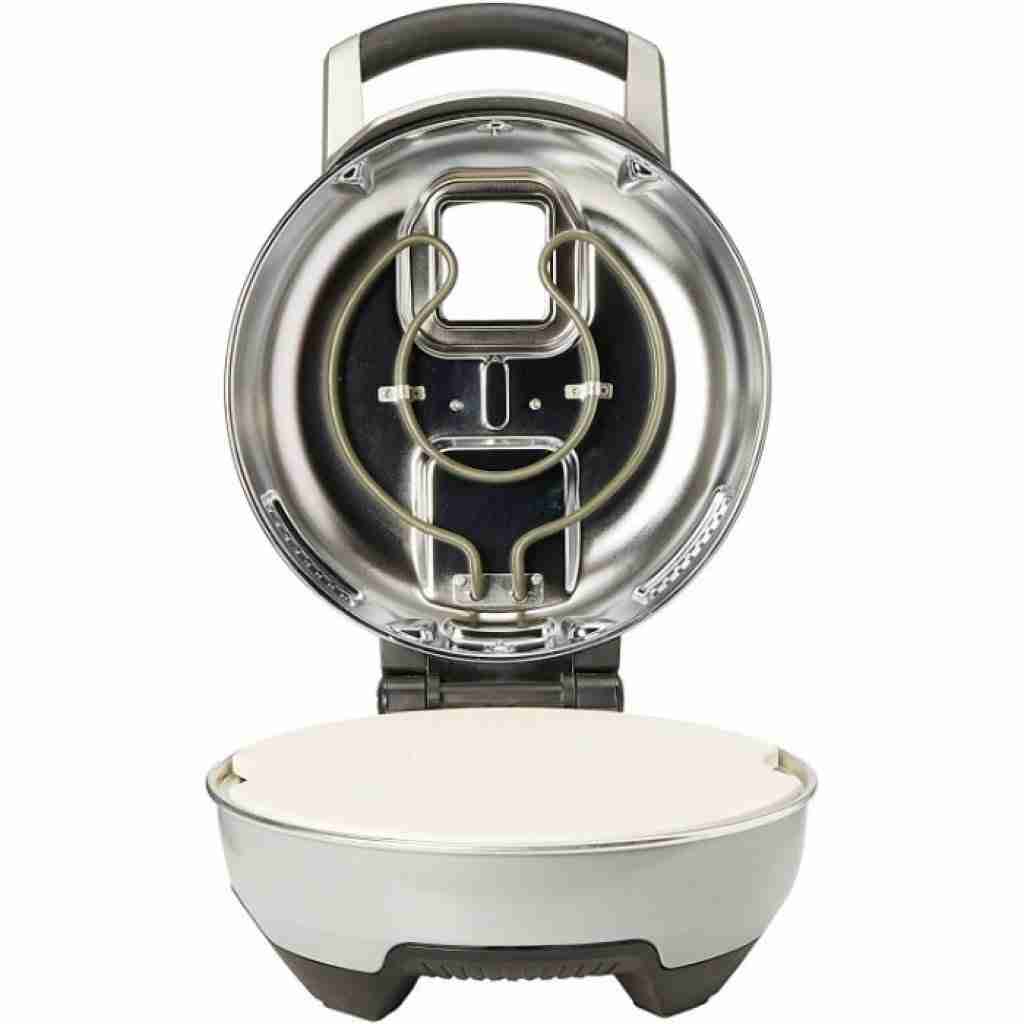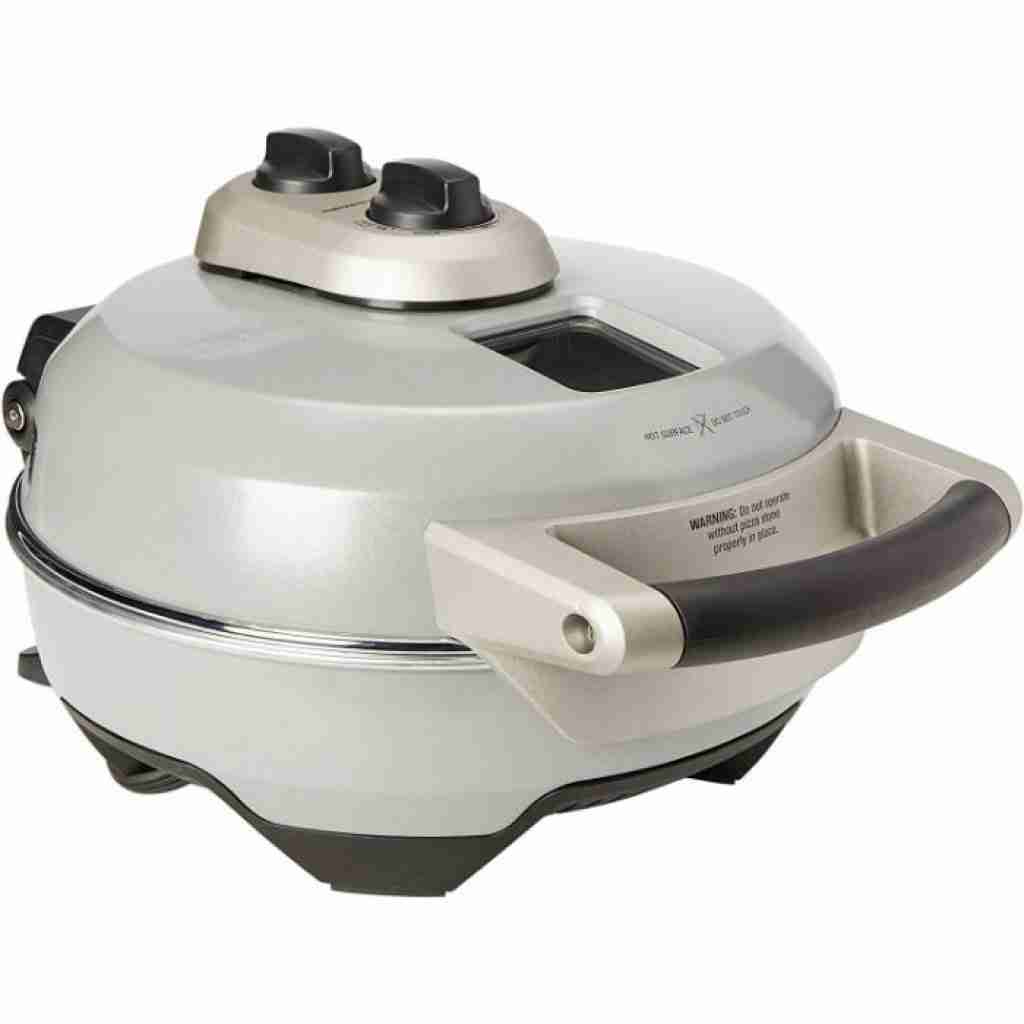 This Breville pizzaiolo tool has a compact design so that it can fit even a small kitchen table. As I've mentioned before, the Breville pizza maker comes with a stone to put the pizza on when cooking. Before you start making the pizza, make sure the stone is installed correctly.
At the top of this pizza maker, there are two controls. One is for turning the Breville pizza oven on and off, and another is for setting the temperature. The temperature will determine the color of the pizza and its crispiness. You can set it to make a thick, medium, or thin crust pizza.
I love the fact that crusts of pizzas cooked on this Breville model always come out crispy. The stone is developed to retains heat even after you take out your pizza. This means that you will be able to bake one pizza after another without having to pre-heat the Breville crispy crust pizza maker a second time.
As I mentioned earlier, with the Breville pizza oven, you will be able to prepare pizzas of up to 11 inches in diameter. The cooking time will be adjusted automatically to ensure that the pizza cooks evenly.
I want to note that the stone doesn't rotate while a pizza bakes, but it is designed to absorb moisture and distribute the heat across the meal. You can expect the pizza to cook evenly and properly, even if you have put a generous amount of toppings.
The heating elements at the top and bottom of this tool can heat the stone to a maximum temperature of 660 degrees Fahrenheit. This means that this pizza cooker can perform just like a brick oven. You can monitor the progress of the pizza through a viewing window. The Breville pizzaiolo equipment works extra fast. Experience shows that it can bake a pizza faster than if you ordered a delivery. In just six minutes, an 11-inch pizza gets fully baked.
This Breville pizza cooker is available in silver and cranberry colors, so you can easily match it with your kitchen interior. I am definitely biased towards the silver oven since I like neutral decor, but if you prefer colorful appliances, you can go for the cranberry one. The design of the Breville pizza oven is simple but attractive.
Specifications of the Breville Crispy Crust Pizza Maker
| Name | Diameter | Max Degrees | Weight | Color | Material |
| --- | --- | --- | --- | --- | --- |
| Brevile BREBPZ600XL Pizza Maker | 12" | 660° | 14.11 pounds | Silver | Ceramic |
Here are the specifications that I find important to mention in this Breville pizzaiolo review.
Capacity: 11-inch pizza
Lowest pizza cooking time: 6 minutes
Controls: On and off, keep warm, temperature setup
Maximum temperature: 660 degrees Fahrenheit
Product weight: 14.11 pounds
Product dimensions: 19.49 x 12.6 x 19.21 inches
Type: Electric oven
Voltage: 110 to 120 V
Wattage: 1200 W
Warranty: 1 year on replacements
Construction material: Stainless steel
Model: BREBPZ600XL
How to Use This Breville Pizza Oven?
Check out these instructions on how to use the tool:
Start by creating the pizza on a piece of parchment paper on a paddle. Don't build it on the counter.
Determine the size of your pizza. Since I have been making pizzas for a long time, I can visually estimate the size of an 11-inch pizza. If you can't do it at a glance, you can simply trace the stone of the Breville pizza maker oven on the paddle so that you see the maximum size.
Preheat the Breville pizza oven for thirty minutes. You can use the preheat setting on the temperature controls to do this.
Slide the pizza along with the parchment paper into the oven and make sure you remove the parchment paper at the 2-minute mark. Otherwise, it can start burning. Within two minutes, the pizza will start solidifying.
You can set the temperature to suit the type of pizza you intend to make. The control knob is clearly labeled, so you will be able to see which temperature to set for a thick, medium-sized, and thin pizza. The time will be adjusted automatically, so you don't have to worry about it.
Also, you can monitor the progress through the window on the oven. Typically, the Breville pizza maker takes about eight minutes to prepare a pizza, so you can even wait next to it till the cooking is completed. The longest I have had to wait for a pizza to be fully baked was ten minutes because of the thick layer of topping I put on it.
If you want to make several pizzas at once, you can remove the first cooked one and place the second immediately. This is because the stone of the oven retains heat, even at the end of a cook. That means there is no need to preheat the Breville pizza maker. Simply skip to the part where you insert the pizza and wait for it to get baked properly.
Remember to set the temperature when inserting the next pizzas. If you want to make a thinner or thicker pizza, you can turn the knob accordingly.
When operating this Breville pizza maker, you should remember that it is an electrical appliance, which can easily pose a danger. Here are some instructions on how to protect yourself when using this oven:
Avoid inserting and removing pizzas with your bare hands. Generally, you should avoid handling the doors and any inside parts of the Breville pizza maker without gloves when it is in operation. This can easily lead to severe burns.
Avoid opening the Breville pizza oven by touching any parts other than the insulated handle.
Do not insert any packaging items in the oven when it is in use as they may explode under the intense temperature. This will not just damage the equipment but can also pose serious dangers to you.
Ensure that your home voltage corresponds with the required 110 to 120 V of the tool. You can purchase an adapter If needed.
Keep the pizza maker away from children and pets. If it has to be used near children, make sure to supervise the equipment.
The main cord and plug should be kept away from wet surfaces at all times. It is also important to avoid using the device if you notice open wires.
If the Breville pizzaiolo tool falls off the table or starts malfunctioning, you should not attempt to make any repairs on your own, as this can pose some danger.
Make sure to unplug the unit before cleaning it. Also, cleaning should only be done after it has cooled completely.
Do not place any item on the Breville pizza oven since the heat can easily cause a fire. If you tend to store kitchen appliances near curtains, move the pizza maker to a safer place when you intend to make pizza.
Do not clean the oven with metal scouring pads since pieces of metal can break off and settle in the Breville pizza maker. That can pose a fire or shock risk.
Do not use the product on a double adapter or with other appliances. It should be plugged into a separate outlet.
Do not operate the device without the stone in place. If it is damaged, make sure to contact the manufacturer for a replacement. Do not place third-party accessories in the Breville pizza oven.
Regularly inspect the Breville pizza oven to ensure that everything is in place and works properly. If you note any issues with the tool, call the customer service of Breville for a check-up or repair.
In the first use, you may note that this Breville crispy crust pizza maker will give off vapors, but it should not worry you. The vapors are produced by the oil residues that were left after the manufacturing process, and they will disappear with time.
Good Points of This Breville Pizzaiolo Model

Brevile BREBPZ600XL Pizza Maker
Top and bottom heating elements elevate the heating stone to a fierce 660°, replicating a brick oven environment. Choose thin to thick dough setting and watch through a viewing window as your creation comes alive. 12" pizza in only 6 minutes similar to an intense brick-oven level heat, your pizza will be ready before you're done setting the table.
Here are the advantages I've noticed about this pizza-making equipment:
It heats to a very high temperature – the Breville pizza maker heats to a maximum temperature of 600 degrees Fahrenheit. This means it can work just as well as a brick oven.
It is compact – this oven can fit on the smallest countertop spaces.
It bakes fast – if you make a large 11-inch pizza, you can expect it to be ready within about six minutes.
It heats evenly – the time will be adjusted automatically to ensure that all parts of the pizza are baked evenly. The stone will absorb moisture to ensure that no part of the pizza remains unbaked.
It comes with a 1-year warranty – in the first year of your purchase, you will be able to get free replacements of parts if needed.
It is easy to use – the controls are clearly labeled, and the instructions are simple.
The stone retains heat – this Breville crispy crust pizza maker can be used to make multiple pizzas, one after another. This is because the stone stays hot even after removing one pizza.
What's Not Good About This Breville Pizza-Making Tool
Although I consider this pizza maker excellent, it is not perfect. Thicker pizzas may get in contact with the top heating elements, therefore, creating burns.
Also, it is not the best device for people who like thick layers of toppings on their pizzas. This is because the toppings can stick to the top heating elements of the oven.
The Final Word on This Breville Pizza Maker
Overall, I've enjoyed using this Breville Pizzaiolo tool, and I would recommend it to anyone who wants to make tasty pizzas at home. I like the fact that this equipment can make an 11-inch pizza in just a few minutes. I also did not need to worry about kitchen accidents since this pizza cooker has a steady base and a short cord. This will prevent you from tripping over the cord accidentally and dropping the hot oven.
Simple controls at the top are convenient to use. When making pizzas, I only needed to turn the knob to turn the oven on and set the temperature as per the labels. I typically use this pizza cooker to make thin and medium pizzas, so those are the two controls I use most often. The preheating setting is only needed before inserting the first pizza.
The Breville crispy crust pizza maker seems to be solid and quite durable equipment, so I don't expect it to break down in the near future. The stone may break if dropped, and if this happens, you can get the use of the 1-year warranty.
Have you ever used this pizza maker? What do you think of purchasing one? Do you have any questions about it? You can leave your comments below so that we engage in a discussion.